Instagram was tricked into believing that its CEO Adam Mosseri was no longer alive, prompting the company to lock its top executive's social media profile for a while following its own policies around Memorialized Accounts. Instagram has a Memorialization feature for accounts belonging to a deceased person. Once reported by family or friends, Instagram prevents anyone from logging into that account ever again and shows the word "Remembering" next to the deceased person's name on their profile.
The account and its contents such as photos and videos will still be visible to other people depending on the profile visibility status — whether it is a public account or private. However, no further activity related to shared media or profile setting tweak of any kind is permissible for Memorialized accounts. But just like a ton of other Instagram features that are abused by bad actors, the Memorialization feature has also turned into a tool of harassment for some. And the company's top executive was just one of its highest-profile victims so far.
Related: Instagram Testing 'Take A Break' Feature To Reduce Doomscrolling
VICE got in touch with a scammer who managed to get a temporary lock on Instagram chief Adam Mosseri's account after falsely reporting that he was no longer alive. The scammer also shared the email chain of interaction with Instagram support about the whole reporting process to get Mosseri's account locked. And much to his own surprise, the scammer succeeded in doing so. When asked to furnish a death certificate, related news or an obituary, the scammer claims to have forged one and it was accepted as legitimate proof by Instagram support that Mosseri was indeed no longer alive. The accidental account lock was enforced in September but it was quickly reversed, Instagram told the publication.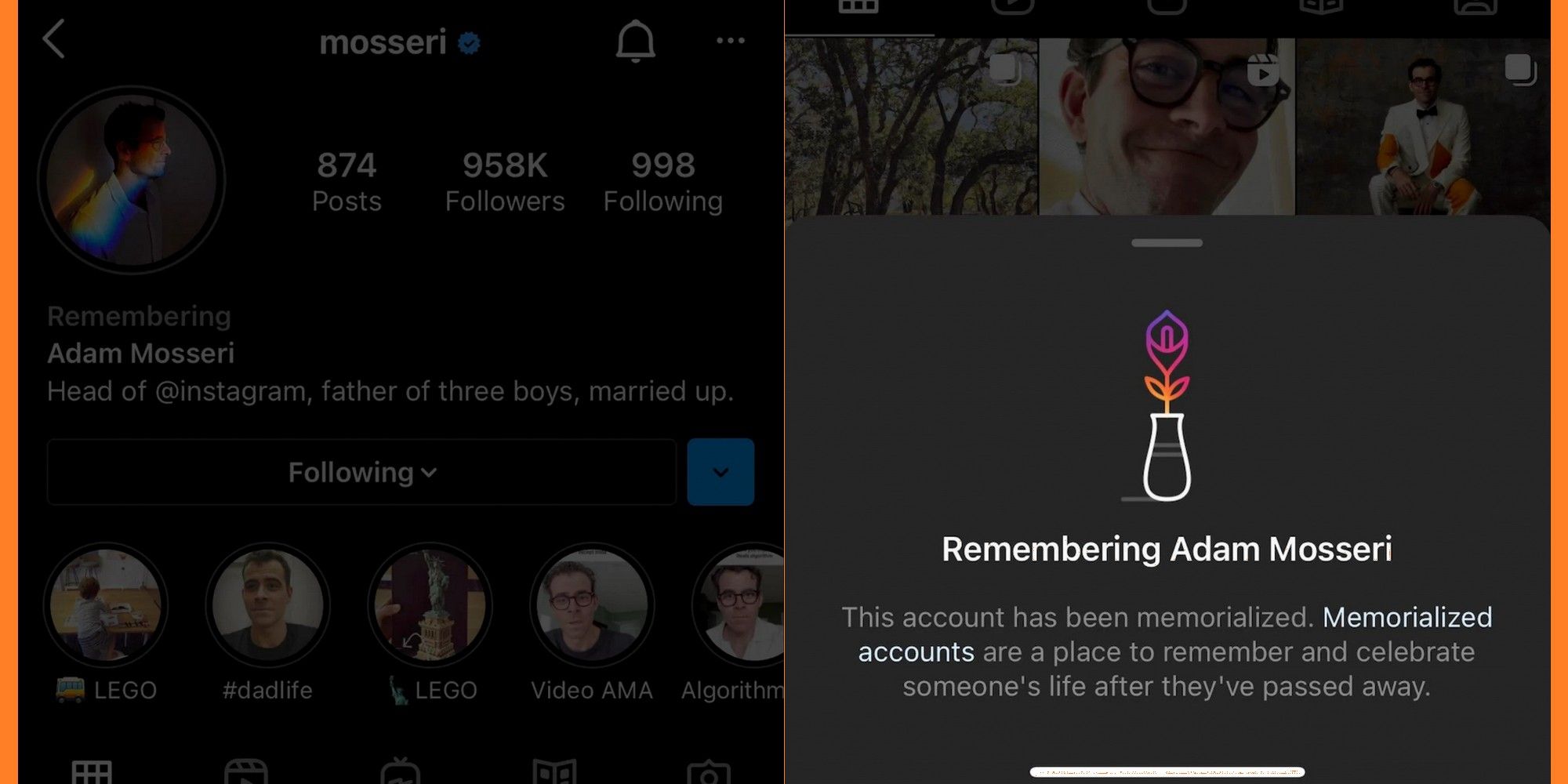 As per Instagram's help guide, there are some stark differences between the whole mechanism of memorializing and deleting an Instagram account. To get a profile memorialized, Instagram only needs a link to an obituary or a news article. Even a screenshot works. On the other hand, account removal requests require the deceased person's death and birth certificate, and legal proof of authority to show a lawful representation of the deceased individual. The scammer claims that an online obituary published within a week of reporting will get a target account memorialized with a 98 percent success rate and the request is usually processed within 1-2 days. Faking an online obituary or even forging documents is not unheard of, and bad actors take advantage to run operations where they get paid to get a victim's account memorialized.
Malicious parties reportedly offer their service for as low as $60 to get someone's Instagram account memorialized. However, it's not always easy to get those accounts back for the victim. For high-profile or influential people, their accounts are fixed relatively fast, but for regular folks, the wait to get things back to normal can take a few weeks to process. The scammer advises users to always keep an image of their face archived and make sure that the date of birth on their account matches the one mentioned on a legally verifiable document if they seek to get back the control of their account in case they fall victim to a memorialization scam.
Next: Why An Instagram Account Is Disabled & What To Do Next
Source: VICE
from ScreenRant - Feed