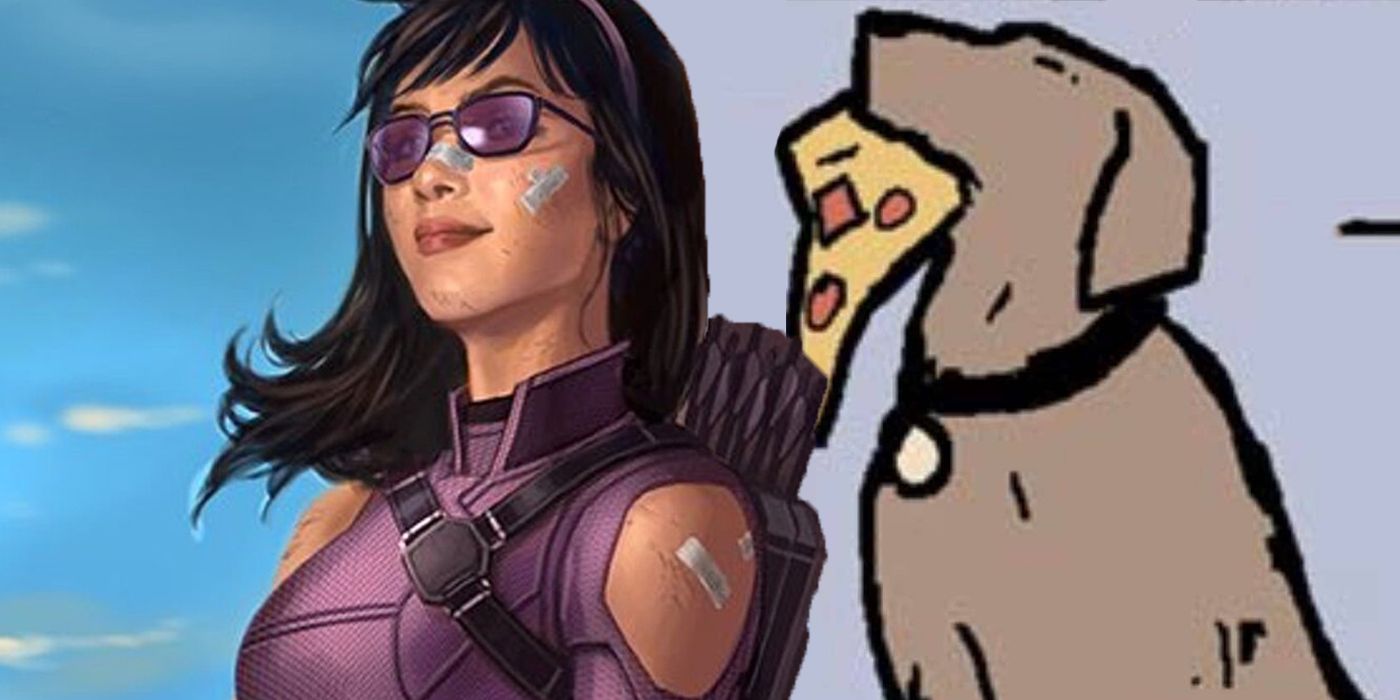 Kate Bishop's Hawkeye and Lucky the Pizza Dog are brought to life in a spectacular Marvel Comics cosplay from @minakes. Kate Bishop is suited up with a quiver in the cosplay, as Lucky carries his own arrow to help his best pal. Both Kate Bishop (played by Hailee Steinfeld) and Lucky the Pizza Dog will soon make their live-action debuts in the upcoming Hawkeye series on Disney+.
Kate Bishop is the second Marvel Comics hero to dawn the Hawkeye moniker, following in the footsteps of her mentor Clint Barton. Kate Bishop made her comic book debut in Young Avengers #1, which introduced a handful of new heroes to the Marvel Universe, including Wiccan, Hulkling, Iron Lad, and Patriot. Kate Bishop took the mantle of Hawkeye following the death of Clint Barton (who was later resurrected), but over time, she has become one of his most trusted confidants. Bishop and Barton would co-star in Matt Fraction, David Aja, and Matt Hollingsworth's incredible Hawkeye series (2012), which is one of Marvel's best comics ever. The series will serve as the storytelling foundation for the upcoming Disney+ Hawkeye series starring Jeremy Renner and Hailee Steinfeld. The show will be the first time Kate Bishop has appeared in live-action.
Related: Jon Favreau's Iron Man Comic Bombed as Hard as His MCU Movies Succeeded
Cosplayer @minakes shared her take on Hawkeye and Lucky the Pizza Dog earlier this year. On @theteenygolden's Instagram page, the golden retriever (Luca) holds an arrow with its mouth, just like Lucky has in the comics.
On her Instagram page, she revealed a behind-the-scenes look of how she recreated the hero's iconic look with the golden retriever. @minakes eats a slice of pizza with her version of Lucky in the video and even has Luca holding the arrow in his mouth. It's both cool and adorable.
@minakess has tackled numerous comic book and MCU-inspired costumes on her Instagram page. Among her looks, she's become Captain Carter, Yelena Belova from Black Widow, Scarlet Witch, and Mary Jane Watson. She's also tackled a handful of other pop culture characters, including Starlight from The Boys, Dva from Overwatch, and Ahsoka Tano from the Star Wars universe.
For those who have already read Fraction, Aja, and Hollingsworth's iconic Hawkeye comic book series and are anticipating the new series on Disney+ of the same name, @minakess' cosplay should drive your excitement through the roof. Becoming Kate Bishop's Hawkeye (with Lucky the Pizza Dog by her side) had to be a lot of fun and we can't wait to see Steinfeld sport a similar costume soon.
Next: Darth Vader is Officially Able To Survive A Fall From Outer Space
Source: @minakes
from ScreenRant - Feed