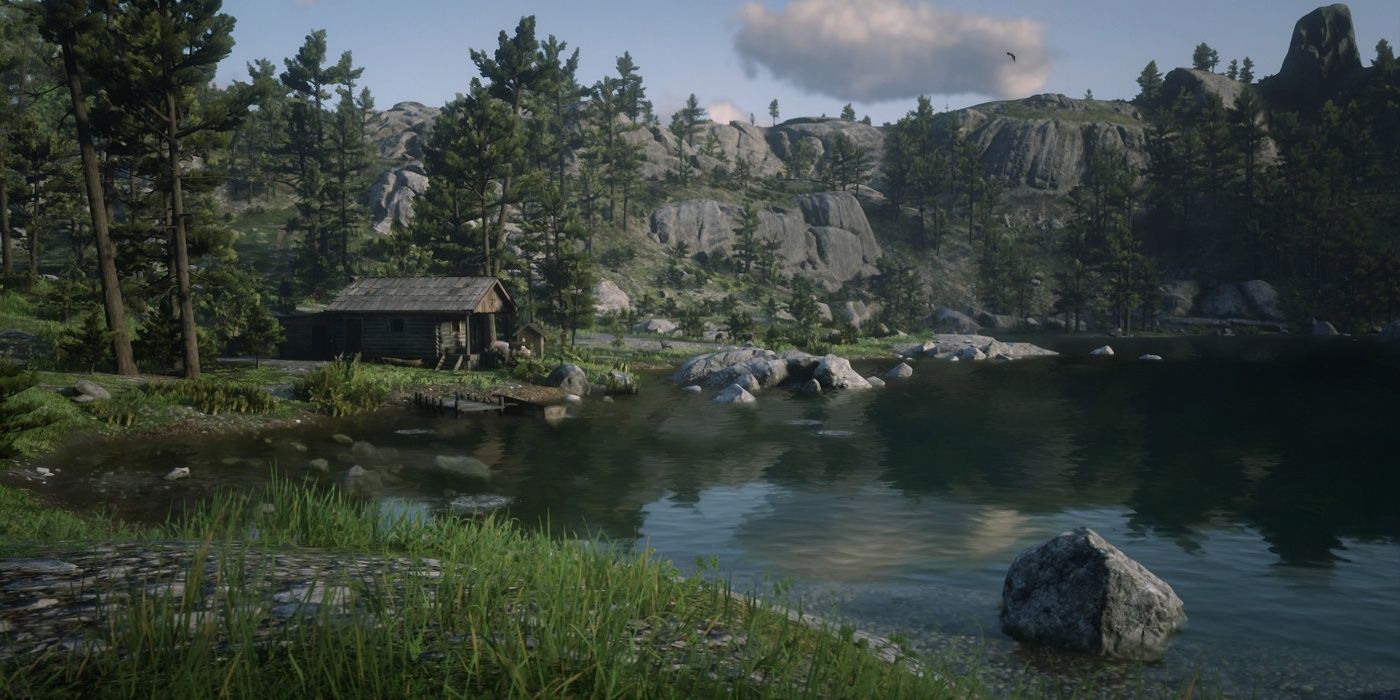 While exploring GTA: San Andreas Definitive Edition, a player found what looks a lot like a painting of Red Dead Redemption 2's O'Creagh's Run area. The 17-year-old San Andreas just received a new lease on life thanks to the launch of GTA: The Trilogy - The Definitive Edition on consoles and PC, which packs in remastered versions of three classic Grand Theft Auto games - GTA III, Vice City, and the aforementioned 2004 title.
Developer Rockstar Games is no stranger to filling its vast open-world adventures with Easter eggs from pop culture. Red Dead Redemption 2, in fact, features more than a fair few, with Rockstar's very own Bully garnering some love in well-hidden references like the Canis Canem Edit nod to the controversial game's PAL name. In the past, observant Red Dead 2 users have also run across a Hobbit house inspired by Lord of the Rings and Kaa the giant Snake from The Jungle Book. Now it's the Red Dead Redemption prequel's turn to surprisingly pop up elsewhere.
Related: GTA: San Andreas VR Remaster Coming From LA Noire VR Developer
Rockstar and publisher Take-Two Interactive just unleashed GTA: San Andreas Definitive Edition and players are already uncovering smartly hidden secrets. On Reddit, user Cooper_Raccoon shared a screenshot of San Andreas protagonist CJ inside Ryder's house. Interestingly, on the wall behind CJ is a framed painting that looks a lot like a scene from Red Dead Redemption 2. Multiple eagle-eyed fans in the Reddit thread posit the photo could depict O'Creagh's Run, a body of water that lies in the Grizzlies East region of Ambarino. Without confirmation from Rockstar Games, though, this admittedly convincing guess counts as little more than speculation.
If the above screenshot does indeed boast a Red Dead Redemption 2 Easter egg, there's reason to believe developers scattered several more across all three classic titles in the newly released GTA Trilogy. No doubt players will find them all in record time in the days and weeks ahead.
Reportedly, this collection of games constitutes only a fraction of what Rockstar has in mind for bringing back its older adventures. Reliable industry sources, for instance, claim the studio also aims to remaster the original Red Dead Redemption. And earlier this week, another industry insider said Grand Theft Auto IV and its two story expansions - The Lost and Damned and The Ballad of Gay Tony - may receive the remastered treatment, as well.
Next: Red Dead Redemption 2 Undead Nightmare Mod Gives What Rockstar Won't
GTA: San Andreas Definitive Edition is out now on Nintendo Switch, PC, PS4, PS5, Xbox One, and Xbox Series X|S; Red Dead Redemption 2 is available on Google Stadia, PC, PlayStation, and Xbox.
Source: Cooper_Raccoon/Reddit
from ScreenRant - Feed