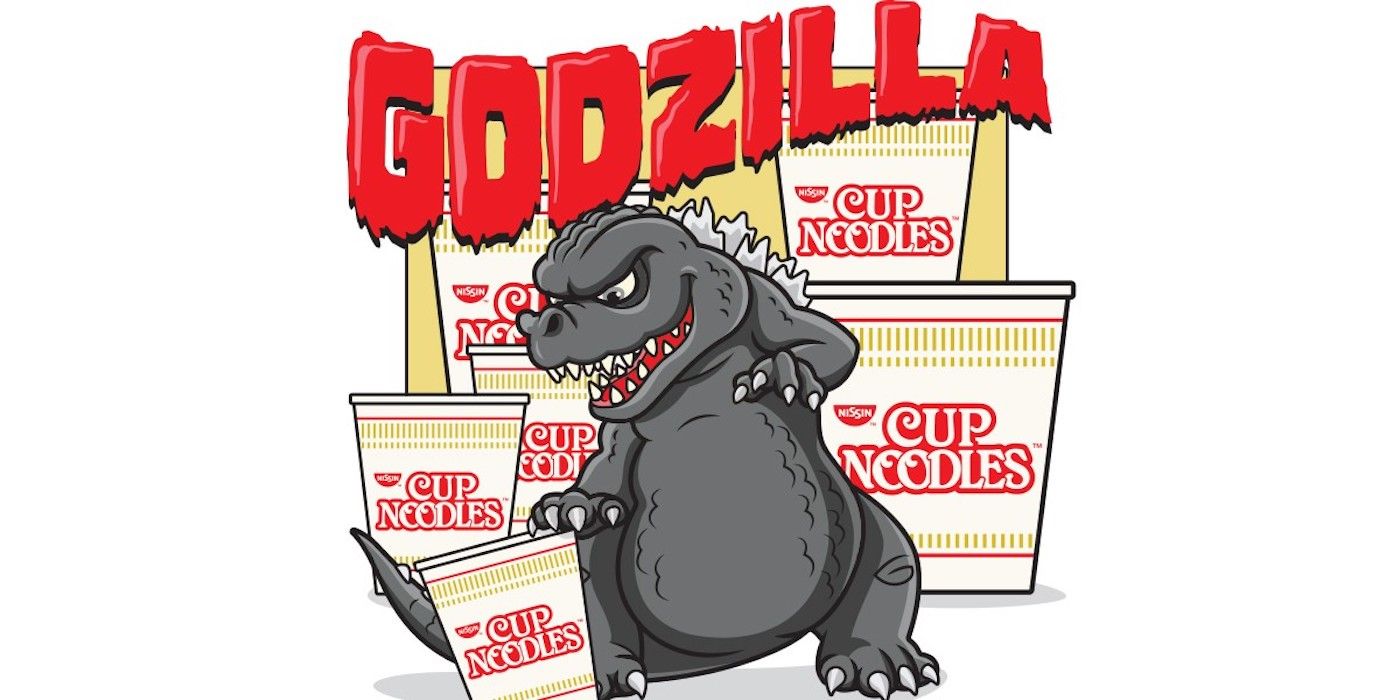 Godzilla, king of the monsters and destroyer of cities, will now add "Cup Noodles collaborator" to his list of accolades. The prehistoric sea monster/cultural icon first appeared in the 1950s in a series of Japanese films beginning with the 1954 kaiju movie Godzilla. Since then, the iconic beast has gone on to terrorize and/or save cities around the world while battling other monstrous foes.
Original Cup Noodles announced on Twitter that the titan of land and sea has plans to expand his film empire into the food industry. The classic budget microwave soup brand tweeted that a "Cup Noodles x Godzilla" collab will drop in 2022. Apparently, the respective legends of monster-battling and noodle-slurping have been cooking up some big things in the kitchen. Here are the deets:
FOR @TOHO_GODZILLA's BIRTHDAY WE ANNOUNCED THE OFFICIAL CUP NOODLES X GODZILLA MERCH COLLAB YOU ABSOLUTELY NEED!!!! COMING IN 2022 - MORE DETAILS COMING SOON!!! #GODZILLADAY @BioworldMerch
Related: Ghidorah's Ancient Fight With Godzilla In The MonsterVerse Explained
The announcement comes on the heels of Godzilla Day, which is the term fans use to refer to Godzilla's birthday on November 3rd. The tweet raises a few follow-up questions, most of them related to what exactly it is that Cup Noodles and Godzilla are selling. Followers have joked that the brands are making monster-sized noodles, but the more likely option is even more perplexing: what does a Godzilla-flavored noodle taste like? Or, worse, is the soup prepared atop a bouillion simmered from Godzilla's defeated enemies? Dread Central reports that while the initial collaboration will just be a merchandise line, a Godzilla-flavored Cup Noodles "would be the ultimate goal."
The account refers to "Cup Noodles x Godzilla" as a "merch collab," so the line may not include any food products to speak of. It's possible that Nissin, the Japanese company that produces Cup Noodles, and Toho, the production company behind Godzilla, actually are coming out with a swaggy new streetwear line in lieu of instant soup. Medium notwithstanding, come 2022, the hype for this collab is sure to have lines winding around the block waiting to cop their limited edition drop.
Next: KOTM Secretly Hinted At Godzilla & Rodan's Ancient MonsterVerse Team-Up
Source: Original Cup Noodles/Dread Central
from ScreenRant - Feed