The Ghostbusters franchise continues with Ghostbusters: Afterlife, premiering in theaters on November 19. The film follows a single mother and her children, played by Stranger Things star Finn Wolfhard and The Handmaid's Tale actress McKenna Grace, who are the grandchildren of original Ghostbuster Egon Spengler, played by the late Harold Ramis. Ghostbusters: Afterlife serves as a return to the world of the 1984 film and will also see the return of original cast members Bill Murray, Dan Aykroyd, and Ernie Hudson.
Related: The Strange True Story Behind The Iconic Ghostbusters Theme Song
Screen Rant spoke to Wolfhard and Grace about honoring Ramis' legacy, surprising fans, and how it feels to be a part of the Ghostbusters universe.
Screen Rant: I'm a little jealous you guys are at New York Comic Con, because it's my first year not there. How is it?
Finn Wolfhard: It was awesome. Last night we surprised the audience of 3,000 people with the movie, and it killed.

McKenna Grace: It was so funny, because earlier that day, we had met some of the Ghostbusters from Buffalo. They were like, "Man, why don't y'all just show the movie tonight?" And Finn was like, "We'll have some clips." The rest of us had to turn around.

Finn Wolfhard: They were like, "You should show it tonight." I'm like, "Totally. Yeah, I wish. But there's some clips I'm sure we're gonna show," knowing we're gonna show the whole thing.

McKenna Grace: I've always wanted to go to Comic Con. Always. Finn's been to many a Comic Con. Every day. But I always wanted to go to Comic Con, so that was so exciting.
In this movie, you're carrying on the legacy. You are the grandchildren of Egon Spengler. McKenna, especially for you, is there anything from Harold Ramis' previous performances that you specifically incorporated into your character?
McKenna Grace: There's nothing too specific that I tried to do, because I didn't want her to be an imitation of Egon as much as she is a part of the Spengler name. Because she isn't Egon.

She is a Spangler, though, so it's finding that nice balance - which I think that Jason and I [achieved]. We worked a lot on creating Phoebe and incorporating things; making her special. But I tried not to get too much into my head about her being a descendant of Egon, because I felt like if I did, then I didn't want to end up trying to inaccurately impersonate something.

Because I feel like you can't recreate that - you can't recreate Harold or Egon; it's something that happened. It's coming up with this new character, Phoebe, which was really special for me to be able to work with Jason on that. I'm really proud of how she turned out.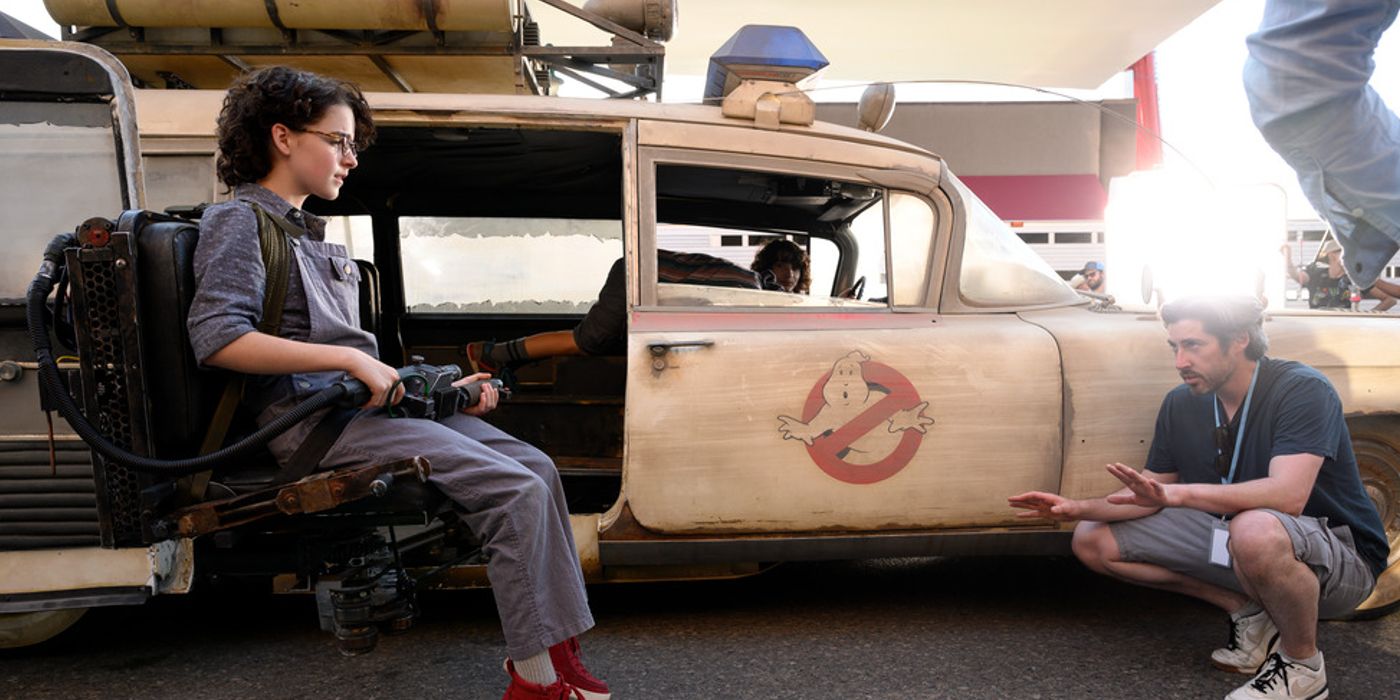 I have to imagine this was a pretty immersive set, in terms of the Ghostbusters universe and having the Reitmans there and all the props. Was there a moment it really just hit you that, "Oh, I'm in Ghostbusters?"
Finn Wolfhard: Definitely. I think, when we were all in the costumes, that was the craziest thing. When we were all in our jumpsuits, all standing together, I was like, "Wow, we're actually Ghostbusters. That's crazy." It was nuts.
I was just watching the Stranger Things 4 trailer last night, and I love how there's a little Ghostbusters reference at the top of that trailer. When the backpack comes down on the ground, there's a pin that says, "I got slimed." That show continues to top itself. How does this season compare to what we've seen?
Finn Wolfhard: I think because we've all grown and gotten a little older; we're not teenagers anymore, and all of us are young adults. Every season the Duffers have been like going into scarier and pretty violent territory. This season is going to be easily the darkest season.

It's weird, because they amp up everything every season. And so it's the funniest season. It has one of the funniest storylines, like, full-blown almost comedy. And then there's another storyline that's complete, absolute horror. But not sci-fi; it's a horror. It's really scary, and I'm excited for people to see that.
Next: Every Sci-Fi Movie Still To Come In 2021
from ScreenRant - Feed