Final Fantasy XIV has provided all sorts of adventures over the years, including crossover quests with other video games. Some were seasonal or limited events, while others remain continuously accessible in-game until further notice, such as the Monster Hunter and NieR FFXIV quests. Each one has been a fun activity that offers unique challenges and rewards for players.
The Breaking Brick Mountains Dragon Quest X crossover event is available right now (at the time of this writing) in Final Fantasy XIV. It began last month on October 19 and runs until November 11. While that is the only limited crossover event in FFXIV accessible at this time, below are a few past fan favorites.
Related: FFXIV's Dragon Quest X Event Is Great If You Want DQ10 In The West
Sometimes FFXIV events even have crossovers with real life, as director and producer Naoki Yoshida himself has literally shown up as an NPC in-game during The Rising. Thanks to him, Final Fantasy XIV rose from the ashes, and since then, he's done a great job managing the game and connecting with the community. During The Rising, a seasonal event that commemorates the anniversary of A Realm Reborn's release, an NPC Naoki Yoshida gives the player a special message.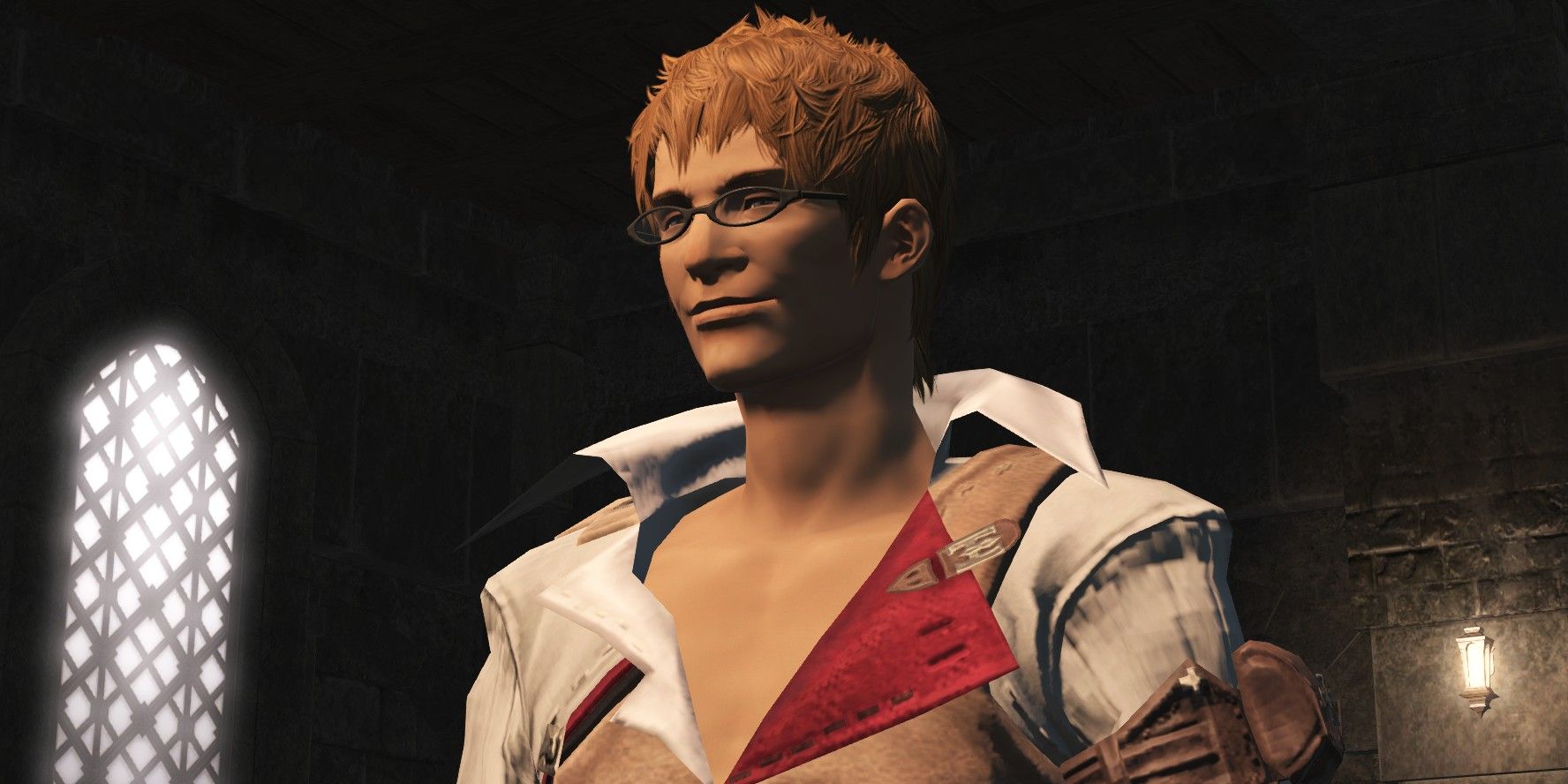 Naoki Yoshida has made personal efforts to ensure some crossovers in Final Fantasy XIV happen, such as the YoRHa: Dark Apocalypse raid series based on NieR:Automata. In a Creation of Final Fantasy XIV: Shadowbringers video, he described how he invited NieR:Automata producer Yosuke Saito and director Yoko Taro to dinner without any context. Naoki Yoshida really wanted to work on something with them, so he "pretty much bribed them to do it" with steak and lots of wine.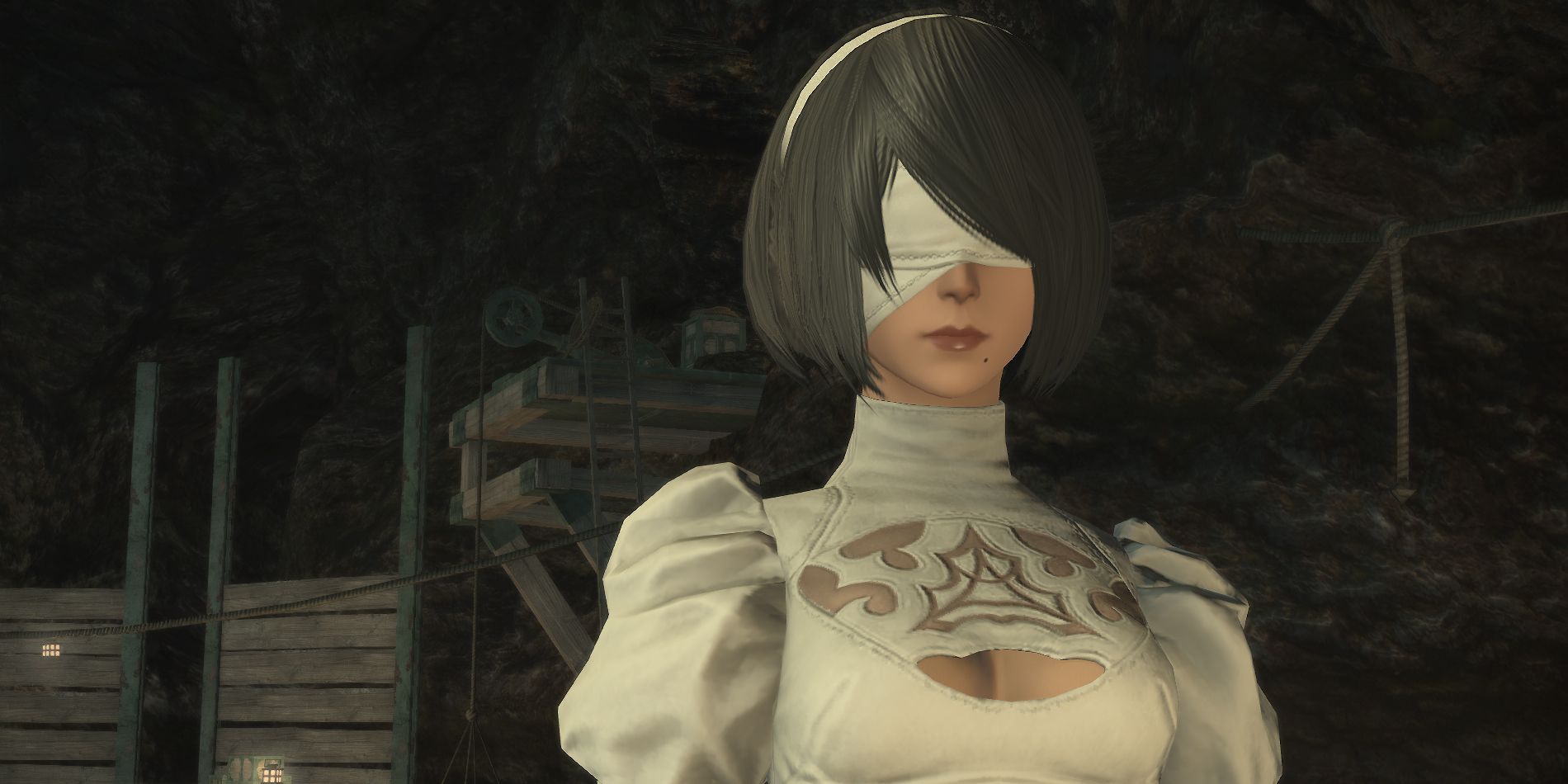 Even some NieR fans joined FFXIV to experience more of Yoko Taro's work in the YoRHa raids. This is less of an event and more of a permanent fixture of Final Fantasy XIV at this point, but it is one of the most popular crossovers. Players can collect dyable armor based on NieR's style and dress any character in 2B's iconic dress. Naoki Yoshida's social connections were also a reason why FFXIV has a Monster Hunter: World event. Not only is he personally a fan of Monster Hunter, but he is also friends with Monster Hunter: World producer Ryozo Tsujimoto.
Naoki Yoshida described in an interview with Game Informer how he met Ryozo Tsujimoto at a bar arcade and became fast friends. When Yoshida was made director of FFXIV: A Realm Reborn, Tsujimoto was concerned for him since the original FFXIV was so poorly received. He told Yoshida to come to him if there was anything he or Monster Hunter could do to help.
Related: Why Monster Hunter Is Bigger In Japan Than In America
Ultimately, Yoshida wanted to improve FFXIV enough so it was on a more even playing ground with Monster Hunter first, and their crossover didn't happen until 2018. This crossover went both ways - in FFXIV, players battled a Rathalos, and in Monster Hunter: World, hunters could take on a Behemoth. Both encounters had special mechanics that reflected the other game. After the event was initially announced, Yoshida said during the interview, "We have deep respect for each other's titles, and we're doing something really crazy."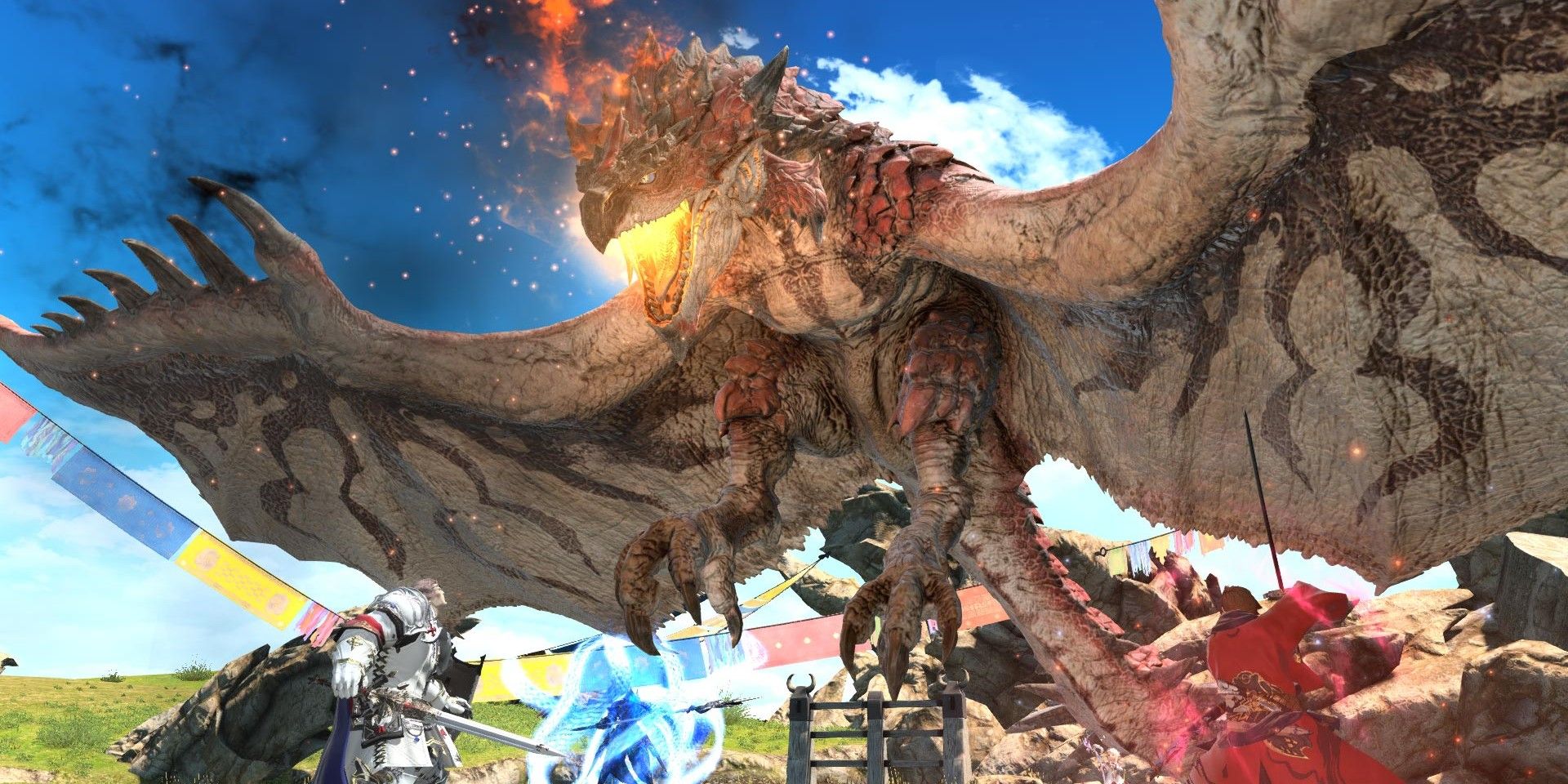 In Final Fantasy XIV, players could obtain Monster Hunter style armor, obtain Palico and Poogie minions, and a Rathalos mount that they could fly around on. The Rathalos encounter in FFXIV is a unique challenge, integrating the Monster Hunter: World mounting feature that allowed hunters to jump on monsters in battle. In addition, healing options were mostly limited to a set amount of Monster Hunter healing Potions.
Monster Hunter: World's event added the Final Fantasy Behemoth monster to the game. With the materials that could be collected from it, players could make Moogle armor for their Palico and Dragoon equipment for their hunter. The Drachen armor and insect glaive Gae Bolg made a classic and cool Dragoon look, completed by a blue and aethereal FFXIV Dragon Soul kinsect.
Fighting a Behemoth involved special threat mechanics that emulated the tank job classes of FFXIV. Hunters had to manage massive amounts of damage, and be prepared to face devastating meteors that the monster summoned. Similar to some encounters in FFXIV, hunters had to hide behind fallen comets at the right time to avoid death. At this time, players can still fight these special Final Fantasy XIV and Monster Hunter: World monsters in their respective games. Another available FFXIV crossover is the Dragon Quest X event.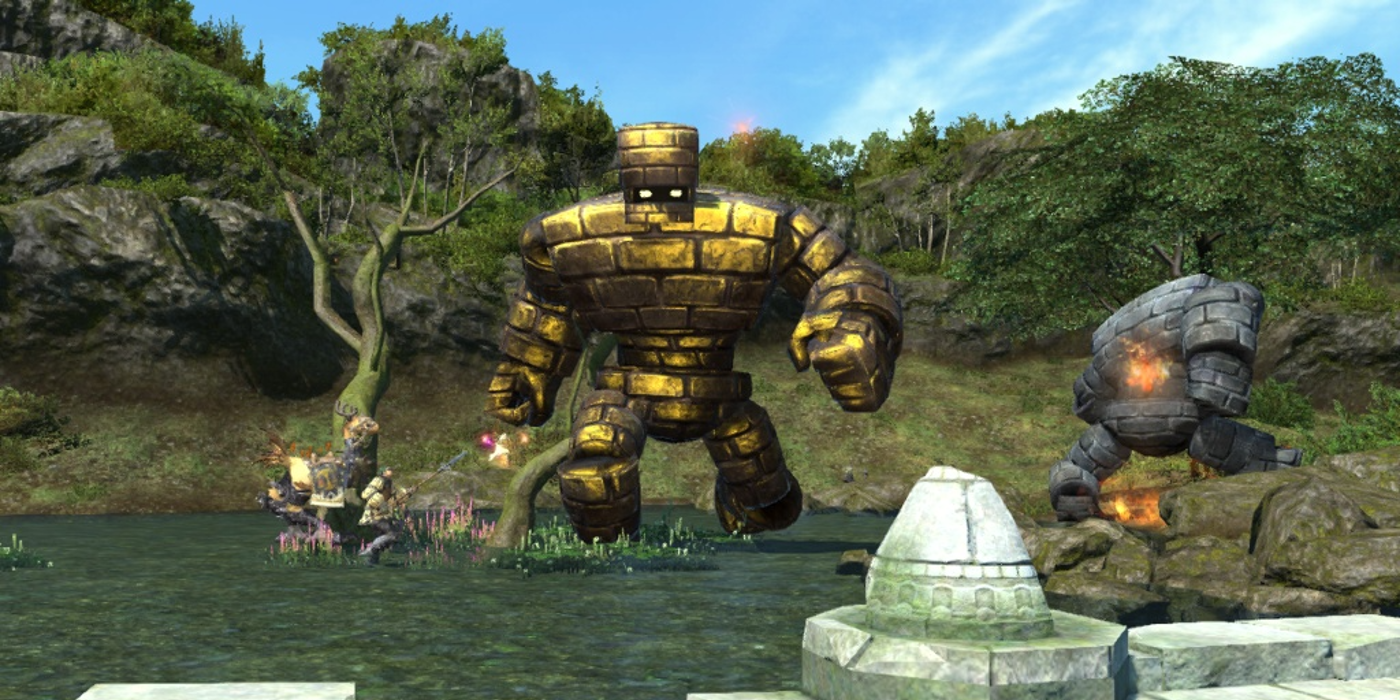 FFXIV players are currently able to participate in the Breaking Brick Mountains event. Until November 11, they can fight some Dragon Quest X monsters and obtain a Wind-up Brickman, Thug's Mug, and King Slime Crown. This event is a re-run, but it's possible that it could be the last. Some FFXIV events are unlikely to ever make a return, like the Final Fantasy XIII crossover.
Related: What Dragon Quest Game You Should Play First (& Why)
FFXIV: A Realm Reborn's very first crossover event was Lightning Strikes. It took place from November to December of 2013 and had a single repeat during September 2014, but now is something only the earliest players of FFXIV remember. It's highly unlikely that the Lightning Strikes event will be repeated again, as the rewards for taking part in the event are now purchasable items on the Mog Station.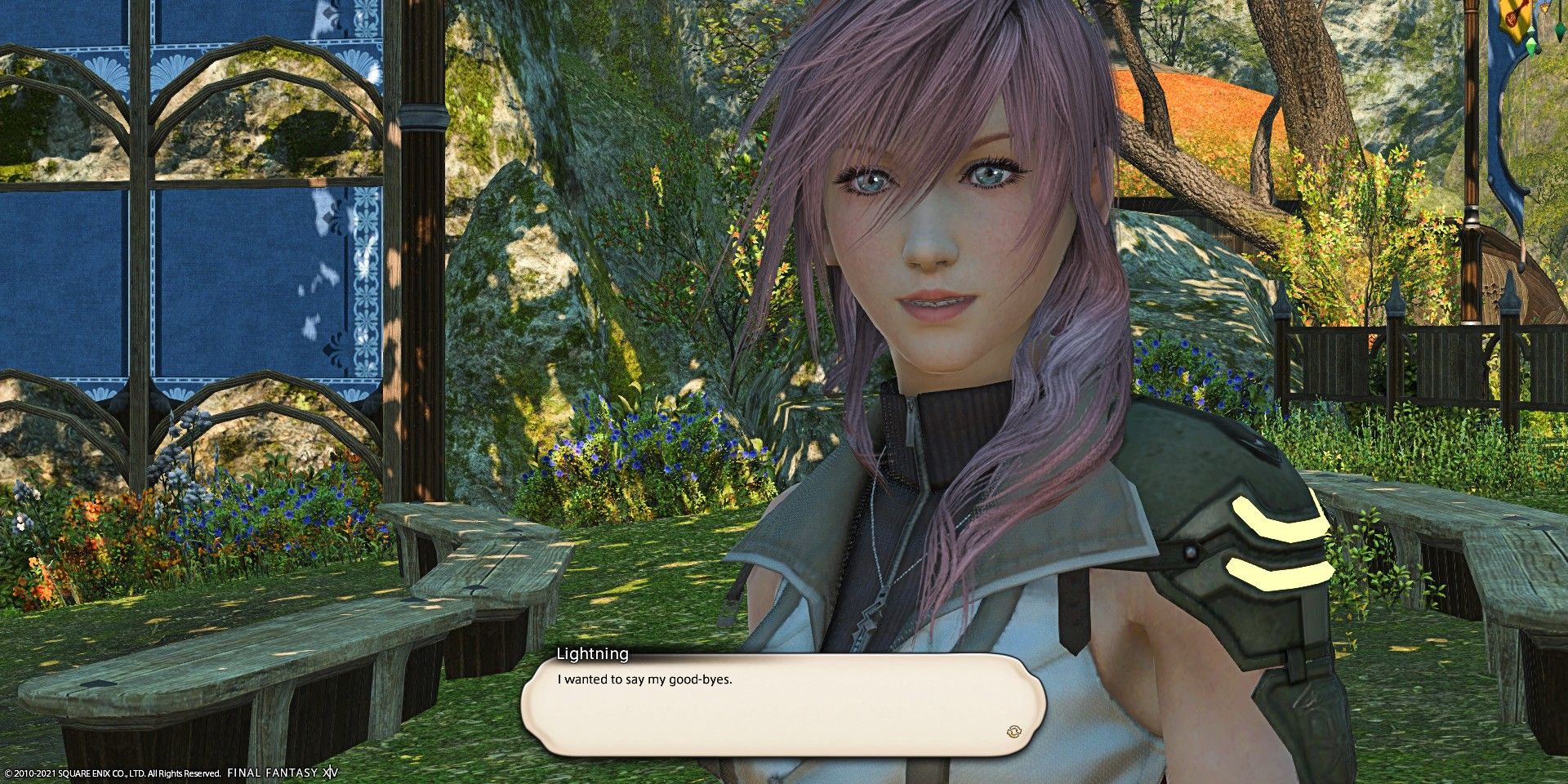 Lightning Returns: Final Fantasy XIII, the third and final game in the FFXIII trilogy, was released at around the same time as FFXIV's promotional Lightning Strikes event. Players followed a quest chain involving Gridanian journalist Kipih Jakkya, determined to get the scoop on the mysterious pink-haired protagonist. Much to her and the Eorzeans' confusion, FFXIII's main character Lightning was dropped into the world of FFXIV. Players fought monsters alongside her and collected tokens that could be exchanged for rewards like armor and a variety of themed weapons. Female characters could wear Lightning's outfit, and male characters could wear Snow's, another FFXIII character, both complete with hairstyles.
Final Fantasy XIV tends to put event items that can no longer be obtained on the Mog Station, where they can be purchased for real money, so even if players miss something, they still have an opportunity to get it. They can expect to see the return of some seasonal events this winter, probably with some fresh new items, but no new crossovers or reruns have been announced yet. Considering Naoki Yoshida's enthusiasm for them, it's highly possible that new ones will appear after Final Fantasy XIV: Endwalker releases.
Next: FFXIV: Endwalker Early Access Start Date, Times, & How To Join
from ScreenRant - Feed