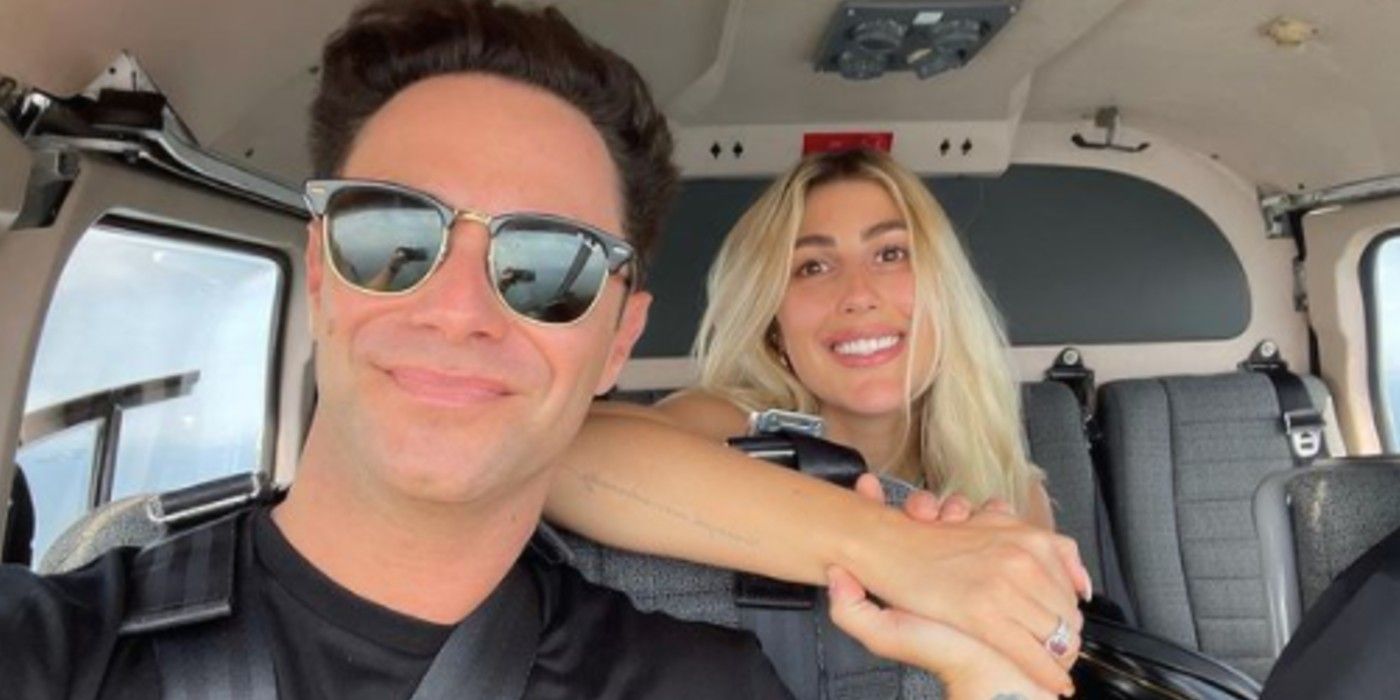 On Dancing With the Stars, Sasha Farber and Emma Slater show off their pro dancing skills, and it's time to share information about their relationship, from the beginning to the present day. Sasha is a Russian-born dancer from Australia, and Emma is a British dancer and choreographer. The two became American citizens in December 2020. They have been married for three years, and Sasha and Emma maintain a strong relationship while living apart for the show.
Sasha is still in the Dancing With the Stars season 30 competition, but Emma is not. Sasha is paired with Olympic gymnast Suni Lee, while Emma danced with country music star, Jimmie Allen. During Janet Jackson week, the spouses participated in a Salsa dance-off to the song, "Made For Now." Sasha and Suni were awarded extra points from judge Bruno Tonioli, sending Emma and Jimmie home. After the dance-off results, Sasha made a sweet gesture by kissing Emma's hand to show his support.
Related: DWTS: Sasha Reveals Conversation With Emma After His Pie Made Her Slip
Sasha and Emma have overcome many obstacles, but their reality TV relationship remains intact so far. The pair met prior to DWTS and had a year-long breakup, followed by a televised engagement and a dream wedding in Los Angeles. Now, it's time to take a look at the couple's relationship timeline.
Sasha and Emma first met in 2009, while appearing as dancers in the Broadway and West End productions of Burn The Floor. They began dating in 2011, two years after they met. The two future DWTS season 30 stars joined Dancing With the Stars season 14, starting out as troupe members. Sasha and Emma both became pro dancers in season 17. Sasha was partnered with Nicole "Snooki" Polizzi from Jersey Shore, and Emma's celebrity match was entertainer, Bill Engvall. Emma won the Mirrorball Trophy with athlete Rashad Jennings on DWTS Season 24, but Sasha hasn't won the grand prize yet.
In 2014, Sasha and Emma broke up. Emma expressed her feelings about the split to Glamour: "I don't think we're supposed to finish together. I think there are other people that might make us both individually happy, but I'm always going to be his best friend. It has just happened in the way we have gone from a beautiful three-year relationship, which I love and cherish, to best friends." The breakup was cordial and Emma still loved Sasha, especially since he was the only family she had in America. The couple lived together after they broke up and went on tour for Dancing With the Stars that year. Sasha and Emma decided to rekindle their romance a year later, in 2015.
Pro dancers Sasha and Emma were ready to settle down in 2016. They bought their first million-dollar home together in Los Angeles. Sasha proposed to his girlfriend shortly after, on live television, during an episode of Dancing With The Stars season 23. The future spouses did a contemporary dance to "Just The Way You Are" by Bruno Mars, while dressed in white. When the dance was over, Sasha got down on one knee and presented the ring. Emma was overjoyed and said yes to his proposal. Confetti flew from the ceiling and the same Bruno Mars song replayed. The words, "She said YES!," were flashed on the screen. The DWTS season 23 cast congratulated the couple with a group hug.
Related: DWTS: Tyra Banks' Handling Of Double Elimination Angers Fans
Sasha and Emma got married on March 25, 2018, at Bella Blanca in Los Angeles, California. Emma wore two wedding dresses designed by Rivini, which looked great with Sasha's cream-colored suit. The celebration incorporated Sasha's Jewish heritage. The newlyweds stood under a chuppah at the ceremony and danced the Horah at the reception. Fellow DWTS cast members Witney Carson, Lindsay Arnold, and Jenna Johnson served as bridesmaids. Former pro dancer and current judge Derek Hough stood by Sasha's side as a groomsman. Sasha and Emma performed a flash mob with their wedding party to entertain guests.
Now that Emma and Sasha are married, they are waiting for the right time to have kids. At the moment, the married couple is focusing on their dance careers. After the show ends, they will be part of the DWTS tour in 2022. Emma will be cheering for Sasha at the semifinals, as he and Suni compete for season 30's DWTS Mirrorball Trophy.
Next: DWTS: Jenna Johnson & Val Chmerkovskiy Relationship Timeline
Dancing With the Stars airs Mondays at 8 p.m. ET on ABC.
Source: Glamour
from ScreenRant - Feed