The third and final season of Dickinson premieres on Apple TV+ on November 5. The series follows the life and loves of the poet Emily Dickinson, played by Hailee Steinfeld. Season 3 of Dickinson enters a dark period in history as the show tackles the Civil War with the Dickinson family taking sides.
Related: Dickinson Season 3: Every Guest Star Confirmed (& Who They Play)
Screen Rant sat down with the Dickinson cast including Steinfeld, Anna Baryshnikov and Adrian Enscoe who play Emily's siblings Lavinia and Austin, Ella Hunt who plays Emily's best friend and love interest Sue, Amanda Warren who plays Betty, Chinaza Uche who plays Henry, and showrunner Alena Smith to talk about how they feel about the series ending.
Screen Rant: This is the final season of Dickinson. What does it feel like to say goodbye to this wonderful series and what would you say you are most proud of throughout these three seasons?
Hailee Steinfeld: It's bittersweet and very emotional [with] this sort of feeling that we've known it was coming. But now that it's here, it is a little heartbreaking.

I am most proud of just how much we've all accomplished and how much we've all grown throughout this process. It has been an emotional roller coaster, both on and off-screen, in the best ways possible. We've been through so much together in a rather short period of time. And we've all grown so close.

I will forever look back on this time in my career and be incredibly proud and honored to have played such an amazing character. And to have gone through this creative process as an actor and as an executive producer, it's been one that I will truly never forget and I feel I will reference forever moving forward. I've learned so much and I'm so grateful for the whole experience.

Anna Baryshnikov: It is a little heartbreaking. We really all felt that on set. These last moments were really very bittersweet because I think we were all proud. I was incredibly proud to be part of something that was so creatively ambitious, and took risks, and stayed really true to the original intentions of the show.

And it's so rare to have a job where you really really believe in the writing and that everyone is giving it their all. But at the same time, I'm so glad that the show was able to end on a note that everyone felt good about. And so now I'm just excited to relive it with the fans as it comes out. I rewatched it just the other day and I was reminded of all of these incredible memories on set. So I guess the good thing about streaming is that it lives on forever, a little bit.

Ella Hunt: It's definitely bittersweet. We've talked about this a lot over the last couple of days is that an overriding emotion is one of gratitude and relief almost that [our] incredible creator, Elena Smith, was able to execute and fully realize her vision for this show. She always saw this as a three-season arc.

And it wouldn't have been fitting for a story about a poet as iconoclastic and ahead of her time and defined in her writing as Emily [to] not to allow our creative team and Elena the freedom to make the show and then they in the way that they want to make a show. So yeah, feels pretty damn good, actually. But also really sad.

Adrian Enscoe: I would say bittersweet is definitely the word. It feels like graduating from school in a certain way. We've been with these characters and with this cast with each other for three seasons over the course of three and a half years. And we've really all watched each other grow as artists and actors, and we watch the characters grow and in a completely different place from where we started seeing the Dickinson family grow.

And so it's just really beautiful to kind of see everybody land. I know that every person in this cast is going to go on to do brilliant, beautiful things. I'm so assured because we have gotten to see such amazing progress in everybody over the course of the last three years.

Amanda Warren: I'm celebrating. I'm celebrating all the work that we've done throughout the seasons, all of the people who have come and gone, the guest performances, the writers' room. It was just a really great season to end on. It feels as though we have all leveled up and really stepped up our game, especially on the page, particularly Elena's writers' room was exquisite. And we're just all really excited for everyone to see it. So we're celebrating during this time.

Chinaza Uche: I feel the same way. I think it would be sadder if season 3 didn't feel so right. Like such a good complete ending. It represents every cast and crew member in really beautiful ways. I think their work has led to something really exciting. And a really nice ending to something that was really good. In my life at least.

Alena Smith: I am feeling, obviously, a big mix of emotions. But mostly I just feel so grateful that we got to tell the whole story that I wanted to tell from the beginning, which was this reimagining of Emily Dickinson's coming of age story that culminates in the years of the Civil War, which are also Emily's most prolific years as an artist.

I'm so proud of the entire show, and the community that was brought together through the show to revamp and reframe this incredibly important figure of Emily Dickinson. And so I hope that we've really made a substantial contribution to her legacy. And that we've brought new audiences to her work and made people remember why she's so important and see it in a new light.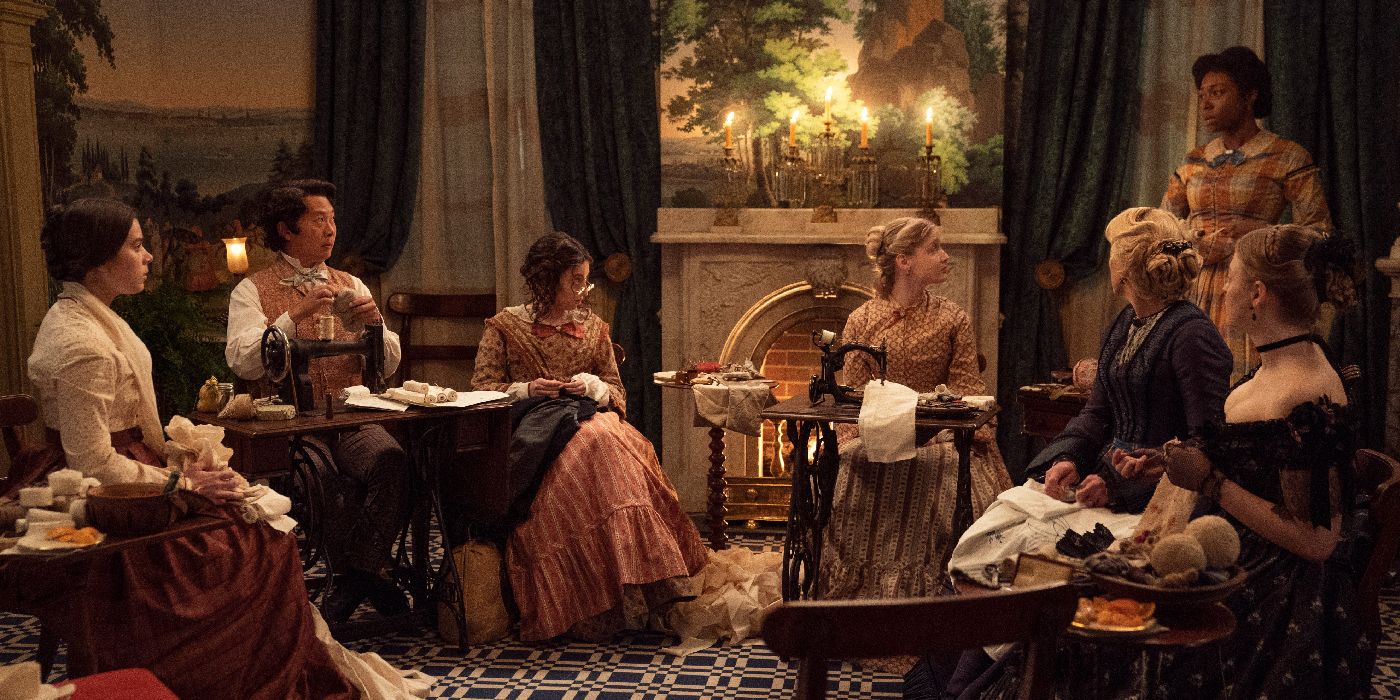 Hailee, Dickinson was your first TV series where you starred in a leading role, but it will not be the last because I was just watching the Hawkeye trailer. I'm so excited for it to be a Christmas Spectacular. How do you describe that vibe because I feel like every Marvel show has just been so different?
Hailee Steinfeld: They all have been so different. They've all been so incredible and have been so awesome to watch. This is it's so much fun. A Christmas Spectacular indeed.

I am so excited to have gone from playing a character like Emily Dickinson for the last three years and because I feel I've spent so much time with her in playing this very strong and determined and independent and driven female character going into one that has those same qualities was a very exciting thing for me and entering the world of Kate Bishop and entering the world of the Marvel Universe has been absolutely incredible and a rollercoaster ride to say the least and I cannot wait for the show to come out.
Next: Why Hailee Steinfeld Is The Streaming Star Of November 2021
The first 3 episodes of Dickinson season 3 premiere November 5 on Apple TV+.
from ScreenRant - Feed