Clifford The Big Red Dog is finally bounding into theaters and homes on November 10, with a simultaneous wide release both on the big screen and Paramount+. The character has been beloved since Norman Bridwell created him in 1963, and now a new generation of children and parents alike can enjoy his adventures for the first time outside the realm of animation.
The story once again follows young heroine Emily Elizabeth (Darby Camp, Big Little Lies), who has recently started attending a posh New York school on scholarship while living in a small apartment with her mother. Her days consist of dealing with bullying and feeling out of place until she and her uncle Casey (Jack Whitehall, Jungle Cruise) meet an adorable puppy who follows them home. When he winds up being a much bigger part of their lives than they expected, he teaches not only Emily Elizabeth but the entire city some very valuable lessons.
Related: Clifford The Big Red Dog Trailer: Jack Whitehall Befriends The World's Largest Puppy
Camp and Whitehall spoke to Screen Rant about the ways in which Clifford helps their characters grow and the imagination it takes to bring 10-foot-dogs to life with their reactions.
Screen Rant: Emily Elizabeth starts off having some issues with her new school, and Clifford seems to be just the friend that she needs. What is her struggle and how does he help her?
Darby Camp: Her struggle is that at school, she is a little bit younger than I think a lot of the kids there. Also, she's struggling with bullying, and she's there on scholarship because she is a smart kid and everyone else has to pay - that's what the bully tells her.

But she's just struggling, she doesn't have very many friends, and she finds this tiny red dog she wants to keep so badly. Her Uncle Casey's like, "Your mom's not even home," and he's skeptical about it. But she does end up keeping him, and she just loves him so much that he becomes 10 feet tall.

I think he's the perfect friend for her, because he helps her stand up for herself in front of those friends. It helps her find herself, and I think that she also helps him as well. I mean, he's this reckless puppy. And she's there to calm him down and help him to be like, "You can't just come in my apartment and sit on my table, break my desk and just run around in our small New York apartment."
Jack, I guess you are now everyone's fun brother. But underneath it all, Uncle Casey does have his own insecurities, and I loved the scene where he talked about how Emily's mom helped raise him. Can you talk about the layers of this character and his journey over the course of the film?
Jack Whitehall: Yeah, I think it was really great to be able to lean into that. And yes, he's kind of a lovable fool at the beginning. But as you say, it's underpinned by some insecurities and some lack of self-belief. I think he's scared of the idea of having any responsibility in his life.

Over the course of the movie, and through his relationship with Emily Elizabeth, he definitely finds some more self-belief and has those little moments of introspection, where he's able to grow as a character, to develop, and to become a little bit mature. But still have a lot of fun along the way to getting there.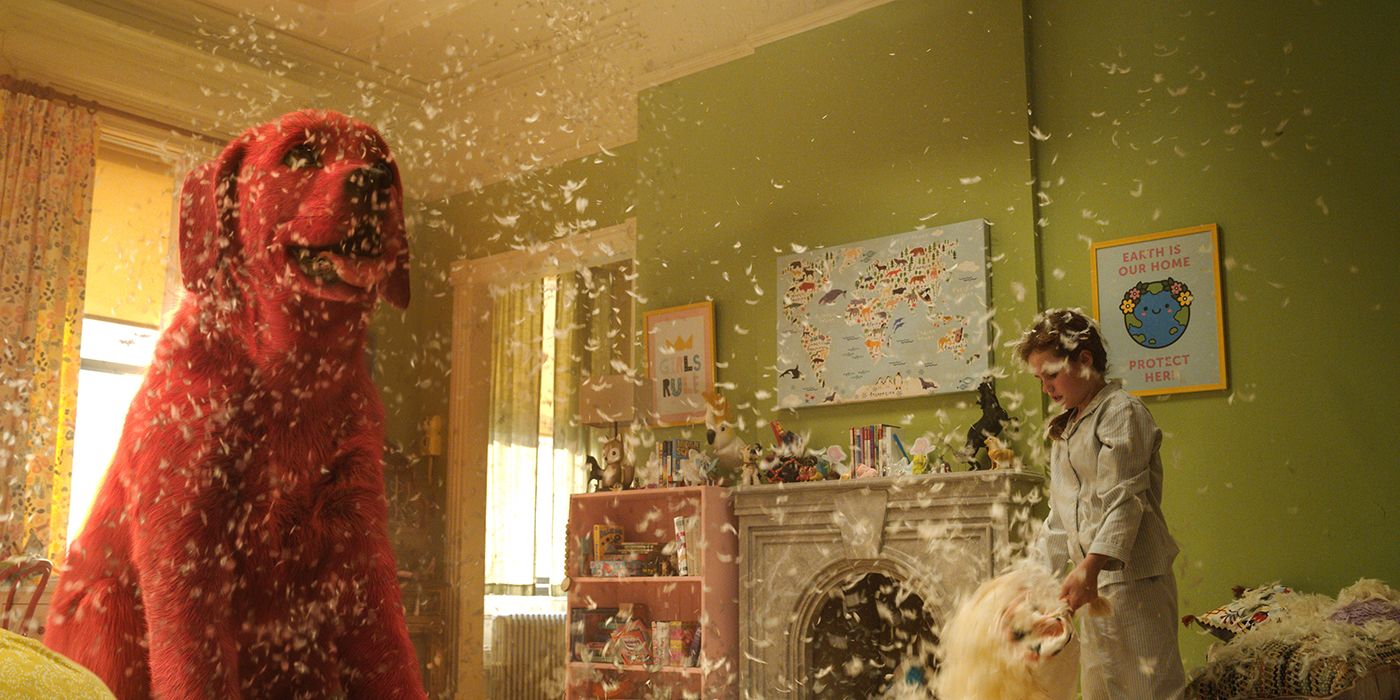 As actors, how do you react to 10-foot-tall red dogs?
Darby Camp: Not having an actual 10-foot red dog there was a little bit difficult, especially seeing him for the first time and having to literally scream at the top of my lungs when it's just a puppet head. But a lot of the time, in the scenes, it felt like a real dog - and the puppeteers are so talented in acting that out.

And definitely in emotional scenes, it was a little bit more difficult not having a real dog there. I really had to channel how I would feel if I was in Emily's situation, and just imagine that. It takes a lot of imagining, especially with CGI, because there's not an actual dog there. But I think it played really well on screen, so I'm happy.
More: Every Movie Coming To Theaters In November 2021
from ScreenRant - Feed