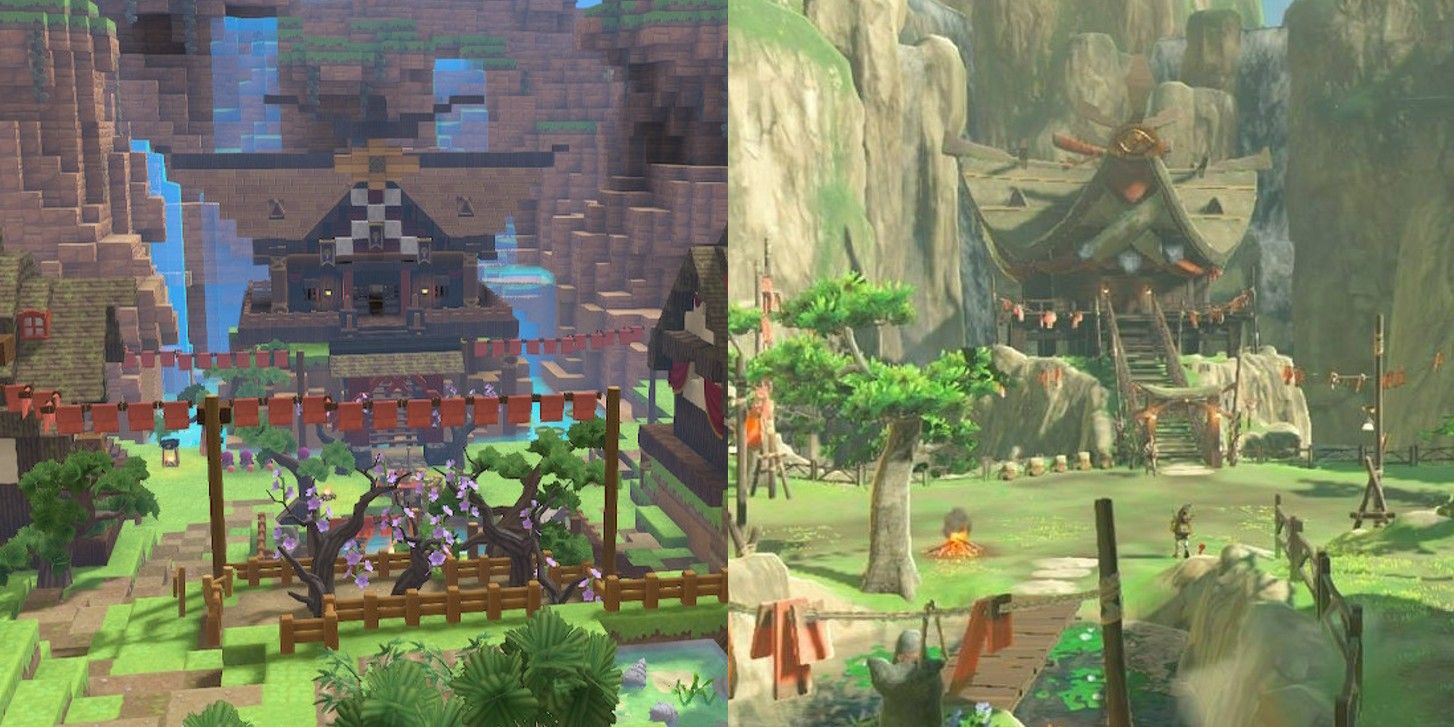 A skilled Zelda: Breath of the Wild fan has recreated some of the game's most famous locations within Dragon Quest Builders 2, reimagining Zora's Domain, Kakariko Village, and more in stunning detail. Dragon Quest Builders 2 is a block-building role-playing game that offers nearly limitless creative freedom, giving users the chance to bring to life almost anything they may desire including recreations of other games.
The Legend of Zelda series is home to some of the most memorable locations in gaming, in part thanks to the reimagining and revisiting of some of the same places across different entries in the franchise. Places including Zora's Domain, Death Mountain, and Hyrule Castle are usually staple locations in Zelda games, despite where they might take place in the official Zelda timeline. While these areas usually appear visually different from game to game, there are lots of consistencies and reoccurring landmarks, making them instantly recognizable for many Zelda fans. Due to their popularity, famous Zelda locations have been recreated within other releases, with games like Animal Crossing being a favorite for Zelda players.
Related: Animal Crossing Player Rebuilds Zelda: Link's Awakening's Mabe Village
Twitter user namikaku25 has shared detailed looks at their incredible Breath of the Wild towns, remade in Dragon Quest Builders 2 (via Automaton-Media). The skilled creator has used the building-based RPG to craft Zora's Domain, Gerudo Town, Kakariko Village, Rito Village, and more, taking the time to fully flesh out their designs with treasure chests, statues, and even a shrine located just next to Gerudo Town. namikaku25 has accurately captured the spirit and feel of the Zelda game, and has plans to continue their work on Goron City, and begin building Hateno Village. The impressive creations show off not just the talent of the designer, but also the robust creative toolset available within the Square Enix game.
The Breath of the Wild player will find themselves with quite a task on their hands should they decide to rebuild the whole game using Dragon Quest Builders 2. BOTW has the biggest map in the Zelda series to date, comprising of a range of different regions that include landmarks, shrines, buildings, homes, forests, mountains, lakes, and more, making a full recreation an imposing task. namikaku25 may be up for the challenge, spurred by fans' positive reactions to their builds. Those interested in seeing more builds from the creator can follow their progress on Twitter.
Zelda: Breath of the Wild might have one of the most memorable and impressive maps in gaming, something which will hopefully continue with the game's upcoming sequel. Not too much is known about the map of Breath of the Wild 2, though trailers have revealed the game will feature an over-world sky map. If namikaku25 plans to extend their Dragon Quest Builders 2 creations to include the Zelda sequel, their work might not be completed for a long time, with BOTW 2 launching in 2022.
Next: How Breath of the Wild 2 Should Change Hyrule's Map
Source: Twitter/namikaku25 (via Automaton-Media)
from ScreenRant - Feed