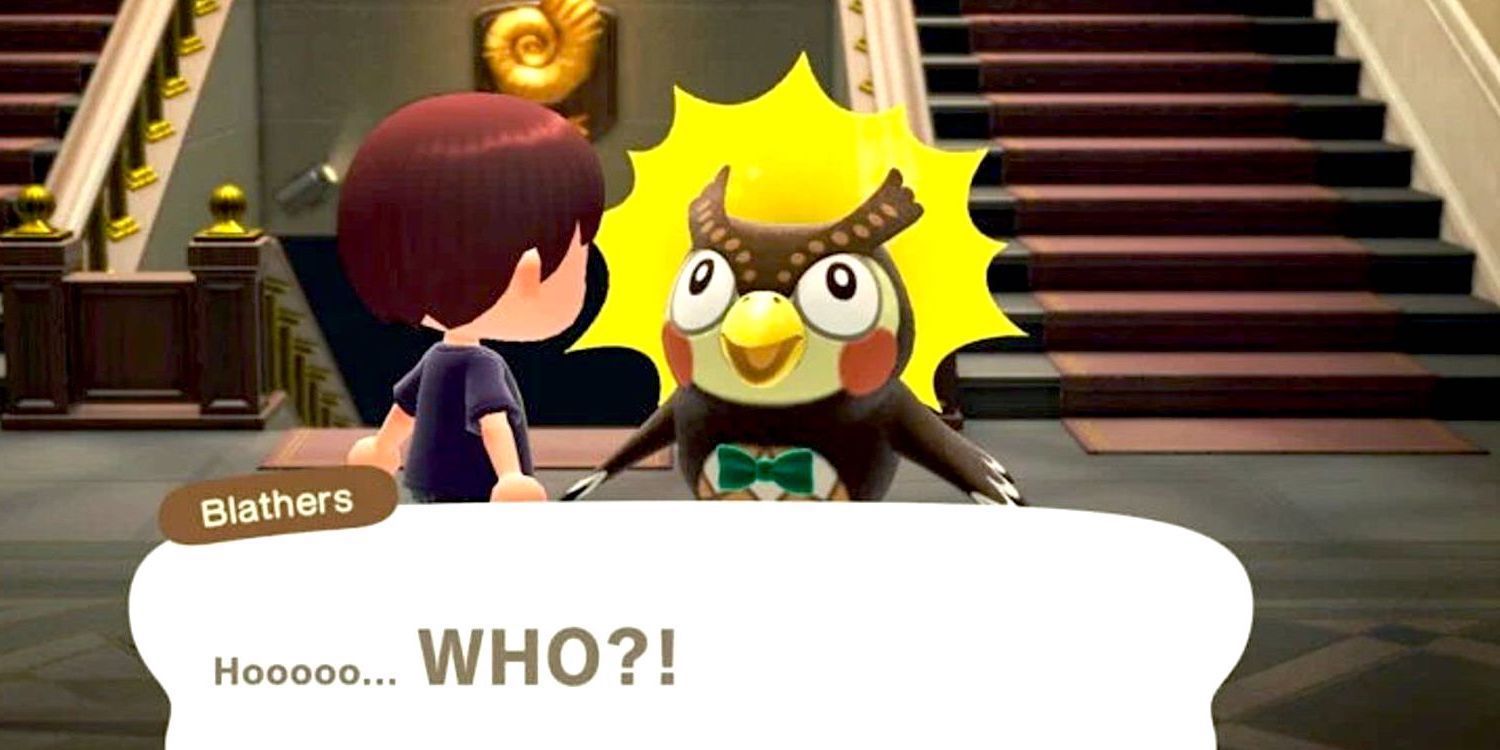 Following in a tradition of unconventional Animal Crossing fan art, a talented artist and Redditor has shared their interpretation of Blathers as a human. The charming sketch is just one of many unique and impressive creations themed after the franchise's massive roster of personable villagers, which was recently expanded with the release of the Animal Crossing: New Horizons Happy Home DLC.
There's no shortage of cute, creative, and one-of-a-kind Animal Crossing fan art to be found online. As a series that prioritizes customization and player agency, much of its content will take on different meanings depending on who is playing. One inclusion that is mostly static is the characterization present in the games' countless NPCs. In Animal Crossing: New Horizons, many of these characters will arrive on players' islands randomly while some of them, like the neurotic scholar Blathers, will show up consistently for all players, as they are tied to central game mechanics and features. Because of this, a lot of fan art is focused on these more universally recognized characters, as evidenced by pieces like a 3D model of the Nook brothers that surfaced earlier this year.
Related: Animal Crossing: Best Hospital Design Ideas (Happy Home Paradise)
While there are notably few human characters in the Animal Crossing games, an artist on Reddit calling themselves chuwbs recently shared a rendition of the lovable Blathers as a young, geek-chic man. The piece appears to have been drawn on paper, and comes complete with a classic artist's signature. The sketch also includes a drawing of Blathers in his original humanoid owl design for comparison.
See the original post on Reddit here.
As is typically the case when it comes to fan art, many of the comments on the post are positive and supportive, showering chuwbs with praise for their imaginative take on the iconic Animal Crossing character. This supportive energy can be seen in the reception of other fan art pieces like the massive Animal Crossing villager mash-up that was shared this spring. However, while not an explicit criticism, some commenters are pointing out that the choice to make Blathers a young and somewhat strapping human is a bit at odds with the popular interpretation of the character; it would seem that most players perceive Blathers as an older, homely man more in line with traditionally presented academics, as opposed to a bespectacled twenty-something.
Like many other iconic Nintendo games, Animal Crossing is mostly devoid of voice acting, so things like Blathers's age can be left up to interpretation. The owl's mannerisms and speech definitely give the impression of an intelligent--albeit bashful and scattered--intellectual, so a dapper, slightly nerdy look certainly fits the character. Some fans will undoubtedly have different ideas of what the character would look like as a human, so it will be interesting to see if this results in more Animal Crossing fan art of this kind.
Next: Animal Crossing 2.0 Design Portal's Best Movie-Themed Designs
Source: chuwbs/Reddit
from ScreenRant - Feed