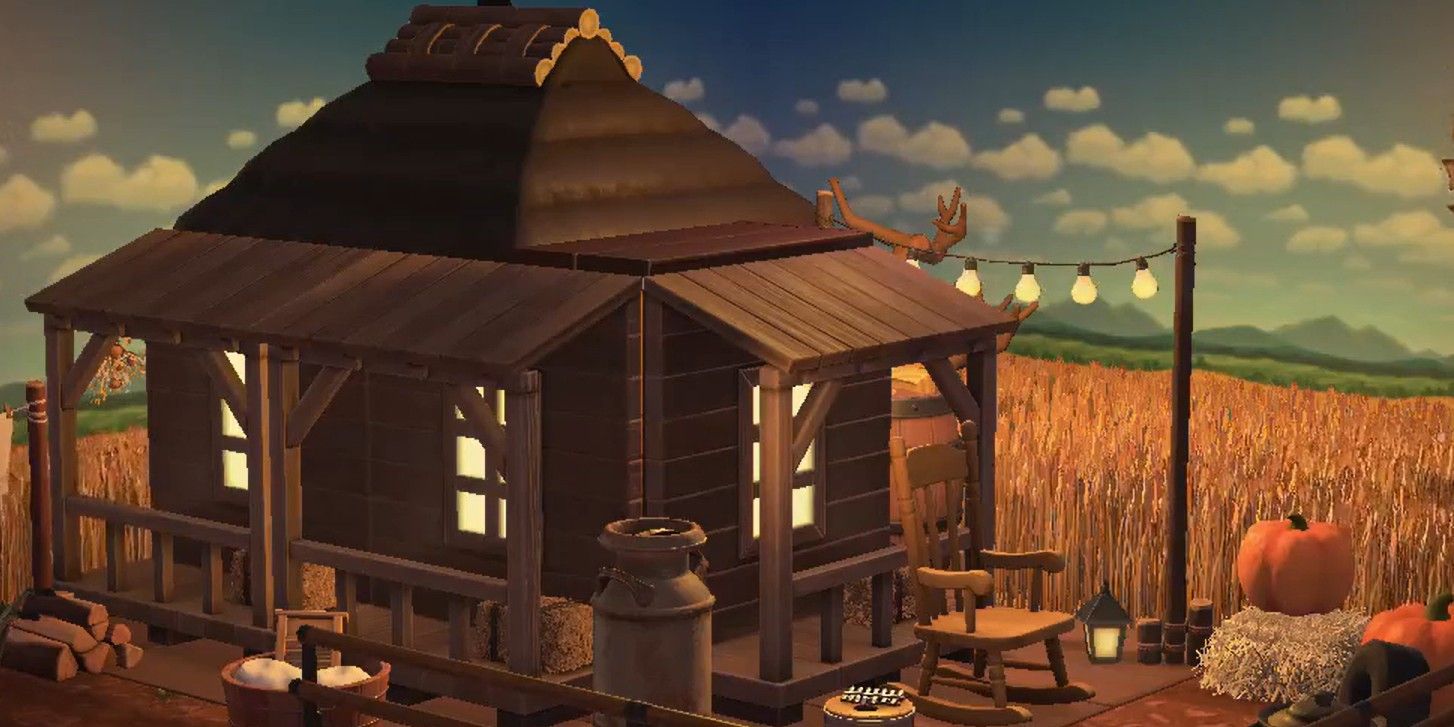 A savvy designer in Animal Crossing: New Horizons has used the game's recently-released paid DLC, ACNH: Happy Home Paradise, to create a farming vacation home inside a vacation home, making for an Inception-like mind-bending build. Animal Crossing's first and last paid DLC launched earlier this month following the game's free 2.0 update, and gives players the opportunity to design vacation homes for the release's many villagers.
Animal Crossing: New Horizons - Happy Home Paradise DLC whisks players away from their own islands and tasks them with helping new NPCs Niko, Wardell, and Lottie with Paradise Planning. After donning their work uniform, players can choose whose dream vacation home they create, either by selecting a character generated on the beach, or by inviting their own villagers with souvenir chocolates. As players design more homes, more in-game features are unlocked, and users will also earn Poki to spend on items sold by Wardell. With lots of creative designs available through ACNH's DLC, the new content has been keeping creators busy.
Related: Animal Crossing Player Discovers A Trick to Tell If Celeste Will Visit
Redditor Mipsymopsy has taken Happy Home Paradise planning to new heights with their vacation home within a vacation home. The user shared their Animal Crossing farm design in a video that highlights the detailed interior of Tipper's holiday getaway. Instead of typical furniture, the designer has built a full home exterior within the property, complete with a porch, lighting, and even a roof. The exterior of the home is littered with farming tools and items, with the look capped off with cloudy-sky wallpaper and a wheatfield. The impressive creation has been a success on Reddit, receiving over 11,000 upvotes at the time of writing.
Watch the video on Reddit here.
Perhaps one of the most striking features of the Animal Crossing build is the porch area, which has been created using one of the game's newer items, the Storefront, which can be found in either Nook's Cranny or the Paradise Planning office. The Storefront is a 2.0 update item, meaning even those who haven't purchased Happy Home Paradise can still try their hand at making a home within a home on their island. For the roof, the player has used the Azumaya Gazebo, building around it to complete their look.
Designing a realistic home within a home is something not previously seen in Animal Crossing, likely due to a lack of suitable items. Players have been substituting missing game items since the title released, using designed hats in place of food, and the Simple Panel to make faux buildings. The game's free 2.0 update introduced over 9,000 new Animal Crossing items to aid players in their creative builds, with additions including new lighting, walls, flooring, setpieces, and even decorative cars. Thanks to the update, there's been a slew of new and impressive Animal Crossing designs shared by crafty fans, something which doesn't seem set to slow down anytime soon.
Next: How Many Villagers Are In Animal Crossing After 2.0 & Happy Home DLC
Source: Mipsymopsy/Reddit
from ScreenRant - Feed