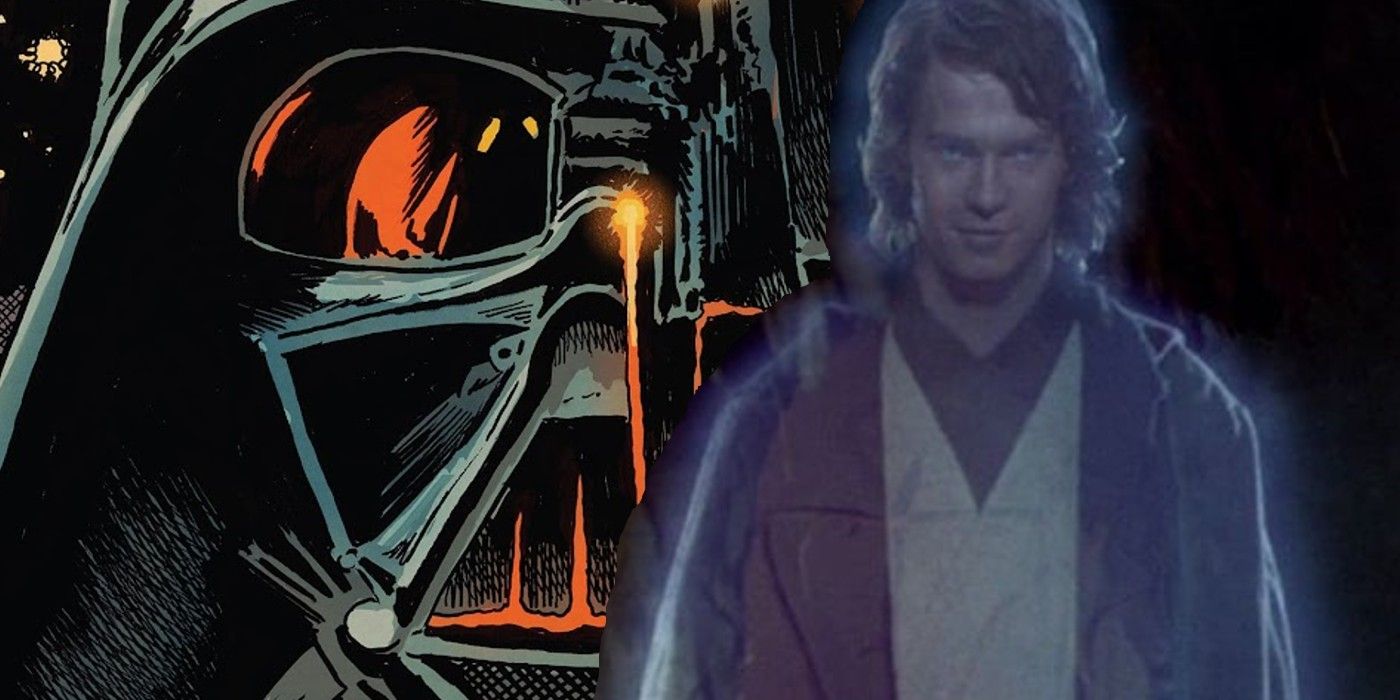 Warning! Contains spoilers for STAR WARS ADVENTURES: GHOSTS OF VADER'S CASTLE #5
The horror-themed comic series Star Wars Adventures: Ghosts of Vader's Castle has shown its heroes spooked by nightmares of the creepy ghost of evil little Anakin Skywalker. However, the fifth and final issue reveals the real ghost of Anakin, as he shows up to save the day. The ghost of Darth Vader is no more, totally replaced by his light-sided counterpart.
The first four issues of Ghosts of Vader's Castle by Cavan Scott, Francesco Francavilla, Megan Levens, Shawn Lee, Derek Charm, Robert Hack, Chris Fenolgio, and Charlie Kirchoff have followed a ragtag team of heroes on their quest to save the protagonist's brother from Darth Vader himself. Every member of the group had been suffering chilling nightmares of Darth Vader, despite the fact that he's long dead. A young Anakin Skywalker appears to the hero, Lina, in her nightmares. The little boy with glowing yellow eyes chasing Lina around her own ship is quite a terrifying sight. However, the ghosts vanish as the heroes awaken, doing no lasting harm. The phenomenon leads them to search for their missing friend on Mustafar, in Vader's Castle. There, they encounter Vaneé, Vader's Sith acolyte.
Related: Why Hayden Christensen Is Returning As Anakin/Vader In Ahsoka Show
They find the monk attempting to resurrect Lord Vader with ancient Sith magic, using Lina as a vessel for Vader's ghost. Vaneé is the one who conjured the "ghost" of little Ani seen in Lina's nightmare. As he begins to perform the spell, he releases thick clouds of hallucinogenic smoke from the planet's core. The nightmares flood back, paralyzing some of the heroes with fear. Lina, however, manages to trick Vaneé into releasing her, at which point she frees her friends as well. The group locks their kidnapper in his own machine where he is doomed to live with visions of his terrifying master forever. Still lost in a cloud of smoke, the group follows the blue beam of a lightsaber blade to their safe exit, thinking that it is Lina. Upon discovering that Lina isn't carrying a lightsaber, her friends jokingly suggest that it was a ghost. As they fly away, the final panel reveals the Force ghost of Anakin Skywalker as seen in Return of the Jedi, chuckling as Lina says, "There's no such thing as ghosts."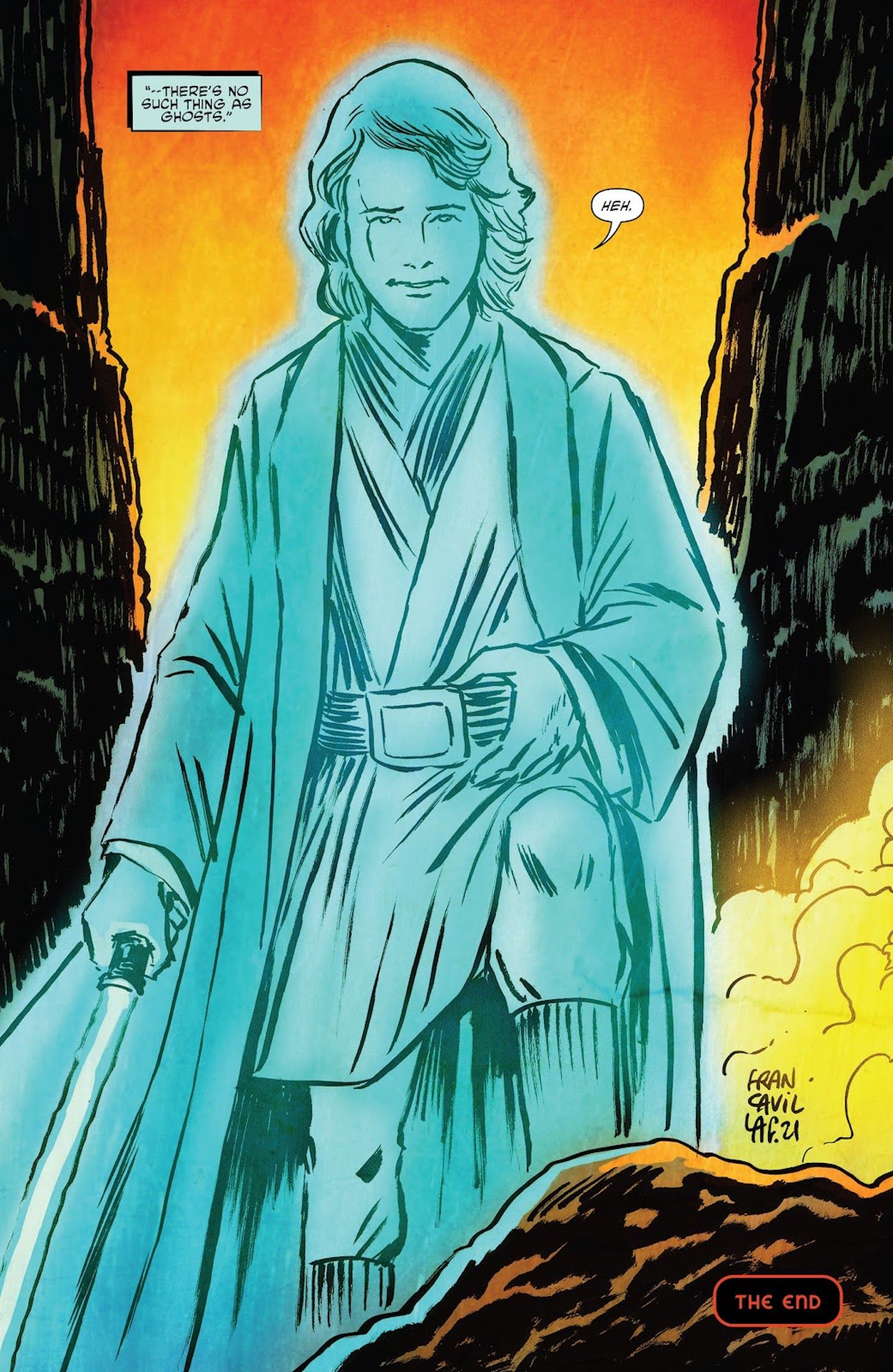 In all of his zeal to resurrect Darth Vader, Vaneé never stops to ask himself if Vader even still exists! Ironically, the very ghost he is trying to make contact with helps to thwart his evil designs. Anakin's ghost from Return of the Jedi rarely sees action in Star Wars canon, and this issue confirms that he lives on not as Vader, but as the Anti-Vader. While it is unclear whether or not Vaneé actually has the ability to resurrect deceased Sith, it's clear that Anakin wanted no part in it.
Despite the dark history of Vader's Castle, its only otherworldly inhabitant is a creature of light. Anakin Skywalker, although gone, lives on to stop Darth Vader. More than a villain, Vader was a terrifying concept, that some followers simply couldn't let go of. Star Wars Adventures: Ghosts of Vader's Castle shows that no matter how people saw Anakin Skywalker, he lives on not as a nightmare, but as a friendly protector.
Next: Star Wars: Why Sith Can't Create Force Dyads
from ScreenRant - Feed