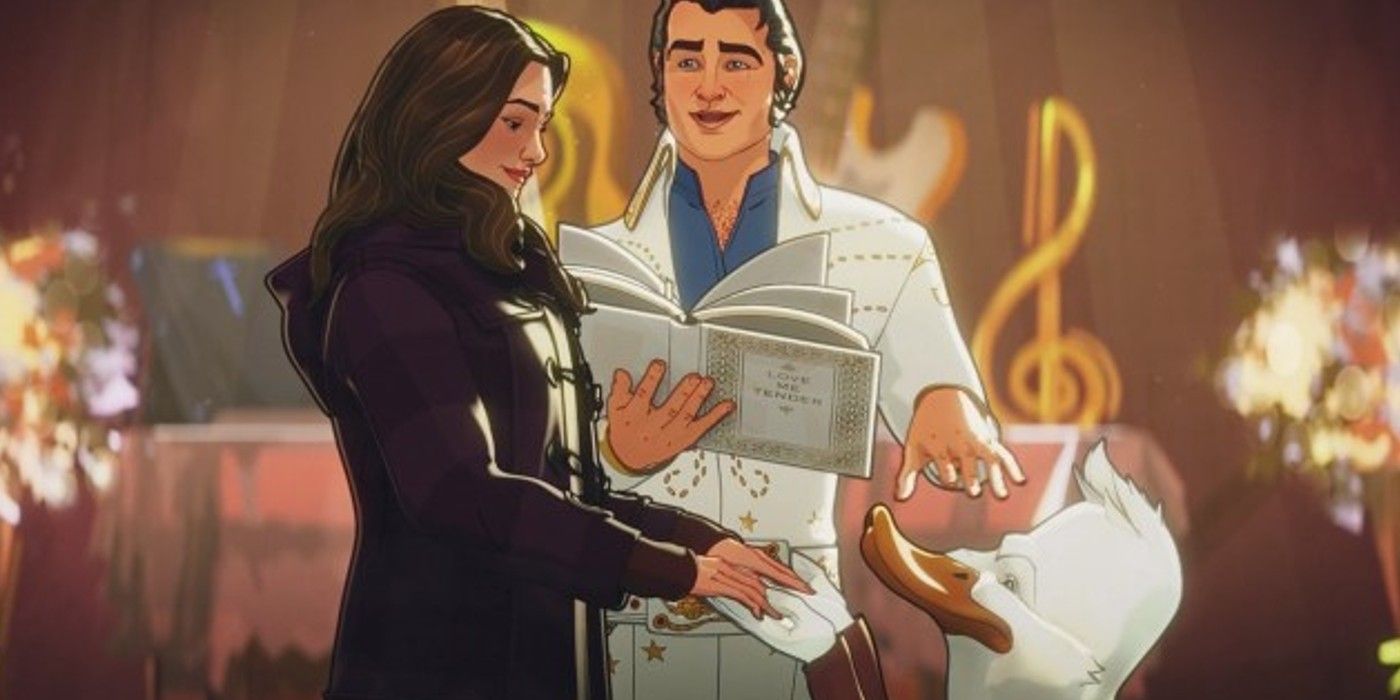 What If…? head writer A.C. Bradley and director Bryan Andrews explain the inception of Darcy Lewis and Howard the Duck's romance in episode 7, "What If...Thor Were an Only Child?" Marvel Studios' first animated series on Disney+ revealed itself to be more than an anthology series in the final episodes of season 1. Embracing its multiversal concept, its preceding installments re-imagined key events and characters throughout the MCU's initial stages. In the end, the Watcher (Jeffrey Wright) brought together the Guardians of the Multiverse, including Captain Carter (Hayley Atwell), T'Challa's Star-Lord (Chadwick Boseman), Black Widow (Lake Bell), Killmonger (Michael B. Jordan), Gamora (Cynthia McWilliams), and, of course, Party Thor (Chris Hemsworth).
Before introducing the threat of Infinity Ultron (Ross Marquand), What If…? leaned into the humor, imagining a universe where Loki had grown up in Jotenheim. Similar to the events of 2011's Thor, the God of Thunder came to Earth and encountered Jane Foster (Natalie Portman) and Darcy Lewis (Kat Dennings). However, "Party Thor" isn't the diligent warrior audiences have come to know in the MCU. Instead of discovering what it means to be worthy, Thor partied with other extraterrestrials across the globe. Jane and her intern even joined in the festivities, with Darcy marrying Howard the Duck (Seth Green) in Vegas and then bickering like the oddest of couples.
Related: Marvel Hints How Iron Man Could've Survived Endgame
In a recent interview with Collider, Bradley and Andrews discussed the first season of What If…? and how it sets up season 2. The showrunners elaborated on the one member of the Guardians of the Multiverse who wasn't featured in a previous episode, Gamora, who audiences see with Tony Stark/Iron Man at the beginning of episode 9. The unlikely nature of that pairing led to Bradley and Andrews touching upon the inspiration for the even unlikelier coupling of Darcy and Howard the Duck. Read what Bradley had to say below:
"When you're making an animation show and you do temp voices called scratch voices, where you put the storyboards and the rough voices against to see how everything plays before you get in Hayley Atwell and Kat Dennings and all the MCU actors... I can't act, but if you give me a beer I do a very good Darcy Lewis," said Bradley. "It turns out drunk A.C. and Darcy are kind of the same. So my original scratch was recorded in the edit bay after a couple of shots of whiskey with the crew. And I also love Howard the Duck. I also have a slight crush on Seth Green, because we all watched Buffy the Vampire Slayer as teenagers. And so that came from a bunch of running jokes in both the script, in the edit bay, with some alcohol, which is really how the Darcy/Howard relationship sprang anyway."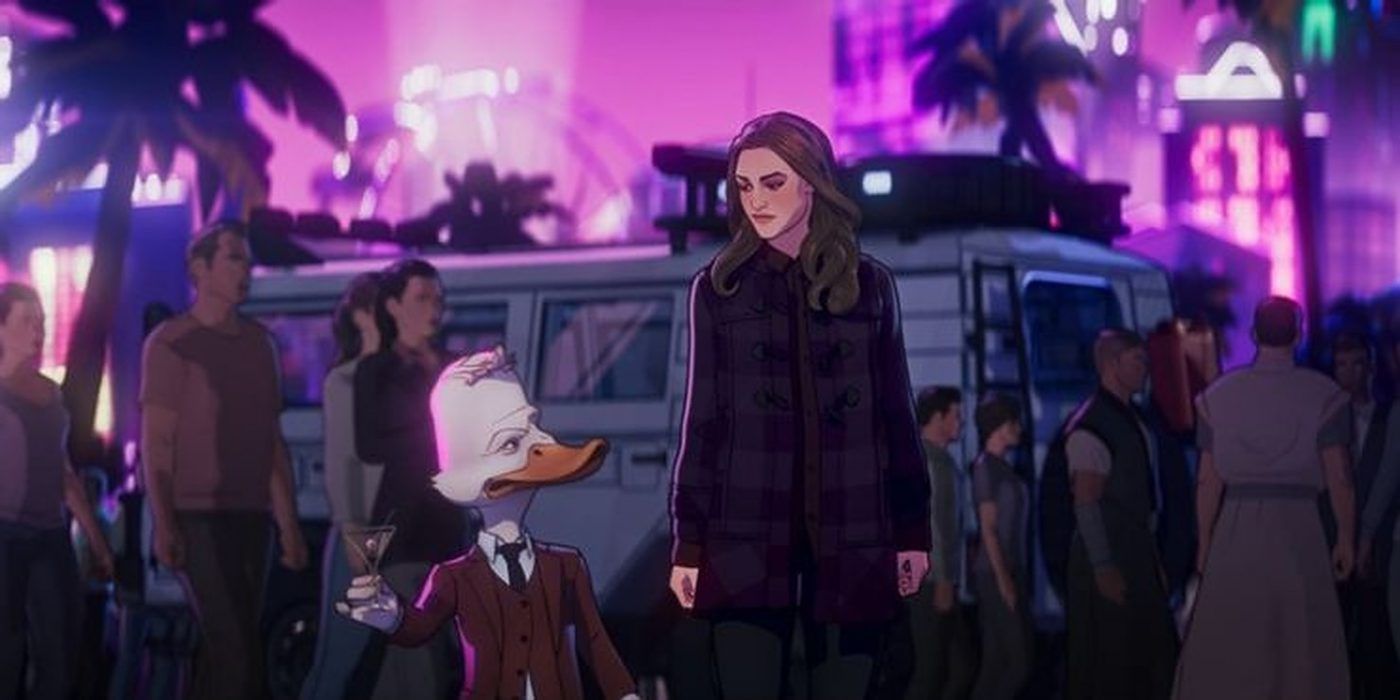 Before episode 7, Howard the Duck was seen in "What If...T'Challa Became Star-Lord?" sporting a suit and ordering a martini. That being said, Andrews went on to talk about how it simply made sense to have the character partying in Vegas with Thor. While "What If...Thor Were an Only Child?" may not be the most well-received episode of the series, the Darcy/Howard romance has proven very popular and memeable with audiences. Given both characters' snarky and quick-witted nature, they do seem oddly made for each other.
A tenth and delayed episode of What If…? leaned into comedy similarly to episode 7. That outing would've explored the universe where Tony Stark and Gamora end up on Sakaar before the latter killed Thanos. It would seem that part of the fun of What If…? Is allowing MCU characters to interact/fall in love that wouldn't otherwise. This is seen in episode 6's Killmonger/Tony Stark pairing as well as the relationship between Natasha Romanoff and Peggy Carter in the finale. It remains to be seen if fans will get to see the progression of Darcy and Howard's relationship. The season 1 finale appeared to set up future visits to at least Captain Carter's universe. So, there's always a chance, especially in the Multiverse.
More: Black Widow's What If Ending Creates A Loki Plot Hole
Source: Collider
from ScreenRant - Feed