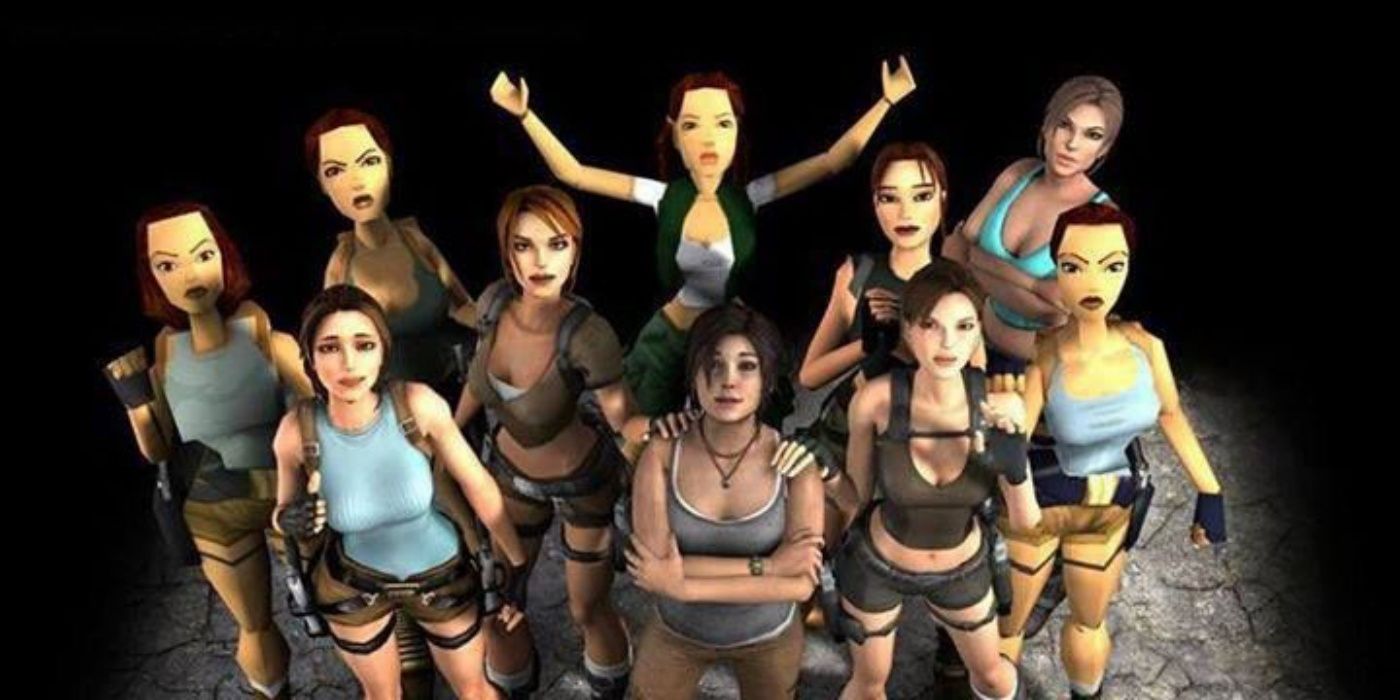 To commemorate Tomb Raider's 25th anniversary, many Lara Croft actresses, alongside several writers and artists, participated in a video reminiscing on the long journey. Developer Crystal Dynamics and publisher Square Enix have celebrated the 25th anniversary of Tomb Raider all year, with crossover content in other games, special behind-the-scenes reveals, and hints about the brand's future endeavors. Square Enix even partnered with Insight Editions to publish an officially licensed Tomb Raider cookbook.
While the cookbook, comics, movies, and upcoming animated series are all well and good, Lara Croft first took pop culture by storm in video games. And multiple women were central to bringing her to life throughout the last quarter of a century. Every entry had a voice actress, of course, but specific models were hired to help create Lara Croft's likeness for various adventures, as well. Shelley Blond lent her talents to the voice of Lara for the original installment. Judith Gibbins entered the mix with Tomb Raider II. And now there's a generation of players who consider Camilla Luddington from the Tomb Raider survivor trilogy as the character's definitive voice. Truth is, dozens of women were integral to the creation and longevity of this much-beloved icon.
Related: New Avatar: The Last Airbender, Tomb Raider Games Coming To Mobile
Square Enix has unleashed a new video wherein multiple voice actresses, models, writers, and artists address fans for a Tomb Raider 25th anniversary celebration. All of the aforementioned actresses appear, in addition to models such as Natalie Cook, the original Lara Croft model, and Nell McAndrew who served as Lara's official model for Tomb Raider III. Writer Rhianna Pratchett (Tomb Raider 2013 and Rise) participates in the walk down memory lane, too, as does Tomb Raider 2 movie Director Misha Green and EP on the Netflix anime series, Tasha Huo.
To honor Lara and all of these women, Square Enix donated $25,000 to the global humanitarian organization International Rescue Committee. Another $20,000 donation went to Women for Women International in the name of Camilla Luddington for her award-winning contribution to Tomb Raider (2013), Rise of the Tomb Raider, and Shadow of the Tomb Raider.
Again, the above constitutes just one of the many ways Square Enix is celebrating the brand's longevity. And a "Here's to another 25 years" tag at the end hints that there will soon exist even more reasons to honor Tomb Raider and Lara. The eventual releases of the live-action film sequel and Netflix anime don't begin to scratch the surface, either.
Earlier this year, Crystal Dynamics announced plans to produce a game geared towards uniting Lara Croft's original storylines with that of the survivor trilogy that kicked off in 2013. How exactly the crew will accomplish as much presently remains a mystery.
Next: BOTW, Uncharted, & Tomb Raider's Climbing Graded By Real-Life Pros
Source: Tomb Raider/YouTube, Square Enix
from ScreenRant - Feed