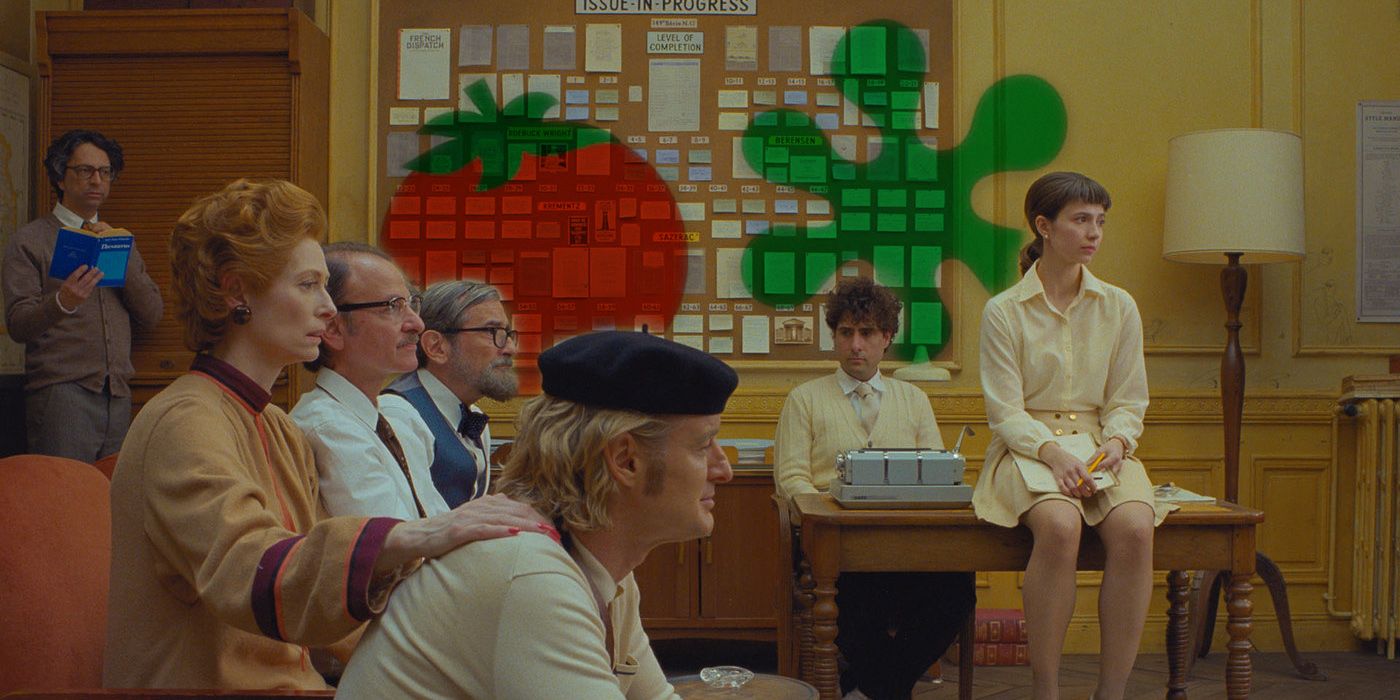 Wes Anderson returns to the big screen with The French Dispatch, though critical reviews have been mixed upon its release. The French Dispatch (2021) premieres as Wes Anderson's 10th movie, following his stop-motion animated feature Isle of Dogs in 2018. It also happens to be his first live-action movie since the Academy Award-winning movie The Grand Budapest Hotel in 2014, with several of the same actors returning as part of Anderson's troupe. Aside from his now 10-time collaborator Bill Murray, The French Dispatch also features the Anderson debut of Timotheé Chalamet, who also headlined Denis Villeneuve's Dune opening the same October 2021 weekend.
Among Anderson's directorial features, The French Dispatch rates surprisingly low on Rotten Tomatoes at only 74 percent for critics, though holds a more admirable 82 percent among audiences. His other movies, (aside from Anderson's Bill Murray-led Life Aquatic With Steve Zissou), are typically held with mediocre or highly positive reviews. Fantastic Mr. Fox and Moonrise Kingdom share Anderson's highest score at 93%, followed by The Grand Budapest Hotel (92%). The French Dispatch falls between Anderson's beloved feature The Royal Tenenbaums (81%) and his lesser-known sibling picture The Darjeeling Limited (69%).
Related: The Royal Tenenbaums Is Wes Anderson's Best Movie
Featuring brand-new narrative and technical designs for the director, The French Dispatch follows journalists of the titular magazine and their pieces featured in a specific issue. The stories are separated by the journalists in the pressroom, a brief travelogue, an exposé on a prisoner who is a talented painter, a focus on a young 1968 revolutionary, and a piece on The French Dispatch's local Ennui-sur-Blasé chef that turns into a climactic kidnapping caper. While praising Anderson's all-star cast, classic cinematography, and deadpan humor calling cards, critics pointed out that the director's typical character-focused dynamics and premises ultimately fell short in The French Dispatch, leaving the film to be aimed at Anderson's more loyal audience. Here's what some critics have said about The French Dispatch's niche target and how its crowded interweaving of stories fell short: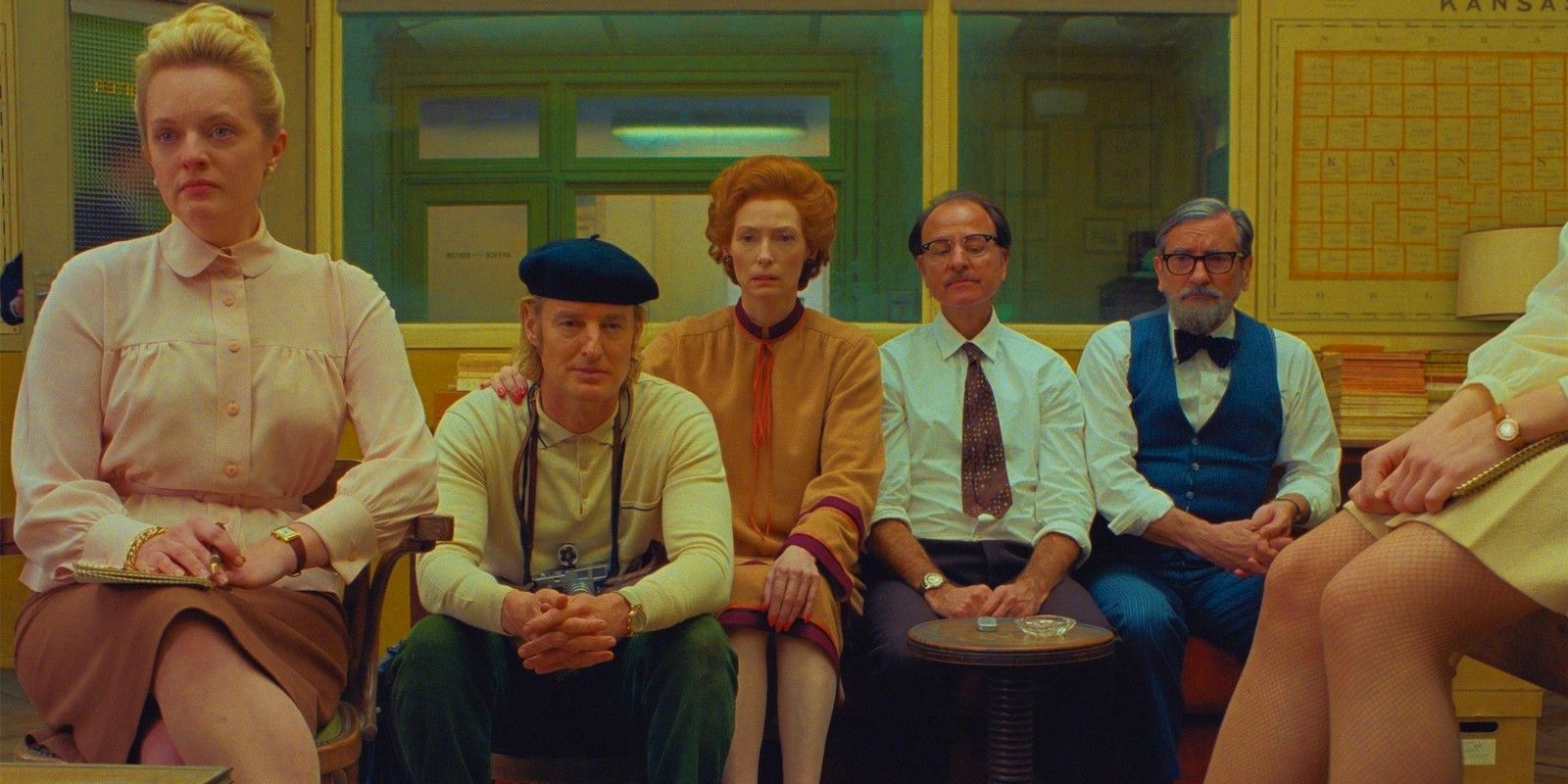 "A loving ode to the spirit of journalism, The French Dispatch will be most enjoyed by fans of Wes Anderson's meticulously arranged aesthetic."
"The problem with the anthology structure… is that it's almost inevitably uneven. And however engaging the film's final story is… patience will be sorely tried by the segment that comes before it."
"As someone who, with exceptions, usually does have a taste for Anderson's work, I have come to accept that his movies cannot and should not be foisted on the resistant. This is more true than ever when it comes to the almost unbearably on-brand The French Dispatch... a film that plays like a counterpart to The Royal Tenenbaums' dog-eared literary fantasia."
Vox:
"For Wes-heads, The French Dispatch is likely satisfying. Stylistically, The French Dispatch is Anderson working at the height of his powers. I can't help but wonder if the frantic pastiche and rampant nostalgia of this film weakened my ability to enjoy it. It feels hollow."
Although cliché, many of The French Dispatch's reviews have turned to the same conclusion: If you like Wes Anderson movies, you'll like The French Dispatch. The overall consensus of the film's style is that it's Wes Anderson at his most Andersonian, essentially conveying that viewers will see his iconic color pallets, deadpan humor, quirky characters, and ever-changing aspect ratios at a more heightened level. In this case, it can be surmised that The New Yorker magazine-inspired The French Dispatch is more of a technique-enhanced passion project aimed at his love of journalism, artistry, and their intersection than a narrative with in-depth characters. This accounts for much of the division among critics; those who are Wes Anderson fans and appreciate his technical style at its cinematic maximum are better able to find a much deeper respect for the film, whereas others believed The French Dispatch's technical focus resulted in a neglected narrative. It's a very Wes Anderson film, but in a fast-paced, smaller focus on the characters as it cleverly navigates comprehensive storytelling of how one would read a magazine issue. Here are what positive reviews have been saying about The French Dispatch: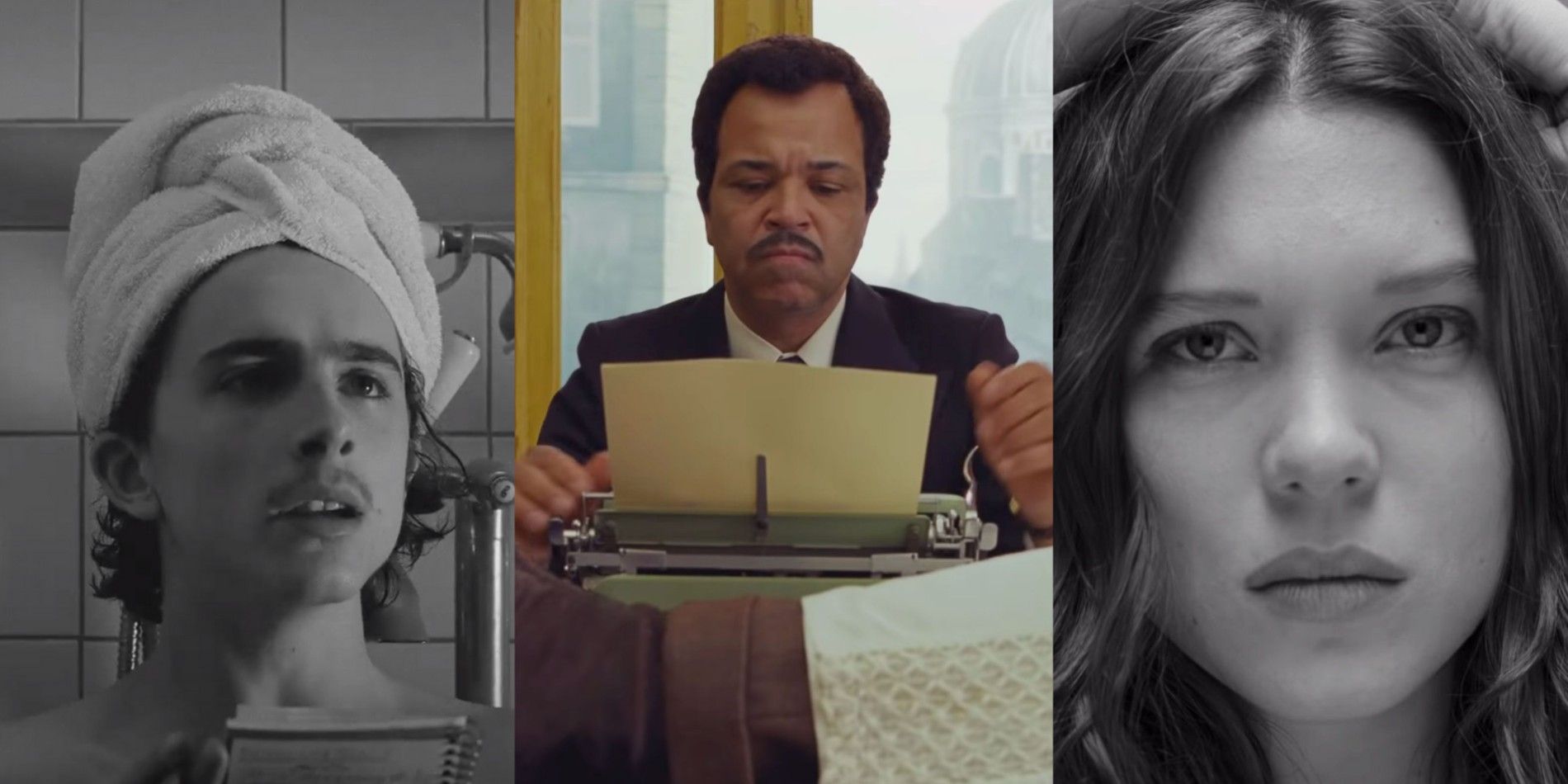 "The French Dispatch holds the audience at a remove... and is a stronger film for it. Watching Anderson follow his obsession to the outer limits is fascinating. The movie may be hard to explain, but it's very fun to watch. It's a fast-paced delirious movie about a very slow unchanging world."
"To unpack The French Dispatch's library of touchstones would require multiple viewings and maybe a bibliography. The key to The French Dispatch's sneaky resonance, tucked into the spaces between its moving parts, is Anderson's balancing act of reverence and irreverence."
"A certain amount of the delight you find in "The French Dispatch" may derive from your appreciation of the cultural moments and artifacts it evokes. Anderson expresses a fan's zeal and a collector's greed for both canonical works and weird odds and ends, a love for old modernisms that is undogmatic and unsentimental."
"So while there's no overarching narrative or overlap between segments, Anderson is quite clearly the author of all five — for there is no living filmmaker with a more recognizable visual signature, and every frame of "The French Dispatch" is unmistakably his. Thus, the unconventional project succeeds in delivering that very particular hodgepodge pleasure of reading a well-curated issue from cover to cover."
Whether critics loved the cast and characters of The French Dispatch or found it to be less universally appealing, the consensus is that the movie requires a second viewing to make a proper judgment. The French Dispatch features Anderson's most common theme of nostalgia while serving as a love letter to journalism through his classic stylistic touch, but its fast pace, anthology narrative, and quickly changing aspect ratios and color schemes may not appeal to less Andersonian-inclined audiences. Anderson's movie plays stylistically and narratively as the type of magazine he's paying tribute to, which may or may not turn off audiences unfamiliar or indifferent to his intentions and unconventional aesthetic.
Next: The New Searchlight Pictures Logo Makes Us Sad
from ScreenRant - Feed