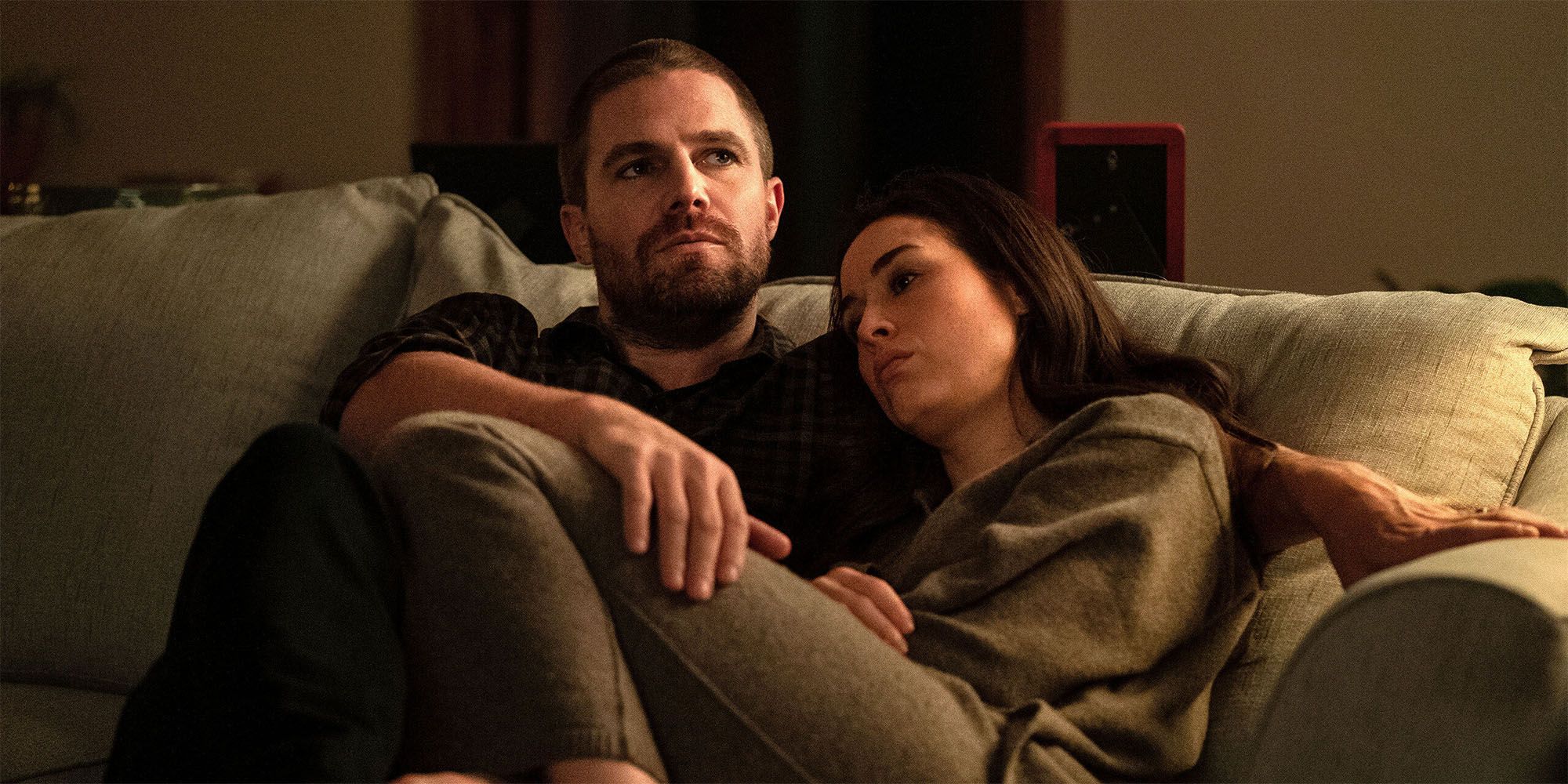 The best part of the Starz drama Heels wasn't the wrestling. Created by writer Michael Waldron, with Mike O'Malley as showrunner, Heels focuses on the family-owned wrestling promotion of Duffy Wrestling League, (DWL), in Georgia, which is struggling to build itself back up financially. Throughout its eight installments, the series has examined how professional wrestler Jack Spade (Stephen Amell) and his younger brother Ace (Alexander Ludwig) clash over the way the promotion should move forward in the wake of their father's suicide.
However, the most consistently compelling storyline of Heels occurs far away from the grappling ring. It's glimpsed in the premiere episode, as Jack returns home to his wife Staci (Alison Luff). The couple has been married for nine years and it's clear that, of late, Staci is upset that her husband has been spending too much time on the DWL. Jack gently downplays her concern, saying that their arguments are merely "loving with raised voices" and that they are setting a fine example for their son Thomas (Roxton Garcia). But, interestingly, throughout the show, Jack and Staci never do raise their voices at each other.
Related: Why Heels Ignores WWE & AEW's Women's Revolution
Not that Staci doesn't have plenty of cause to lose patience with Jack. He neglects to do what is asked of him, he's often distracted around his family, and his physical altercations with Ace both in and out of the wrestling ring genuinely rattle Thomas. Most worryingly, Jack doesn't seem to understand Staci when she tries to express what she's feeling. Given that this is set up early in Heels season 1, the audience is primed for a massive fight further down the road. Except that fight, at least in its most bombastic and ostentatious form, never actually happens. Instead, whenever Staci feels like she might lose her temper with Jack, or whenever Jack feels that he's about to say the wrong thing, the couple remembers to recalibrate and take a step back.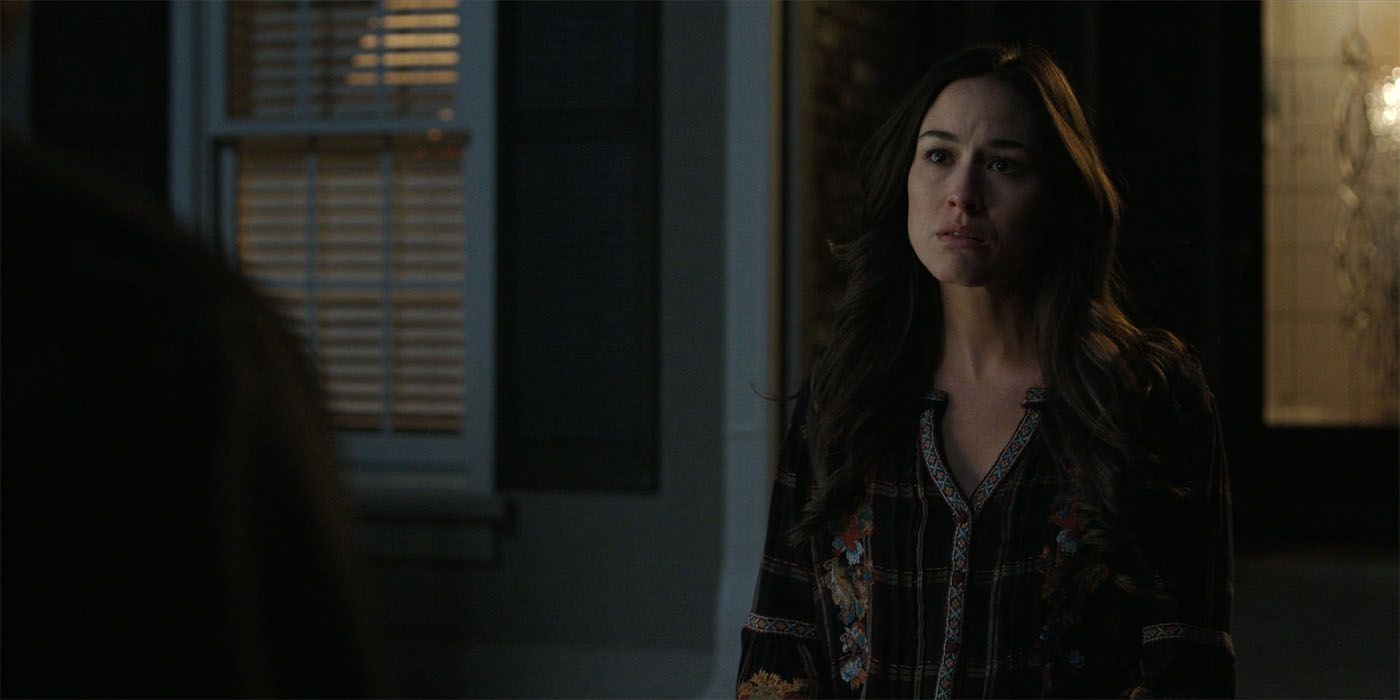 This approach is markedly different from how Heels generally operates, particularly when it comes to its wrestling components. Almost to the point of parody, the Starz drama has relied on opponents legitimately trying to injure each other in the ring as a shortcut for expressing how angry the characters are. It happens in the first episode, at the middle point, and then again in the Heels finale. In real life, of course, this doesn't happen with any sort of regularity. A newbie wrestler who makes the conscious decision to tear his opponent's leg, as Ace does in episode 5, would have serious difficulties gaining the locker room's trust ever again.
That isn't to say that the in-ring moments in Heels don't have their charms, but they're melodramatic and heightened in a way that the more character-based scenes simply aren't. This is reaffirmed in the show's sixth episode, as Jack misses an important musical performance by Staci because of his focus on the DWL. Calmly, forthrightly, Staci opens up to her husband about how his absentmindedness harms the family. But she also expresses a deeper, more devastating emptiness. With her son at school and Jack at work, Staci is left with a lot of time to think about the way that her life has turned out. Though she never says it exactly, she wonders whether she's destined for a mediocre existence. Jack listens, knowing that nothing he could say will help all that much. Still, he tries.
Luff, especially, and Amell shine in these scenes. As does the writing, which never veers in the direction of strained monologues. Similarly to Richard Linklater's Before trilogy and Marriage Story, the Spades are a standout depiction of how long-term couples tend to interact and argue. Rather than aim for a big showy confrontation with Staci and Jack, Heels consistently dials it back while still delivering an exceptional emotional punch. It's even more notable, considering that the rest of the show is all about going big.
Next: Heels Season 1 Finale Ending & DWL Future Explained
from ScreenRant - Feed