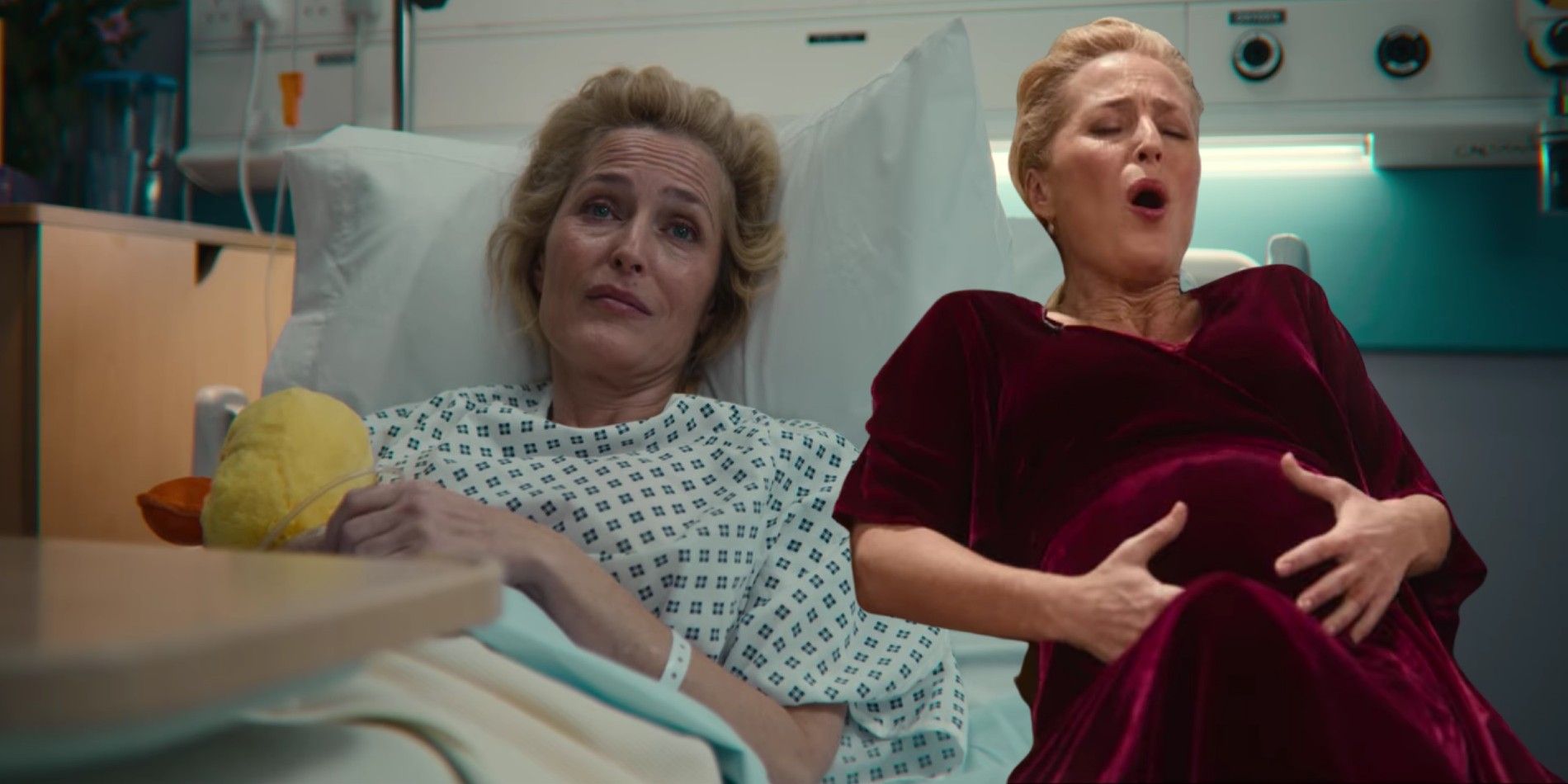 In the penultimate episode of Sex Education season 3, Jean Milburn prematurely gives birth to her daughter, and in doing so, risks her life. The divorced mother of Otis (Asa Butterfield), Dr. Jean Milburn (Gillian Anderson) is Sex Education's resident sex therapist who maintains a string of one-night stands. However, she soon falls in love with Jakob Nyman (Mikael Persbrandt), a widowed Swedish handyman. He also happens to be the father of Ola (Patricia Allison), Otis' ex-girlfriend. At the end of Sex Education season 2, the couple breaks up, and it is revealed that despite Jean's perimenopause and Jakob's vasectomy, they are expecting a child.
Because of their relationship status, Jean postpones telling Jakob, and when she finally does, after counseling sessions, they decide to raise their child together. But the challenges are just starting — they still have to work through their personal traumas, trust issues, and blended family. While pregnant, Jean battles the stigma of her situation, as she encounters wide-eyed disbelief and off-putting comments on how old she is and how she should not have gotten herself pregnant. When Jean goes to the hospital for an ultrasound session, she is met with age discrimination, and even the doctor performing an ultrasound on her insensitively reminds her of the risks associated with late pregnancy.
RELATED: What Sex Education's Cast Is Doing Next
To make things worse, Jean goes into labor eight weeks early, while promoting her book on a television show. Maureen Groff (Samantha Spiro) accompanies her to the hospital, while Jakob is unaware of the situation, waiting for Jean to arrive at their therapy session. Jean gives birth to baby girl Joy, and just as Jakob arrives and sees their baby, she announces that she feels strange. Jean then suffers from postpartum hemorrhage (PPH), which, as researchers have found out, can be a complication of late pregnancies. Advanced maternal age, especially 45 years old and above, is strongly associated with maternal and fetal risks, including preterm delivery and postpartum hemorrhage.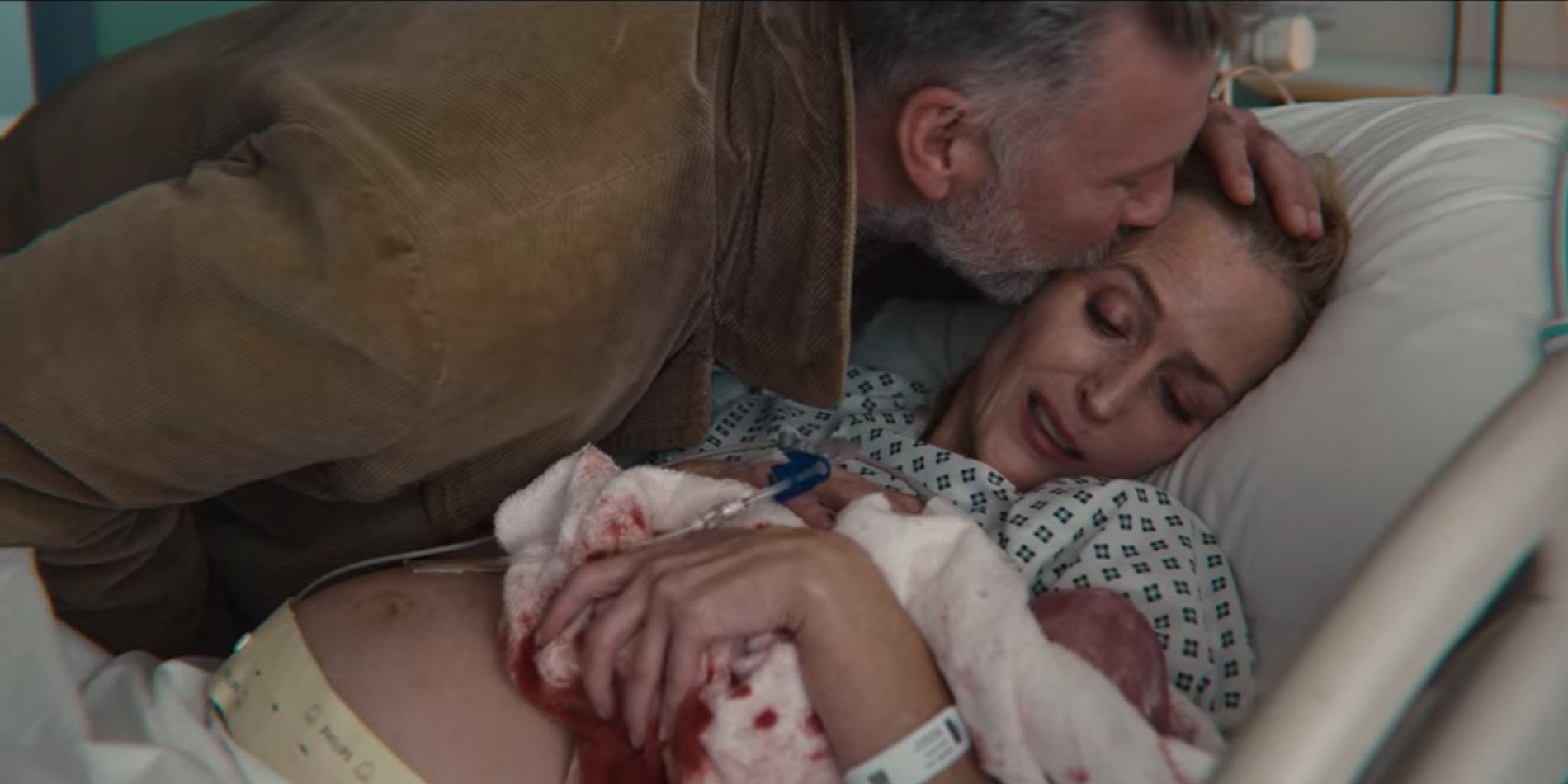 Generally, older women are at greater risk of having health complications such as gestational diabetes, high blood pressure, and placenta previa, a condition where the placenta nourishing the baby separates from the uterine wall and blocks the cervix. As a result, they are more likely to give birth prematurely, with possible fetal defects, although that is not always the case. Perhaps, Jean's early labor is also triggered by her stress on balancing her family and work responsibilities.
Additionally, Jean suffers from heavy bleeding. While it is normal to lose blood after childbirth, PPH is a rare but serious condition, almost killing Jean at the end of Sex Education season 3. Typically, the uterus contracts its bleeding vessels to push out the placenta after giving birth, but if the contractions are not strong enough, the vessels will only bleed more, resulting in PPH. Significant blood loss can cause a severe drop in blood pressure and prevent organs from getting enough blood flow, placing them in shock and leading to death. Nevertheless, just like what happened with Jean, PPH can be managed with surgery. For some, the uterine lining just needs to be massaged to stimulate contractions, but in other cases, the uterine blood vessels have to be sealed off, or worse, the uterus has to be removed altogether.
Fortunately, at the end of season 3, Jean survives and is ready to move forward with her family. But the problems affecting Gillian Anderson's character seem to never end, as she shockingly learns who the father of her baby is. This sets up more complicated, and hopefully, less life-threatening, storylines for Jean, Jakob, and Joy as they enter Sex Education season 4.
NEXT: Why Sex Education Season 4 Should Be Its Last (Even Though It's Great)
from ScreenRant - Feed