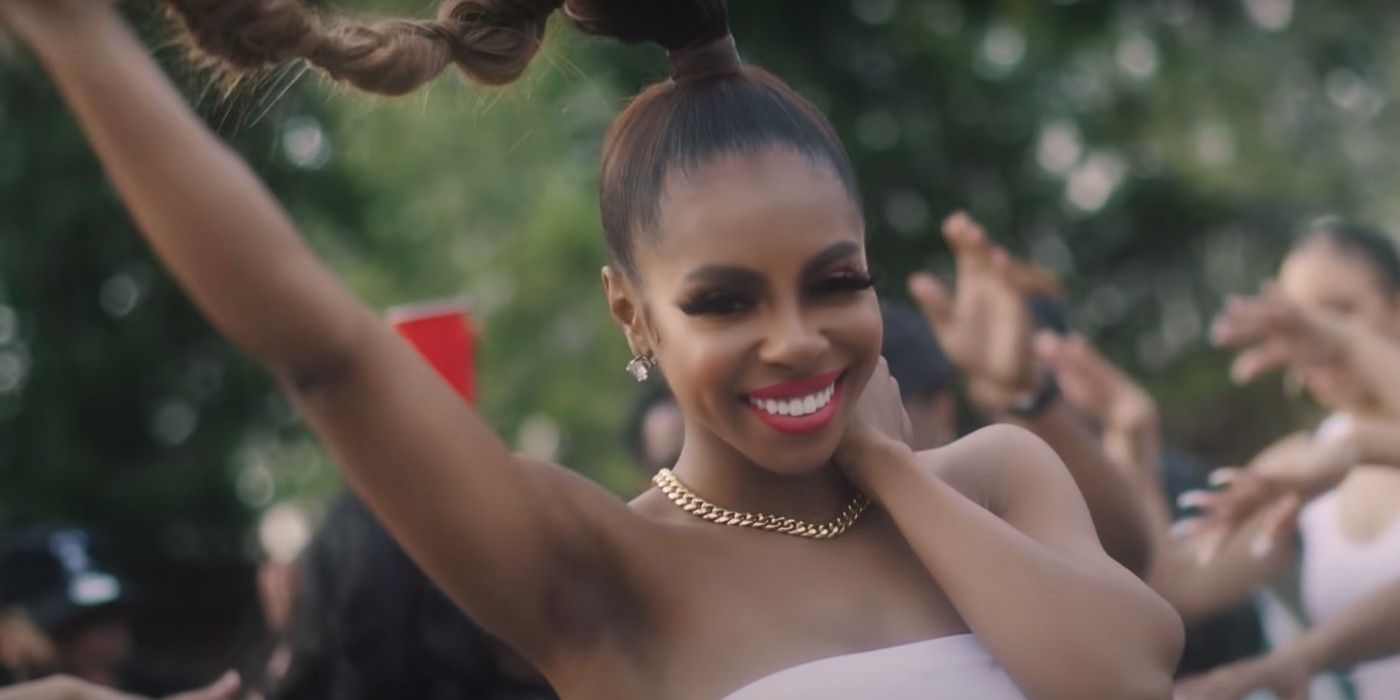 The Real Housewives of Potomac star Candiace Dillard recently tweeted about wanting a Grammy nomination for her single, "Drive Back," and fans have a lot to say about the singer's attempt to catch the Recording Academy's attention. The former Miss United States has been pursuing an acting and singing career since she first appeared on the Bravo reality series, and her career dreams have long been a point of contention for her castmates and fans (or, rather, haters). She's not a dilettante by any means, with a handful of acting and producer credits, according to her IMDb profile. In addition to that, she released her debut album, Deep Space, in September 2021.
Fans watched Candiace record and film the video to one of the singles, "Drive Back," on season 6 of RHOP. During that episode, she invited her RHOP castmates to make appearances in the video — and they did make the final cut — but the shoot was not without its fair share of drama. Not only were there issues with getting the cars on set in time, but her mother was also there and happy to gossip with her castmates about the validity of her daughter's music career and whether or not her husband, Chris, should be her "husbandger." After the shoot, Mia Thornton called the whole ordeal "low budget," initiating an episodes-long arc of feuding between Mia and Candiace, including an infamous salad toss and some barbs about the size of each others' feet. If anything, Candiace's "Drive Back" video will go down in Bravo history for just that. Can't you just see the salad on display at the next Bravo-Con Real Housewives Museum? Fans can only dream.
Related: RHOP: Candiace Dillard's Husband Chris Denies Mia's Hookup Insinuation
Candiace is dreaming, too, as she posted a tweet on Oct. 23 asking the Grammys to consider her for a Grammy nomination. She asked to be considered not just for her single but for, Best New Artist, Best R&B Album, Best R&B Song, and Best R&B Performance, which is a lot considering there are just over 100,000 views on Candiace's video on YouTube alone. Candiace did note that she was "shooting her shot" with the Grammy campaign, but fans could not help but roll their eyes (and root for her!) when the tweet was reposted by the Bravo meme account, iliveforbravo on Instagram. Sadly, people were not very kind to Candiace's dream of getting a Grammy nom.
One Twitter user, @itonisells, wrote, "Now I know she delusional girl plz a Grammy is a bit much get on a tour as a headliner or something first." On the iliveforbravo Instagram post, many shared the same sentiment, with one person commenting, "Category is: low budget realness," a nod to the RHOP fight about the single. The digs and jabs at Candiace went on. Still, there were just as many people cheering her on in the comments beneath her tweet, noting that the album was worthy of a Grammy in their opinion, even if Candiace hasn't quite climbed to the top of the Billboard charts just yet.
Still, a girl can dream, despite the haters, and Candiace definitely does dream. Candiace and Mia only reconciled by heaving a heart-to-heart about respecting each other and a lot of that was Candiace asking Mia to respect her music career, whether it was "low budget" or not. Who knows, maybe every Bravo fan will be surprised if the Recording Academy takes Candiace's campaign seriously. It's not a bad song, after all.
Next: RHOP: Candiace Hints Costar Was 'Obliterated' By Nicki Minaj At Reunion
The Real Housewives of Potomac airs on Bravo Sunday nights at 8 p.m.
Source: Candiace Dillard/IMdb, Candiace Dillard/Twitter, @itonisells/Twitter, MNRK Nashville/YouTube, iliveforbravo/Instagram
from ScreenRant - Feed