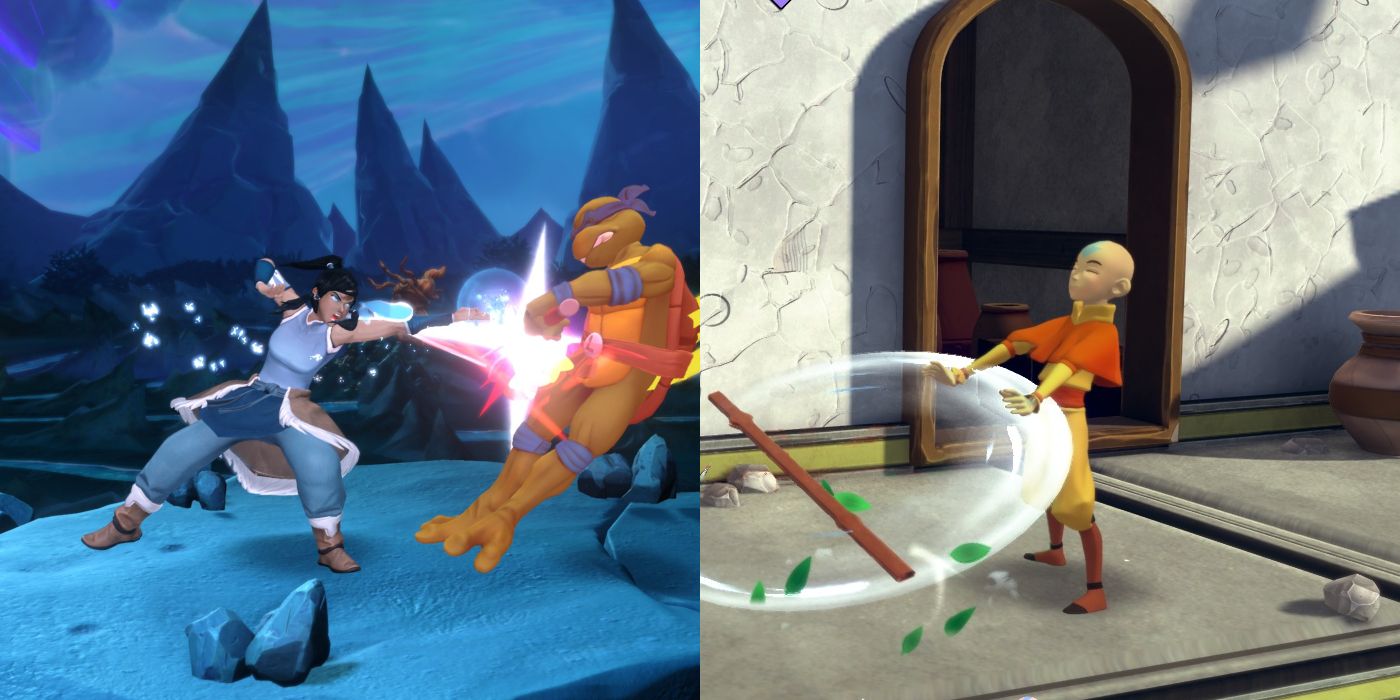 The Nickelodeon All-Star Brawl movesets of Aang and Korra, the protagonists of Avatar: The Last Airbender and Legend of Korra, have been fully detailed. The beloved fantasy franchise follows the powerful and reincarnated Avatar, with Aang starring in the original series and his successor Korra following afterward. After rampant speculation, Aang and Korra were recently confirmed as two members of Nickelodeon All-Star Brawl's roster of cartoon competitors.
Nickelodeon All-Star Brawl is a crossover fighting game which pulls together characters from Nickeodeon's long history of cartoons. Playable fighters range from the goofy SpongeBob SquarePants to various members of the Teenage Mutant Ninja Turtles. Like the popular Super Smash Bros. franchise, players can use a character's unique moveset to attack their foes, with the goal being to knock them out of the stage's boundaries. Sharing Smash Bros.'s simple control scheme, multiple types of attacks are available, with each character's moveset reflecting their personality and respective series. Like its inspiration, Nickelodeon All-Star Brawl's in-depth fighting mechanics will make it familiar to players while also putting a unique spin on the crossover fighting game genre.
Related: Nickelodeon All-Star Brawl Will Have DLC Characters
Nickelodeon All-Star Brawl publisher GameMill Entertainment recently revealed Aang's moveset in the upcoming platform fighter. As two incarnations of the Avatar, Aang and Korra are both able to control the four elements of Air, Water, Earth and Fire. However, as a natural-born Air Nomad, most of Aang's attacks focus on his powerful airbending abilities. His attacks are fast, and he is able to disorient foes with his Special attacks, some of which utilize his iconic glider, air ball, and staff. The other three elements mostly come into play for Aang's powerful Special attacks.
As Aang's more aggressive and combat-oriented successor, Korra more readily makes use of all four elements in battle. She possesses powerful light attacks which allow her to control her opponent's positioning on the stage. All of Korra's Strong and Special attacks can be charged for additional damage, reflecting her preference for strong footing as opposed to Aang's airbender mobility. A lengthy earthbending-powered slide and a fiery dropkick allow her to dominate all parts of the stage using her advanced Avatar abilities.
The Nickelodeon All-Star Brawl roster of cartoon combatants has quickly shaped up for its October 5 release, including beloved Nicktoons figures like Ren & Stimpy and CatDog. However, this assembly of animated fighters will continue to expand after release, as Nickelodeon All-Star Brawl will receive DLC characters, as well. While no specific characters or series have been confirmed to appear, this post-launch content will allow developers to include even more Nickelodeon icons. Jimmy Neutron, Fairly OddParents, and Rocket Power are among the Nickelodeon properties which will not be represented in the base game, but they could appear in the game further down the line.
The Avatar: The Last Airbender universe is one a beloved animated universes, as its world's mature themes and fast-paced fights have made it an enduring classic. Aang and Korra's different personalities seem to be perfectly captured in Nickelodeon All-Star Brawl, with Aang's speed and airbending mastery contrasting Korra's powerful bending arts. With the two Avatars represented in the game, Nickelodeon All-Star Brawl's impressive cartoon roster grows even more diverse.
Next: Nickelodeon Characters All-Star Brawl Definitely Won't Include (& Why)
Nickelodeon All-Star Brawl will be available for PS4, PS5, Xbox One, Xbox Series X/S, Nintendo Switch and PC on October 5, 2021.
Source: GameMill Entertainment/YouTube (1, 2)
from ScreenRant - Feed