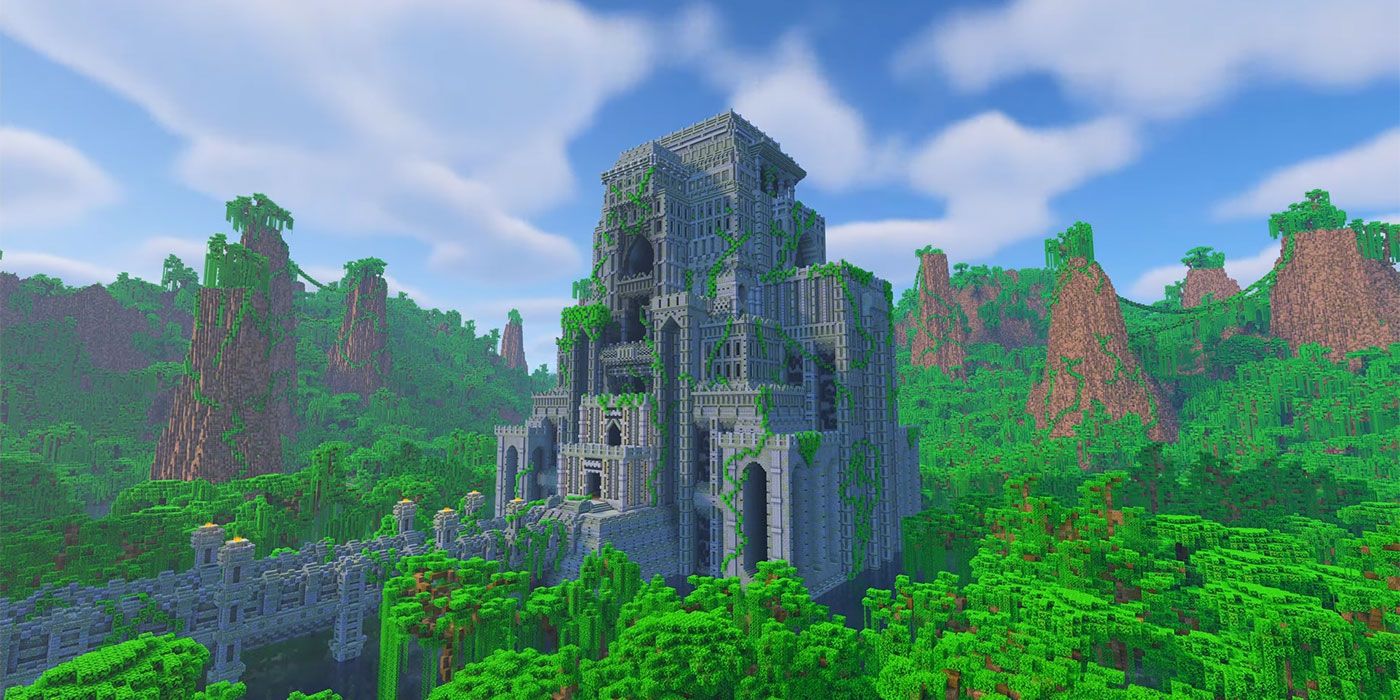 A Minecraft player has shown off their jungle temple megabuild in an astounding time-lapse video. While many Minecraft players are more than happy with the simple builds that they share and enjoy with their friends within the confines of the base game, there are those that take Minecraft building to the next level. They go as far as utilizing mods and tools to create massive builds, such as this Steampunk City that took seven months to make.
For those who aren't comfortable with using complicated mods and tools to create their Minecraft build, there's still a lot of content available in the base game for players to experience. Developer Mojang released the first part of the game's major Caves & Cliffs update in June and is expected to release part two sometime during the holidays. This will introduce changes to the game's mountains and terrain that will add new sub-biomes for mountains, among other new content to experience.
Related: Minecraft Player Gets An Impossible Enchantment In Survival Mode
Reddit user wrldpaintn00b shared their work on the Minecraft subreddit with an almost 3-minute-long timelapse video. The jungle temple, which sits in the middle of a lake, features a narrow bridge leading up to the main structure, which has different sections, layers, and levels. According to wrldpaintn00b, it took them around 25 to 30 hours to complete the entire build using mods and tools for Minecraft. Astonishingly, the temple itself isn't the only thing that wrldpaintn00b worked on in this build, as they also created the terrain around it, which includes the aforementioned lake, a lush jungle, and humongous stone pillars.
What's astonishing about wrldpaintn00b's build is the process of how they built it, which they explain in a separate YouTube video on the channel Geet Builds. Rather than building the structure from top to bottom, they started with the entire facade of the temple then moved on to one side of it. They then used the tools available in WorldEdit to mirror the side and front of the building before making adjustments and cleaning up the finished temple. This isn't the first massive-scale build that wrldpaintn00b has created and shared online. They've previously made other, equally impressive builds such as an underground kingdom, and an entire city.
Seeing builds like wrldpaintn00b's is always impressive, especially when they're presented either in a simple time-lapse video or a more explanatory fashion. Furthermore, the amount of dedication they and other builders have to create these works can be quite inspiring. While not everyone may get the chance to create builds of the same magnitude, smaller-scale builds are still impressive, and there is virtually no limit on the possibilities available in Minecraft.
Next: Minecraft Build Recreates Among Us' Polus Level
Minecraft is currently available on the Nintendo Switch, PC, PlayStation, Xbox, Android, and iOS platforms.
Source: wrldpaintn00b/Reddit, Geet Builds/YouTube
from ScreenRant - Feed