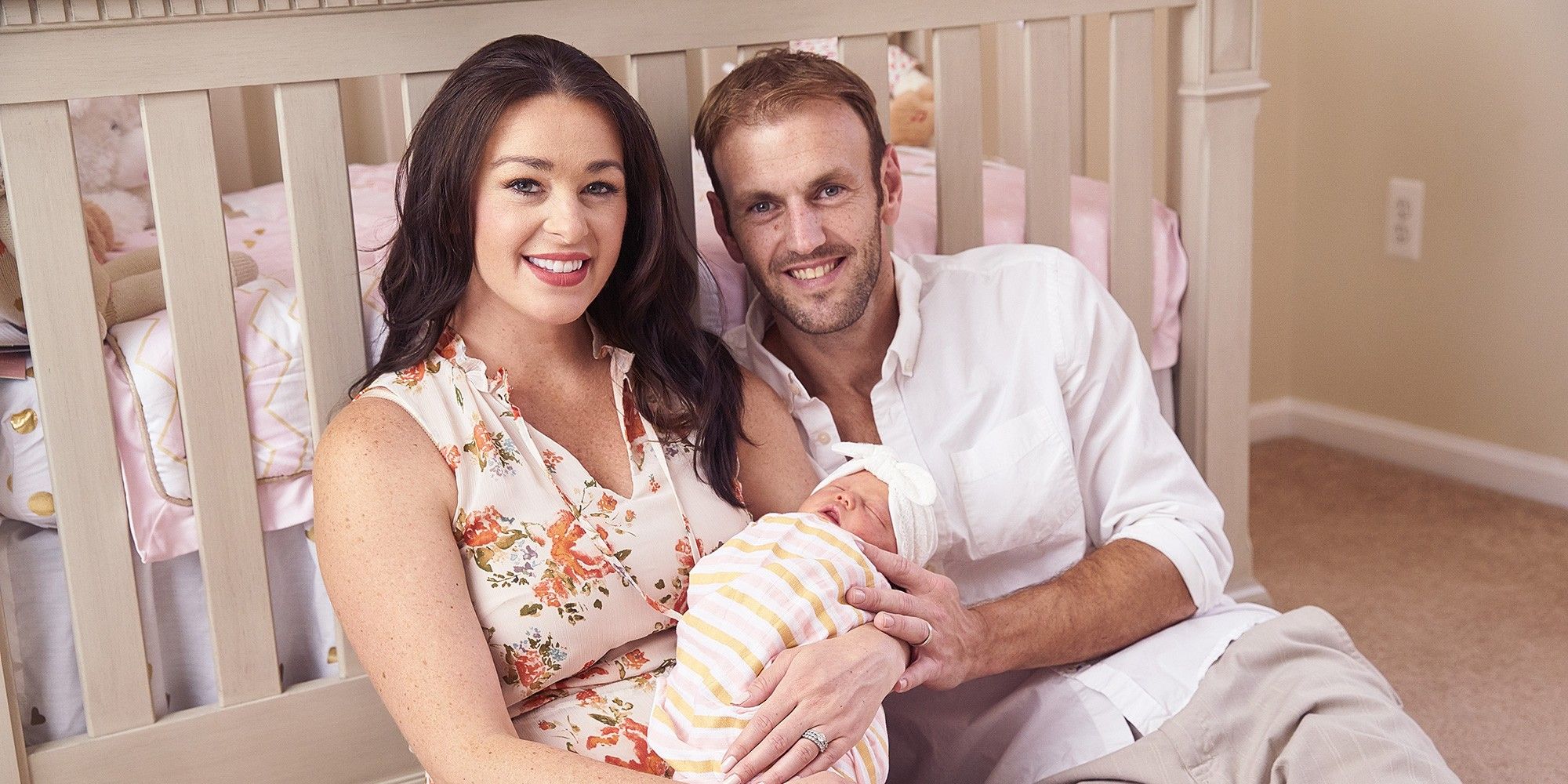 Jamie Otis is a Married at First Sight alum who recently revealed that her son Hendrix was taken to the hospital following concerns over his worsening fever. Jamie opened up about her alarming experience with Hendrix in a recent social media update. She has consistently been open about the troubles she's faced with Doug Hehner and often shares news about how her family is doing.
Jamie and Doug first got together during Married at First Sight season 1, and Jamie is incredibly candid with fans regarding the ups and downs in her romantic relationship, while also sharing her motherhood journey. Jamie and Doug currently have two children. Their daughter Henly Grace was born in 2017, and their son Hendrix Douglass was born in 2020.
Related: MAFS: Jamie & Doug's Relationship Status & How They Plan To Avoid Divorce
Jamie shared a family update on social media, in which she discussed her son's health issues over the last week. On October 13, 2021, Jamie explained that her concerns started when she noticed that her son was behaving strangely. "A few nights ago I picked him up out of his crib to find him limp," Jamie says. She went on to say that Hendrix seemed to be in a total daze. "His eyes were kinda rolled to the back of his head, he was staring into space & moaning non-stop." When Jamie took his temperature, it was a startling 103.9. Although the fever was troubling, what Jamie found most concerning was the way Hendrix was acting. She added that "it was so strange." Jamie says that she discussed the situation with her in-laws. She decided to take Hendrix to the hospital after his fever worsened and "he was lethargic." MAFS duo Jamie and Doug found out that their son has RSV (respiratory syncytial virus). This is a common and contagious virus that causes respiratory infections. Jamie shared that Hendrix was also diagnosed with "an ear infection, and the rhino virus." The rhinovirus is an infection within the nose.
While Jamie began her update on a serious note, towards the end of her post, she shifted focus from the recent diagnoses to her family's plans. Jamie included a photo of two RVs the couple is deciding between. According to Jamie, "Doug likes the used one from FB." Jamie shared a different opinion on the matter, saying "I liked the larger one w the den/big bedroom." She added that if they were to purchase the recreational vehicle she prefers, Hendrix will be able to sleep in the bedroom with the couple, "uninterrupted." Jamie and Doug have had their fair share of disagreements in the past, and this time, Jamie explained that the two disagree on whether or not Hendrix should share a room with his sister. She asked fans for their input, saying, "I'm worried if Hendrix shares w Gracie they'll keep each other up?"
Hendrix's trip to the hospital was probably an incredibly scary moment for the couple, but Jamie seems to be maintaining a positive outlook about the situation. Though the post's shift in tone in the final paragraphs of her Instagram caption may have caught some fans by surprise, it was on-brand for Jamie. She seems to be hopeful that her son's health issues will improve. Despite a variety of challenges, Jamie is an optimist, and her positive attitude shines through in her posts. Jamie and Doug have experienced a host of issues throughout their marriage, but they focus on the future. These Married at First Sight stars always looks on the bright side.
Next: Married At First Sight: Chris Williams Drags Jamie & Doug Over Remarks
Sources: Jamie Otis/Instagram, Jamie Otis/Instagram
from ScreenRant - Feed