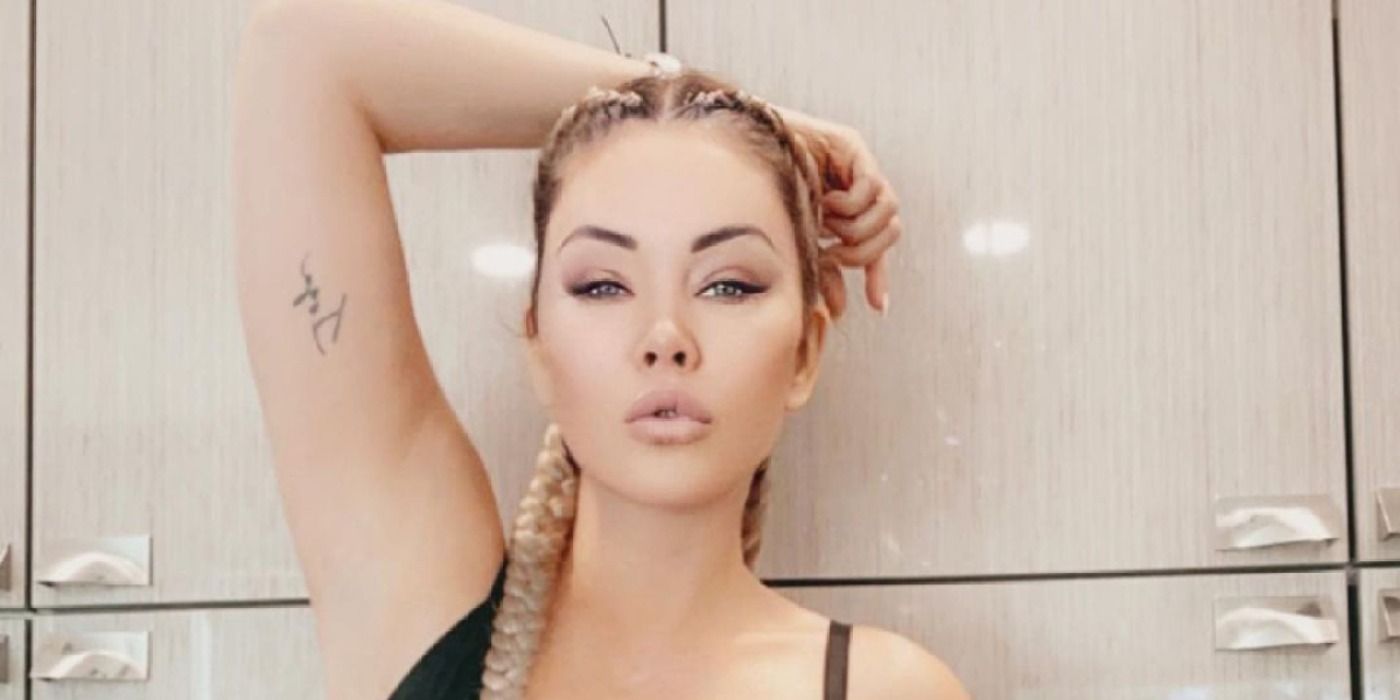 Shanna Moakler is reportedly "hurt" that her kids attended Travis Barker's engagement party with Keeping Up With The Kardashians star Kourtney Kardashian. Shanna has expressed her opposition to Travis dating Kourtney in the past. Now, it appears that she is bothered by her kids supporting the relationship. Shanna and her two kids with Travis haven't been on the best terms over the last year, but she might've expected more loyalty from her teenage children.
Since going public, Travis and Kourtney have had to deal with jabs from Shanna on social media. The model has spoken out against Travis dating Kourtney due to her hatred for the Kardashian family. In fact, Shanna has always accused Travis of cheating on her with Kim Kardashian during their four-year marriage. However, both Travis and Kim have denied these rumors despite multiple claims of them possibly being true. Shanna has been quiet about Travis and Kourtney since covering up a tattoo of his name.
Related: KUWTK: See Kourtney Kardashian & Travis Barker Dressed As Sid & Nancy
Nonetheless, insiders are now revealing Shanna's feelings on the engagement and the fact that her kids, Landon and Alabama Barker, attended the party that followed Travis' proposal. "Shanna's kids going to the engagement party thrown by the Kardashians really hurt her," a source told Hollywood Life. Both Landon and Alabama have called out their mom on social media and claimed that she's not a present parent in their lives. On the other hand, Shanna denies their claims and has accused Travis of "brainwashing" their kids. The former Miss USA believes her teenage kids are more excited to join the Kardashian family which is why they're being so loyal to their dad. "She's been the best mom she can be to her kids," the source added. "And at that age, who wouldn't want to go to a party that's thrown by the Kardashians?"
Landon and Alabama are reportedly "torn" between being "happy for their dad" and understanding their mom's hurt over the relationship. While the insider notes that Shanna no longer has feelings for Travis, "the idea of having them be a part of the most famous family in America would be daunting for anyone." This was more of an annoyance for Shanna, who has publicly feuded with the Kardashian sisters for years. In the past, Shanna has been rumored to have poured a drink on Kim and slashed her car tires all because of her belief that Kim was hooking up with Travis back in the day.
Now with Travis being madly in love with Kim's sister and headed down the aisle, Shanna's only more upset at the famous family. Landon and Alabama's amicable relationship with Kourtney probably doesn't make things better for Shanna. Landon and Alabam live with Travis primarily. The Blink-182 drummer also maintains his stepfather role with Shanna's eldest daughter Atiana De La Hoya. Her kids all support their dad dating Kourtney. Now, Shanna will have to get comfortable with her kids becoming part of the Keeping Up With The Kardashians family.
Next: KUWTK: Why Kourtney Wouldn't Marry Scott But Said Yes To Travis
Source: Hollywood Life
from ScreenRant - Feed