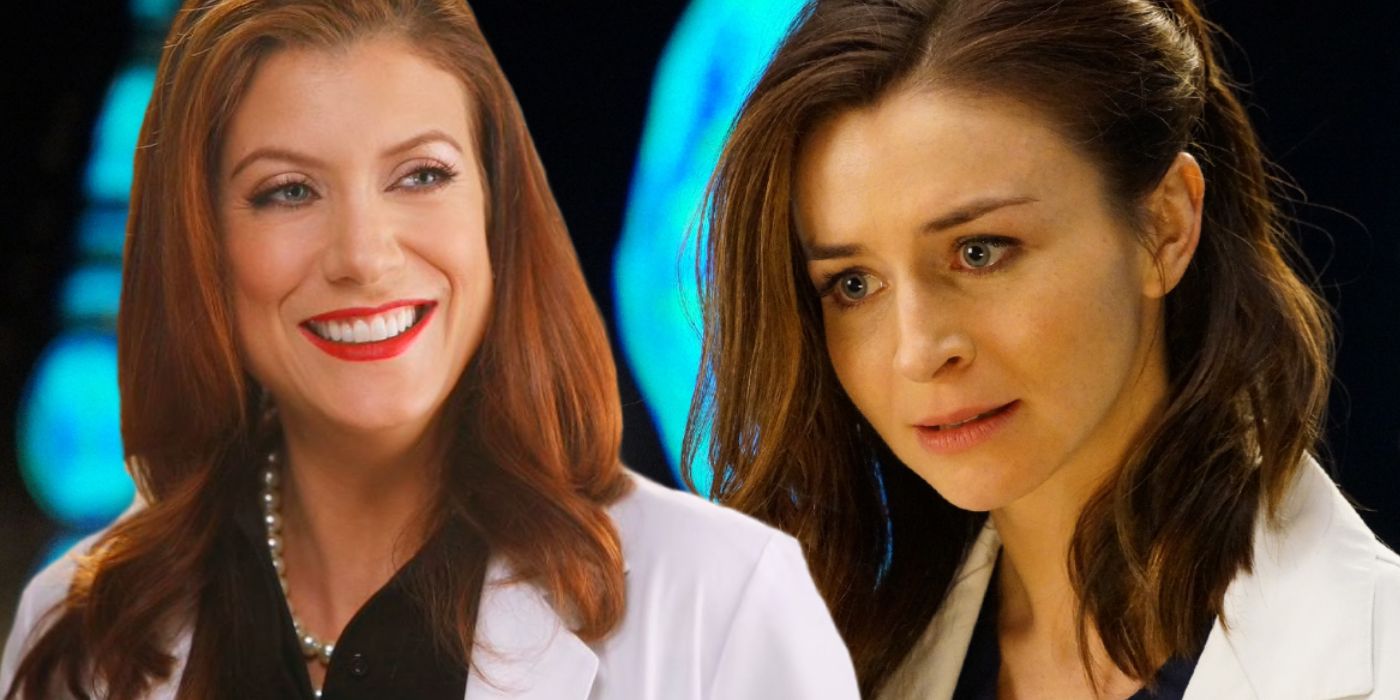 Kate Walsh recalls her emotional return to the Grey's Anatomy season 18 set. Walsh starred in the ABC television drama as Dr. Addison Montgomery from 2005 to 2012. She also reprised her role as the character in the spin-off series Private Practice from 2007 to 2013. Walsh's character is a world-class neonatal surgeon who received board certifications in both maternal and fetal medicine and obstetrics and gynecology.
Originally pegged as a recurring guest star on the show, her role expanded into a series regular as show creator Shonda Rhimes grew to love her portrayal of the character. Walsh joined the series in the first season finale as the estranged wife of Derek Shepherd (Patrick Dempsey). While she only served as a series regular for Grey's Anatomy seasons 2 and 3, she would return as a guest star for the next five seasons, which also included a two-part stint in the fifth season. Walsh eventually decided to retire her character after eight years of playing her, making her final appearance in the Private Practice spin-off series finale "In Which We Say Goodbye" in January of 2013. Now it seems Walsh is back in her beloved character's shoes.
Related: Grey's Anatomy: Every Character Who Left The Show & Then Returned
Speaking with ET, Walsh recounts her emotional return to the Grey's Anatomy set. Last Thursday marked the beginning of Addison Montgomery's journey back to Grey Sloan Memorial Hospital. Walsh describes stepping back into Addison's stylish heels as "like a fever dream." Walsh told a handful of reporters over the Zoom call that coming back to the show after being away for so long "was surreal." Read Walsh's emotional reaction to her return to Grey's Anatomy below:
"It was surreal. It was like a fever dream. There's so many different things coming together and it's impossible to describe. Randomly, I had run into Patrick Dempsey on the plane on the way back from France, like a month before I was coming to do the show and I told him I was going to come back and he'd said, 'It's going to be so intense for you. And so emotional and so many feels and then closure too.' When we started that show, it was such a specific time for all of us and the entire cast. It really changed every single person's life in a pretty dramatic way.

It was so massive to go back and try to process all of that and then have the younger actors that are playing the interns, who were so beautiful… They were like, 'Oh my god, I watched Addison with my mom! And also to be reunited with Jim Pickens and Chandra [Wilson] and Ellen. Those are the three that are the originals. I didn't get to see beautiful Kim Raver because our schedules were completely opposite. So we just texted, but I love her and Kevin [McKidd], I got to see for a second, I think, because he was directing another episode, and Chandra and Jim and Ellen, that was really, really meaningful and powerful."
Returning in last Thursday's episode titled "With a Little Help From My Friends," Walsh's character shares an emotional elevator scene between her and Ellen Pompeo's long-running character, Meredith Grey. Once rivals, the scene helped show how far the two characters' complicated relationship has grown over the past two decades. During the scene, Walsh's character breaks down in tears due to the void left by Dempsey's character, who later married Pompeo's character before his untimely death in Grey's Anatomy season 11. Concerning the scene, Walsh recalls she was "thrilled with it" and felt the writing "was so beyond."
As of right now, Walsh's character is planned to "pop in" for a few more episodes, so no series regular return is currently in the works. However, given her emotional return in last Thursday's episode, fans of the series are sure to be just as thrilled as Walsh. Fans can look forward to seeing Dr. Addison Montgomery in the next few episodes of Grey's Anatomy season 18.
Next: Grey's Anatomy: Why Private Practice Was Canceled
Source: ET
from ScreenRant - Feed