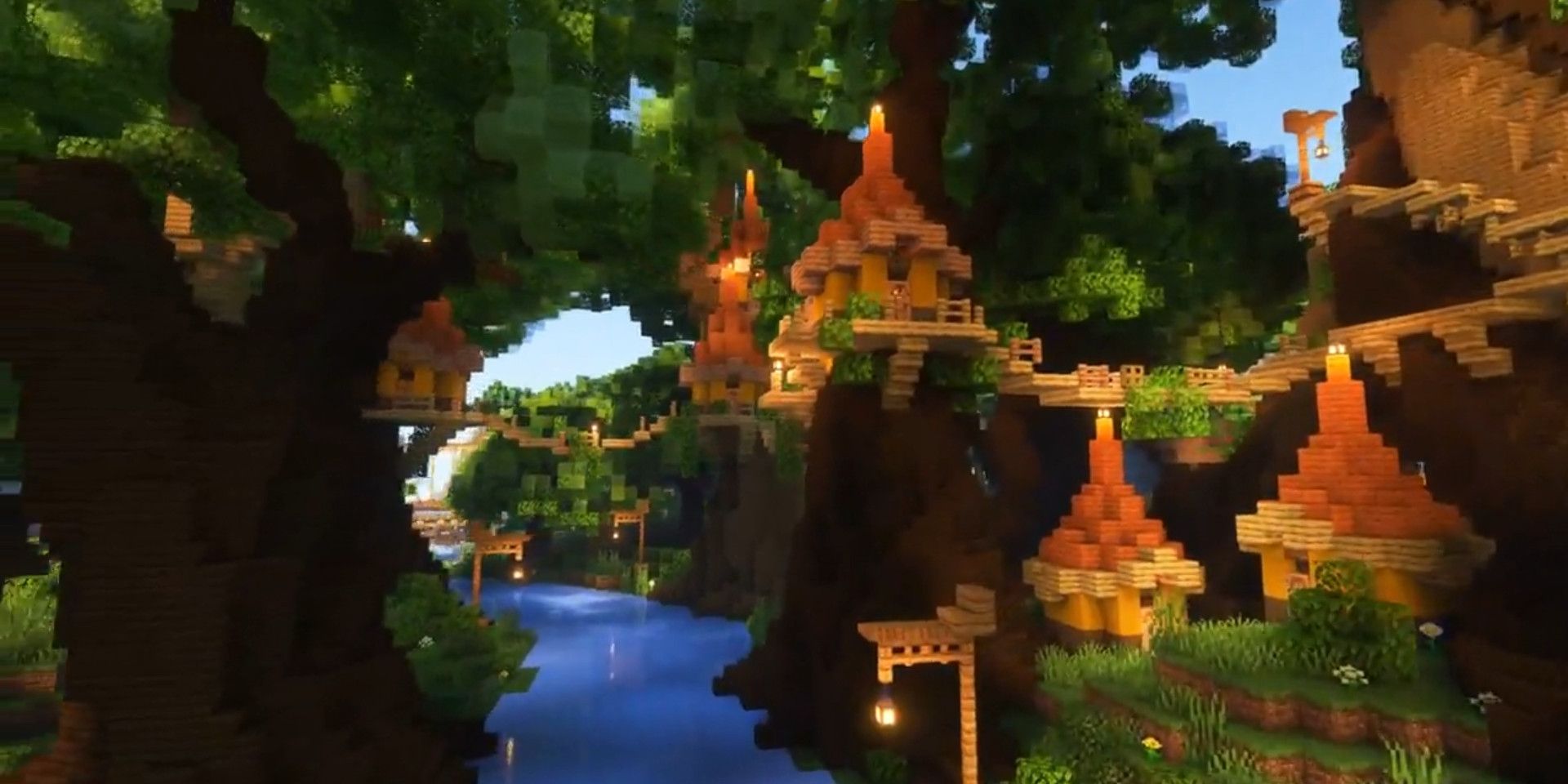 A dedicated Minecraft player recently showcased an impressive racetrack they constructed that looks like something out of Nintendo's Mario Kart series. The sandbox title has been on the market for more than a decade and a steady stream of updates, such as the upcoming Minecraft Caves & Cliffs Part 2, combined with constantly evolving player innovation, have allowed the best selling video game of all time to sustain its immense popularity.
Over the years, Minecraft has become associated with astoundingly massive creations that sometimes span entire worlds. While these builds are always impressive to look at, there are also quite a few of them that are functional as well, such as a recently constructed playable Minecraft chess game. The latest addition to this group of functional marvels comes in the form of a racetrack that takes players through a uniquely constructed forest.
Related: Minecraft Player Uses Mods To Gorgeously Recreate Venice, Italy
Reddit user Pacckker posted a video showcasing their woodland themed build titled "Wild Woods Circuit." Using waterways as the track itself and a rowboat as the mode of transportation, this course takes the player through a series of impressively constructed locations including quarries, caves, and even across a large bridge. According to Pacckker, the project took eight builders and more than half a year to complete. Many of the post's commenters offered their praise and a few even asked for the download link so they could take it for a ride themselves.
Almost all of the largest and most detailed Minecraft builds require time for dedicated players to pull off. Often times, the landscape needs to be reshaped around the newly constructed and carefully placed buildings, as is certainly the case with an endeavor such as the Minecraft remake of the entire Zelda: BOTW map. The effort is usually worth it, however, as many of these Minecraft worlds end up becoming spectacles due to the dedication of the builders.
It would not have been overly difficult to make the "Wild Woods Circuit" a simple waterway racetrack. What makes it special and a true marvel is how detailed all of the surrounding course looks. "Wild Woods Circuit" is more than just a racetrack. It is a unique world all on its own and sets itself apart from the many Minecraft recreations of pre-existing works, whether they be of real world locations or fantasy worlds like Middle Earth. This Mario Kart style racetrack is just one example of the boundless creativity that can be expressed in Minecraft, and its builders deserve commendation.
Next: Minecraft Jungle Temple Megabuild Showcased In Astounding Time-Lapse
Minecraft is available on Nintendo, PC, PlayStation, Xbox, Android, and iOS platforms.
Source: Pacckker/Reddit
from ScreenRant - Feed