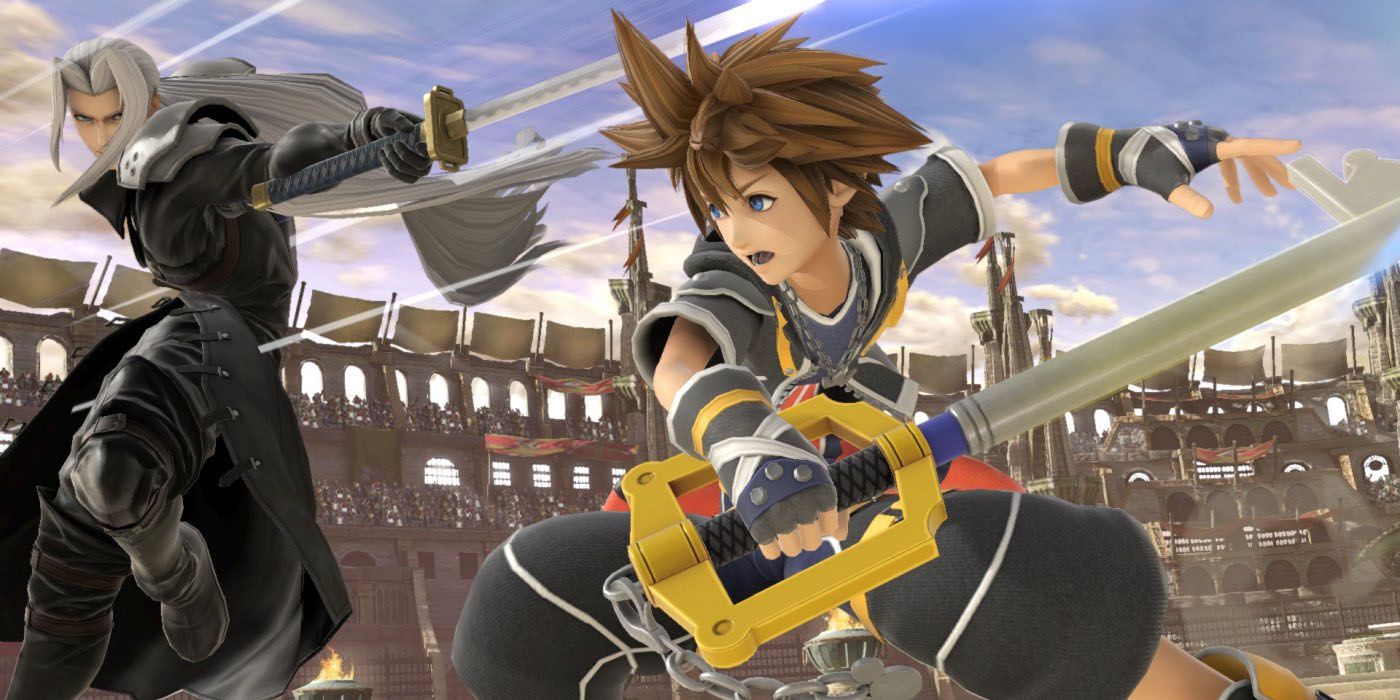 Sora always seemed like a long-shot as Super Smash Bros. Ultimate's final DLC character because of Disney licensing, and series creator Masahiro Sakurai has now opened up about how he was able to convince the company to lend him the Kingdom Hearts protagonist. Sora was revealed for Super Smash Bros. Ultimate the last character to come to Nintendo's massive crossover fighting game during a special livestream event hosted by Sakurai earlier in October, and he officially joined the game to complete the Fighters Pass Vol. 2 after the 13.0.0 update went live on October 18.
Long before Sora was confirmed for Super Smash Bros. Ultimate, the happy-go-lucky Keyblade-swinger and champion of the light was one of the series' most hoped-for guest characters, even winning a poll for most requested Super Smash Bros. Ultimate DLC fighter in 2020. Nintendo reportedly attempted to secure the rights from Disney to include Sora in Smash Bros. Ultimate around that time, but Disney's Japanese branch turned the offer down. After that information surfaced, many were understandably shocked when Sora was added as the final fighter after all. Because Disney is notoriously stringent about how its image and IPs are used, a popular topic of discussion since the reveal has been how Nintendo and Sakurai ultimately convinced the entertainment giant to allow Sora into Super Smash Bros. Ultimate.
Related: Super Smash Bros.: Where The Series Could Go From Here
On Twitter, PushDustin and KodyNOKOLO detailed the process of how Masahiro Sakurai was able to secure the rights to use Sora's likeness in Super Smash Bros. Ultimate in a lengthy thread. As detailed by Sakurai himself in his latest and final Famitsu column, he says he chanced across an unnamed Disney representative at a "certain award venue." This representative told Sakurai that they were interested in Sora becoming a playable Smash Bros. character, which led to a formal discussion between Disney, Nintendo, and Kingdom Hearts publisher Square Enix. That talk finally resulted in Sora's inclusion in Super Smash Bros. Ultimate's Fighters Pass Vol. 2, which was expanded from five planned characters to six after the deal was made.
While Nintendo was eventually able to secure the rights to portray Sora in Super Smash Bros. Ultimate (with strict Disney supervision, according to Sakurai), none of the Disney characters he has met and fought alongside or against throughout the Kingdom Hearts series came along with him to the fighting game. Images of Donald Duck and Goofy were completely removed from Sora's Hollow Bastion stage in Super Smash Bros Ultimate, and the only remaining reference to the larger Disney universe is the iconic Mickey Mouse-shaped keychain hanging from Sora's Keyblade. However, plenty of Sora's non-Disney friends made the jump, with the likes of Rikku, Kairi, and Axel being added as Spirits in the same wave of DLC as Sora.
Super Smash Bros. fans had all but given up on the idea of Sora being a guest character in the Nintendo Switch entry prior to his reveal, making it all the more impressive that Sakurai was able to get Nintendo, Square Enix, and Disney to come together to bring the Kingdom Hearts hero to Super Smash Bros. Ultimate. Amazingly, this once-impossible event happened because of a chance encounter at an industry event, turning what seemed like a pipe dream crossover into a reality.
Next: Sora's Moveset Demonstrated On Every Super Smash Bros. Ultimate Fighter
Super Smash Bros. Ultimate is available for Nintendo Switch.
Source: PushDustin/Twitter, KodyNOKOLO/Twitter
from ScreenRant - Feed