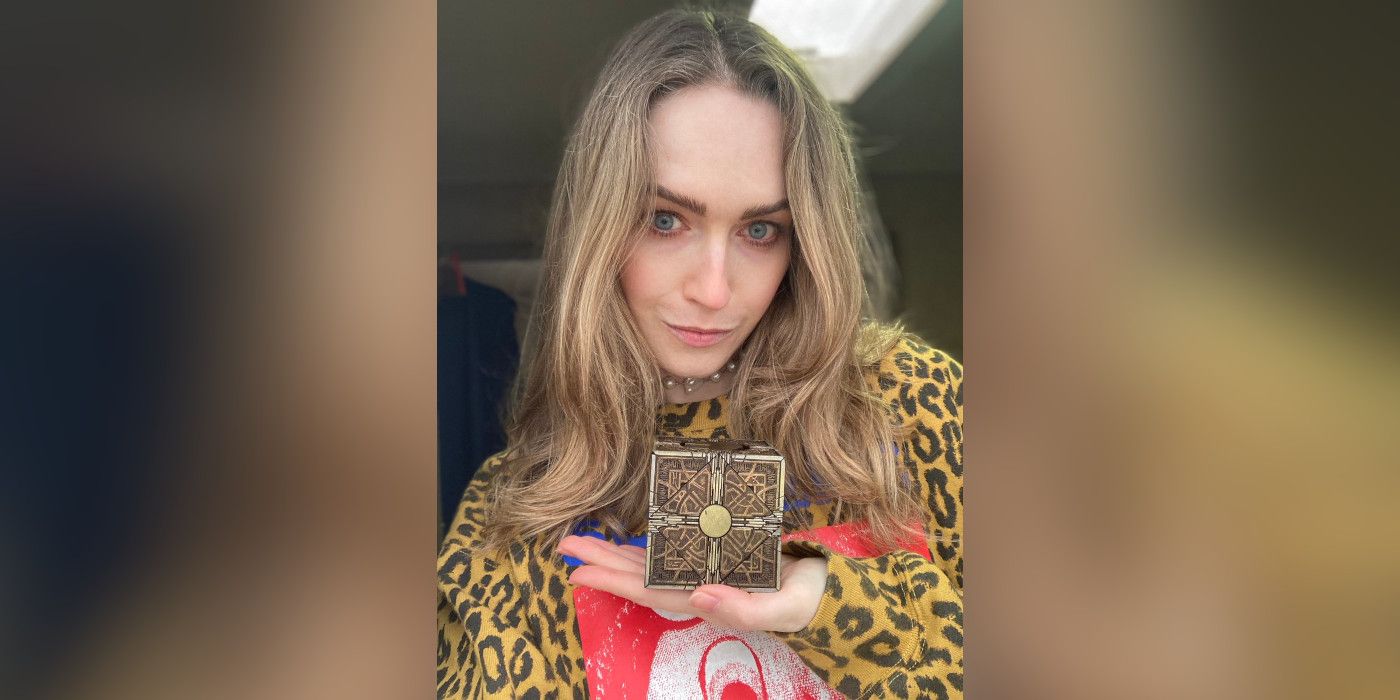 Hellraiser reboot star Jamie Clayton reacts to being cast as the new Pinhead. The original Pinhead began haunting horror fans' nightmares in Clive Barker's hellish classic way back in 1987.
Pinhead of course was never officially the name of the demonic character originated by Doug Bradley in that first Hellraiser movie. Nor was Bradley's Pinhead ever intended to become a recurring horror movie figure who served as the central antagonist of an entire series of Hellraiser movies. Now Hellraiser is getting a reboot from director David Bruckner and writer/producer David S. Goyer. It was previously stated that Barker was not involved with the film and was instead developing a Hellraiser TV show for HBO Max with David Gordon Green, but it was just reported that Barker is a producer on the reboot after all.
Related: How Hellraiser 4 Killed Pinhead (Was It Permanent?)
Of course a new Hellraiser movie needs a brand new Pinhead. Earlier today, it was revealed that Sense8 actor Clayton has been cast to portray a gender-swapped version of the iconic horror villain. Clayton soon took to Twitter to react to the announcement of her casting and she brought along a little friend to help her celebrate. See the post in the space below:
Click Here To View The Original Post
News of Clayton's casting comes as Hellraiser just completed shooting in Serbia. The rest of the film's announced cast includes Odessa A'zion (Grand Army), Brandon Flynn (13 Reasons Why), Goran Visnjic (The Boys), Drew Starkey (Scream: The TV Series), Adam Faison (Everything's Gonna Be Okay), Aoife Hinds (Normal People), and Hiam Abbass (Succession) in unrevealed roles. Interestingly, A'zion was previously reported to be playing Pinhead but obviously that information turned out to be incorrect. That report did however correctly reveal the gender-swapping of Pinhead in Bruckner's Hellraiser. Of course the whole gender question is sort of irrelevant with Pinhead, as Barker's original short story "The Hellbound Heart" described the character as being androgynous. Besides which Pinhead is a demon from hell, and can therefore be pretty much anything (except nice).
Indeed Bruckner previously stated that his Hellraiser would discard the mythology built onto the original movie by its many bad sequels and go straight back to Barker's story for inspiration. This is obviously good news for fans who thought the Hellraiser brand had been seriously diluted over the years. It perhaps isn't good news however that Barker himself is only serving as producer on the reboot. It's entirely possible of course that Bruckner's take on Hellraiser will succeed in breathing new life into the franchise with Barker only tangentially involved. But long-time fans of Pinhead and the rest of the cenobites will understandably be skeptical of any movie calling itself Hellraiser that isn't written or directed by the man who dreamed up the first movie and its many hellish sights. Hellraiser is set to arrive on Hulu but does not yet have a release date from the streamer.
More: Hellraiser: The Actor Who Almost Cast As Pinhead Over Doug Bradley
Source: Jamie Clayton/Twitter
from ScreenRant - Feed