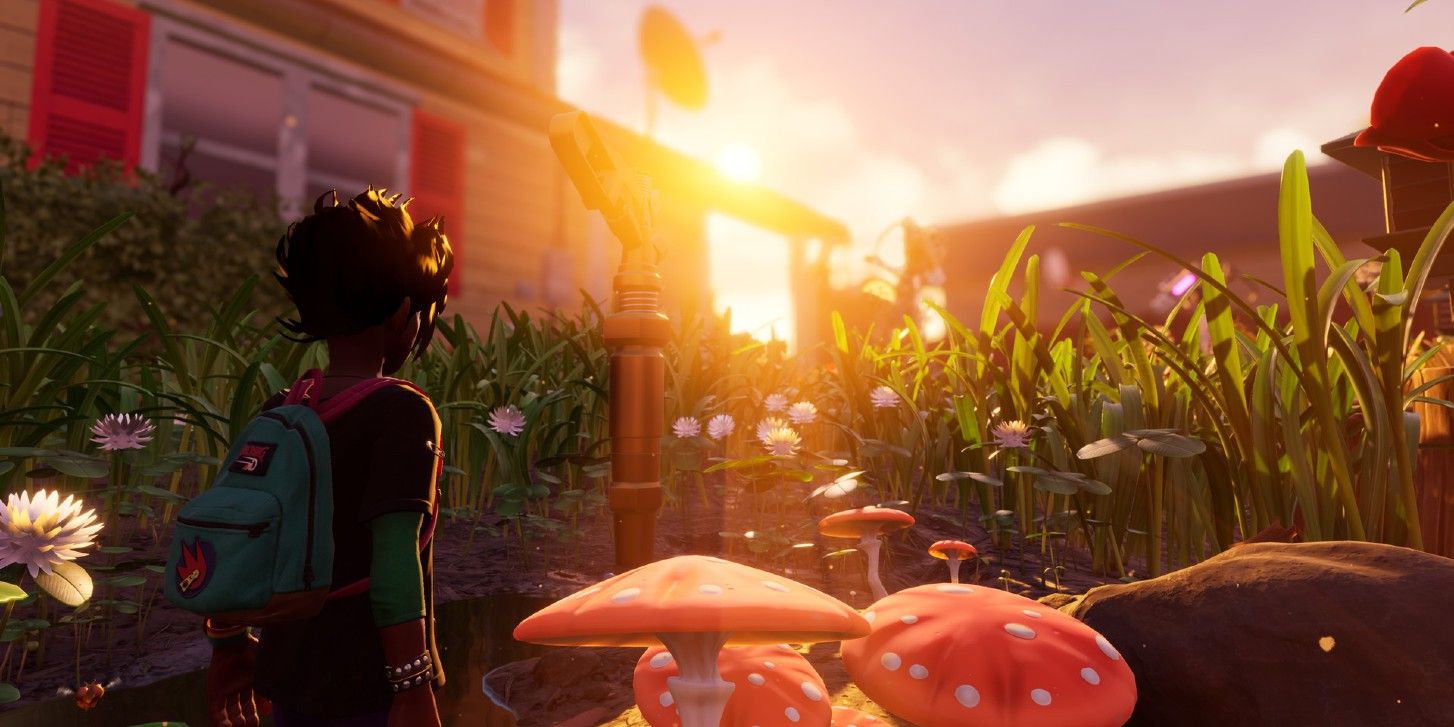 Survival adventure Grounded is getting what's set to be its biggest update to date, with new weather mechanics and a dungeon coming to the game later this month. Grounded has been in Early Access on both Steam and Xbox since 2020, receiving regular fixes alongside new content like the Grounded Shroom & Doom update which released earlier this summer.
Grounded's beautiful yet deadly world has charmed fans since the game first became playable. Players are shrunk to the size of an ant and are tasked with exploring and surviving in the overgrown world of their back garden, with danger lurking around every corner. Crafting items such as weapons and tools are key to enduring the wilderness, as is building a shelter, but battling bugs and dealing with swarms of insects is also a big part of the game. Those afraid to go it alone can team up with up to three friends to take on the challenges of the Grounded garden.
Related: Grounded Koi Pond Update Lets You Explore The Underwater Depths
Grounded's Hot and Hazy update will expand the game even further with an addition of a new sandbox and black ant hill (via Eurogamer). The sandbox (a literal sandbox) will be the center of the new "sizzle" weather system. Similar to a real desert, the sandbox will be subjected to scorching temperatures in the daytime with players either needing to stick to the shadows as the sun moves through the sky, or craft new armor to survive the harsh heat. While players will be able to explore the sandbox at night, which will be much cooler, they'll likely miss the new buried treasure, which is highlighted by the sun's reflection on the new space tool. Hot and Hazy's new black ant hill serves as the game's first dungeon, with players able to find unique crafting materials, battle ants, and take on a mini-boss.
The Hot and Hazy update isn't just introducing new areas, but also improving older ones. The haze biome will be reworked by Obsidian, as will the game's weapon and stats systems. Players will not only be able to upgrade their personal stats but also their party members' through Milk Molars, which can be exchanged for stats boosts. Different types of "globs" (candies) will also be able to alter the stats of different weapons, while the armor system is also being rehauled with new light, medium, and heavy categories. The addition of a Brain Power system will change how recipes are acquired, with new recipes rewarded as players rank up their Brain Power level by checking out the garden. The upcoming Grounded update will be available from October 20, with an early public test beginning today, October 6.
Grounded's upcoming new content is sure to please existing fans while welcoming newcomers to the fold. Obsidian's inclusion of more RPG-like elements with its reroute of upgrades and weapons will likely make the game appeal more to traditional RPG fans, while existing players should enjoy trying out the new features and exploring the new areas. The game's last big update, Shroom & Doom, released just a few months ago, and with Obsidian continuing to improve the game, Grounded fans can probably expect even further updates throughout 2022.
There's no sign of when Grounded might be leaving Early Access, but with semi-regular game updates and changes, it seems the team at Obsidian is devoted to making the game the biggest and best it can be before its full launch. Those who haven't yet given Grounded a go can pick up the title on Steam, or test it as an Xbox Game Preview available through Xbox Game Pass.
Next: Survival Games Valheim Players Will Love
Source: Eurogamer
from ScreenRant - Feed