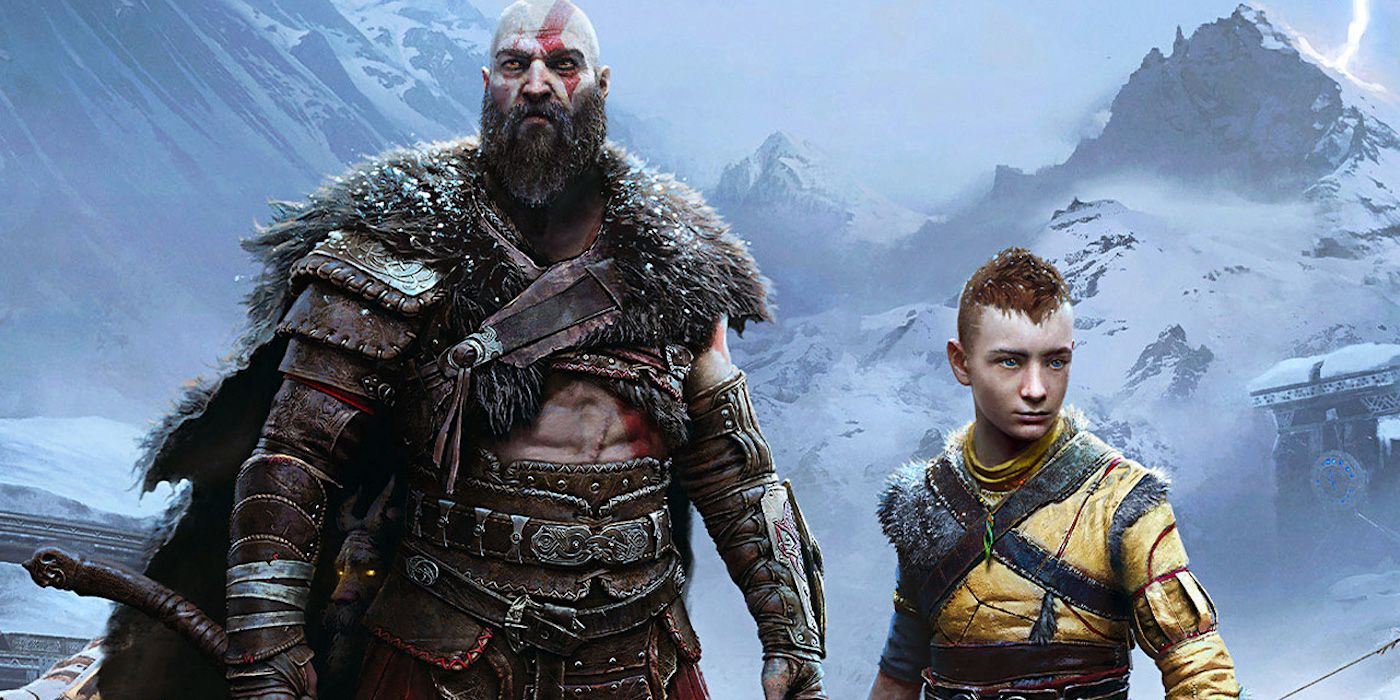 A fan-made animation has brought official God of War Ragnarök art, featuring protagonists Kratos and Atreus, to life. The upcoming sequel promises to continue the father-son duo's mythological journey which kicked off in 2018's God of War. A gameplay reveal of God of War Ragnarok was released in September 2021, officially unveiling the game's title and giving fans a better idea of what they can expect from the franchise's next installment.
2018's God of War found series protagonist Kratos in a brand-new location, the realm of Norse myth, and paired him with a young son named Atreus. The two demi-gods embarked on a journey to spread the ashes of Atreus' mother, and this quest led the two into conflict with Norse gods such as Baldur and the sons of Thor. The adventure eventually started Ragnarok, the end of the Norse world, and God of War Ragnarok will thoroughly explore this destructive event. Fans speculate that this game could end with Kratos' long-overdue death, which was teased in a mural found towards the end of the previous installment.
Related: God Of War: New Norse Weapons Ragnarök Could Introduce
The talented and aptly-named KratosMemories, a Reddit user, animator, and God of War fan, has added animations to an official piece of Ragnarok concept art. The art piece, which mirrors the cover art of 2018's God of War, depicts Kratos and Atreus standing on the now-frozen Lake of Nine. Tyr's Temple lies in disrepair, and the World Serpent potentially lies dead behind them. KratosMemories has supercharged this already impressive artwork with animation, as Kratos and Atreus now move around and lift their weapons while lightning strikes the ground around them. Numerous background details, such as wind and the duo's canine companions, have also been enhanced with movement. The animation truly captures the scale of Ragnarok and foreshadows the pair's inevitable battle with Thor.
September's God of War Ragnarok gameplay reveal has sparked the imaginations of many fans who yearn for more details about the sequel. KratosMemories has turned their attention to enhancing official artwork, but some fans have also created original art of their own. Twitter user BT_BlackThunder recently imagined the massive Blade of Olympus appearing in Ragnarok. The huge sword played a pivotal role in God of War's older Greek Saga, acting as the only weapon which could slay a god such as Zeus. While the weapon was seemingly destroyed in God of War III, it is always possible that old weapons could reappear in newer installments in some fashion.
God of War Ragnarok is among the most anticipated PlayStation-exclusive titles coming next year, with the previous game being a massive success. Fans have spent years imagining the continued adventures of Kratos and Atreus, and soon enough the rest of their story will be told. In the meantime, talented fans such as KratosMemories can hold the franchise's fanbase over with exquisite and artistic tributes to God of War Ragnarok.
Next: God of War Ragnarök Delay Reason Confirmed By Kratos Actor
God of War Ragnarök will release in 2022 for PS4 and PS5.
Source: KratosMemories/Reddit
from ScreenRant - Feed