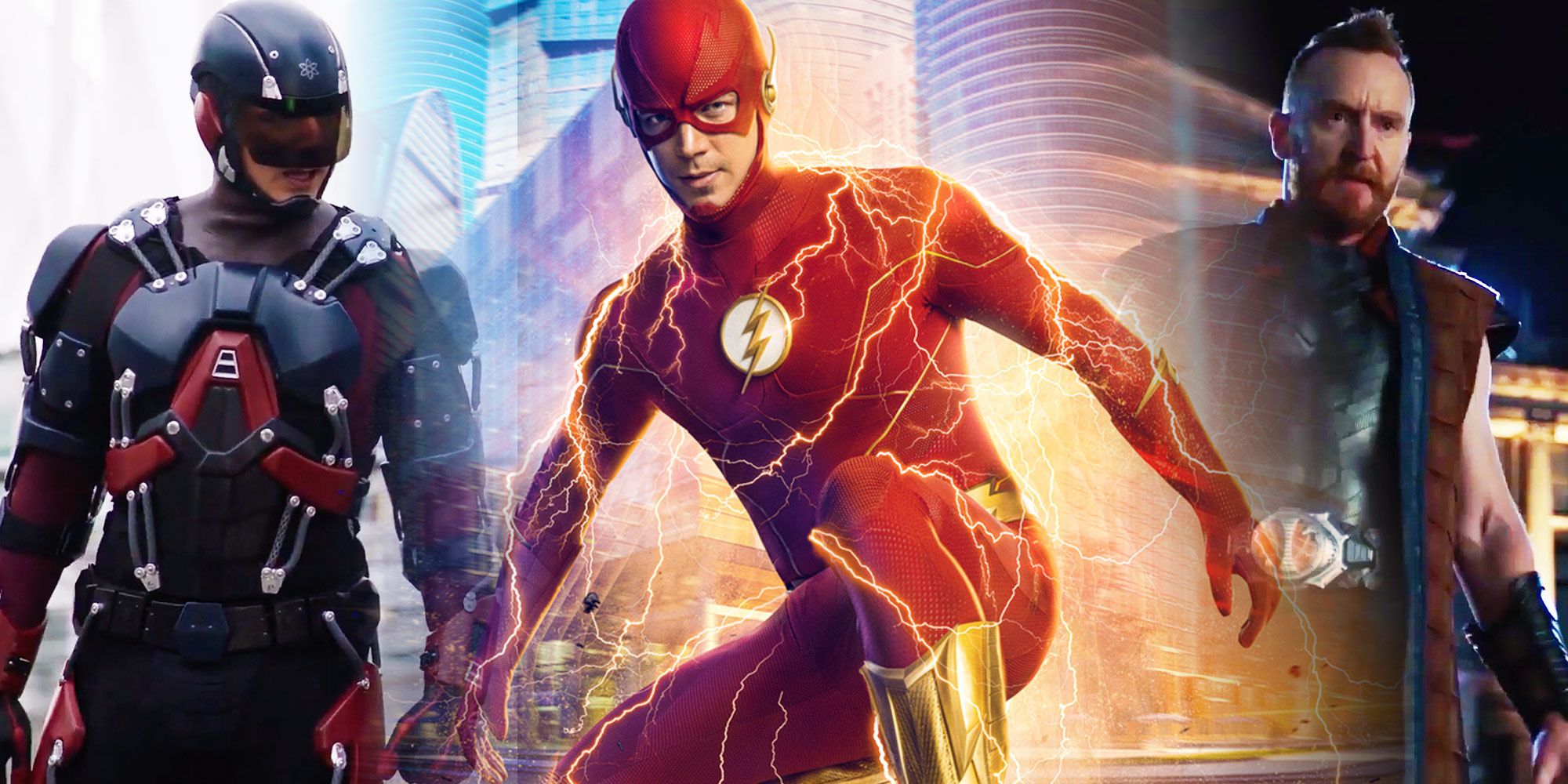 The Flash assembles The Legion of Superheroes in the new Arrowverse crossover trailer. The Flash stars Grant Gustin as Barry Allen and is entering its eighth season on the CW, reuniting the regular cast with a slew of guest appearances right from the start. The character has starred in multiple crossover events already, and it was announced this summer that it would kick off with a new Arrowverse crossover event titled "Armageddon."
The crossover will bring together The Legion of Superheroes, which consists of Gustin's The Flash, his wife, Iris (Candice Patton), and the supporting cast of The Flash, to battle a powerful alien threat; which "arrives on Earth under mysterious circumstances." However, with the stakes so high, The Flash and his crew must enlist some strong allies to win the fight. Those allies consist of Batwoman star (Javicia Leslie), Black Lightning (Cress Williams), The Atom (Brandon Routh), Sentinel (Chyler Leigh), Mia Queen (Kat McNamara), and Ryan Choi (Osric Chau).
Related: The Flash: Armageddon Can Finally Fix The Comics Villain Mistake
Today, The Flash debuted the first trailer for the 5-part event, which teases what to expect from the eighth season. The trailer shows glimpses of the heroes mentioned above and the new villain, Despero, as played by Tony Curran, who is decidedly more human-looking than his comic-book persona so far. Whether or not he'll change into his more comic-accurate form is unknown, but showrunner Eric Wallace has said to "Be careful what you see," in regards to Curran's look, "Your eyes can sometimes deceive you." The show returns on November 16th at 8 p.m. on The CW. Check out the trailer below:
Executive producer Eric Williams said recently of the event, "Simply put, these are going to be some of the most emotional 'Flash' episodes ever. Plus, there are some truly epic moments and huge surprises that await our fans. And we're doing them on a scale that's bigger and bolder than our traditional 'Flash' episodes." Not only will Despero be a part of the villain dynamic, but Neil McDonough and Tom Cavanagh are returning as Damien Darhk and Eobard Thawne/Reverse-Flash. They were last seen together in DC's Legends of Tomorrow season 2.
With so many emotional ups and downs with the show in the last seven seasons, this looks to be as epic as Williams puts it, but what lasting effects it will leave on the show are up in the air. The team-up aspect of multiple heroes has become a staple of the CW superhero shows. However, there are still multiple episodes in the season to still dig into the individual character moments. With The Flash movie coming out in 2022 and the show kicking off in November, it looks like the next year will be a big one for the Scarlet Speedster.
Next: The Flash's Season 8 Costume Is Perfect (& Worth The Wait)
Source: The Flash
from ScreenRant - Feed