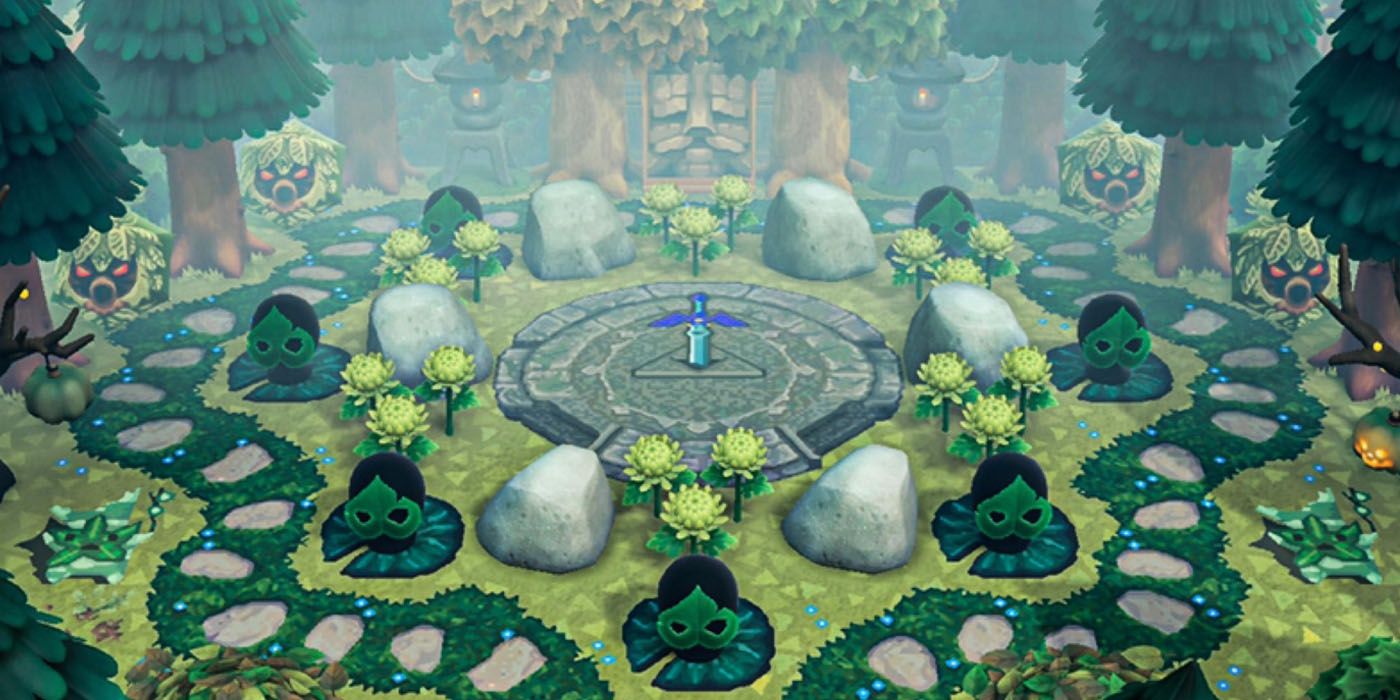 One talented player has recreated The Legend Of Zelda: Breath Of The Wild's Korok Forest in Animal Crossing. Korok Forest is where Link obtains the legendary Master Sword (the franchise's most powerful and iconic weapon) after obtaining 13 full Heart Containers in Breath Of The Wild – or just setting up a campfire and resting for the night in one of the game's many hidden tricks and secrets.
Meanwhile, Animal Crossing's user-creation tools have allowed players to craft loving tributes to movies, television shows, and even other popular Nintendo games - especially in last year's hit Animal Crossing: New Horizons for the Nintendo Switch. This even includes the long-running Legend Of Zelda series, with fans re-creating the Witch's Hut from Link's Awakening, speedrunning their way through a replica of the Zelda franchise's Hyrule Castle, and utilizing a water glitch to bring BTOW's Spring of Power to life.
Related: Legend of Zelda: Link's First Incarnation Shared An Iconic Batman Problem
Reddit user Naydinfar-Crossing posted an image of a spot-on recreation of The Legend Of Zelda: Breath Of The Wild's Korok Forest that they built in Animal Crossing: New Horizons. More specifically, they rebuilt the shrine where Link obtains the Master Sword, with fun little touches like the Deku Scrub heads surrounding the shrine. The legendary Master Sword itself is represented by a drawing in the center of the clearing.
Korok Forest is just one of the many locations players can explore in The Legend Of Zelda: Breath Of The Wild, which received high praise from fans and critics alike when it launched on the Nintendo Switch in 2017. A sequel is currently in the works, with rumors speculating that it could feature multiple playable characters such as Princess Zelda herself or even a younger version of longtime franchise archvillain Ganondorf. Actual details about the currently-named Breath Of The Wild 2 are still scarce though, with Nintendo even holding off on revealing the game's actual title for fear of spoilers.
In the meantime, Naydinfar-Crossing's recreation of Legend Of Zelda: Breath Of The Wild's Korok Forest is another great example of skilled Animal Crossing players using the series' vast customization and island-promoting tools to pay homage to their favorite games, movies, or TV shows in their own user-generated sandbox. There might not actually be a Master Sword waiting for the residents of Animal Crossing, but at least they can visit a nice re-enactment of the spot where Link claimed the legendary weapon in his never-ending quest to save the kingdom of Hyrule from the forces of darkness.
Next: Animal Crossing: New Horizons Nintendo Direct Dated For Next Week
Source: Naydinfar-Crossing/Reddit
from ScreenRant - Feed