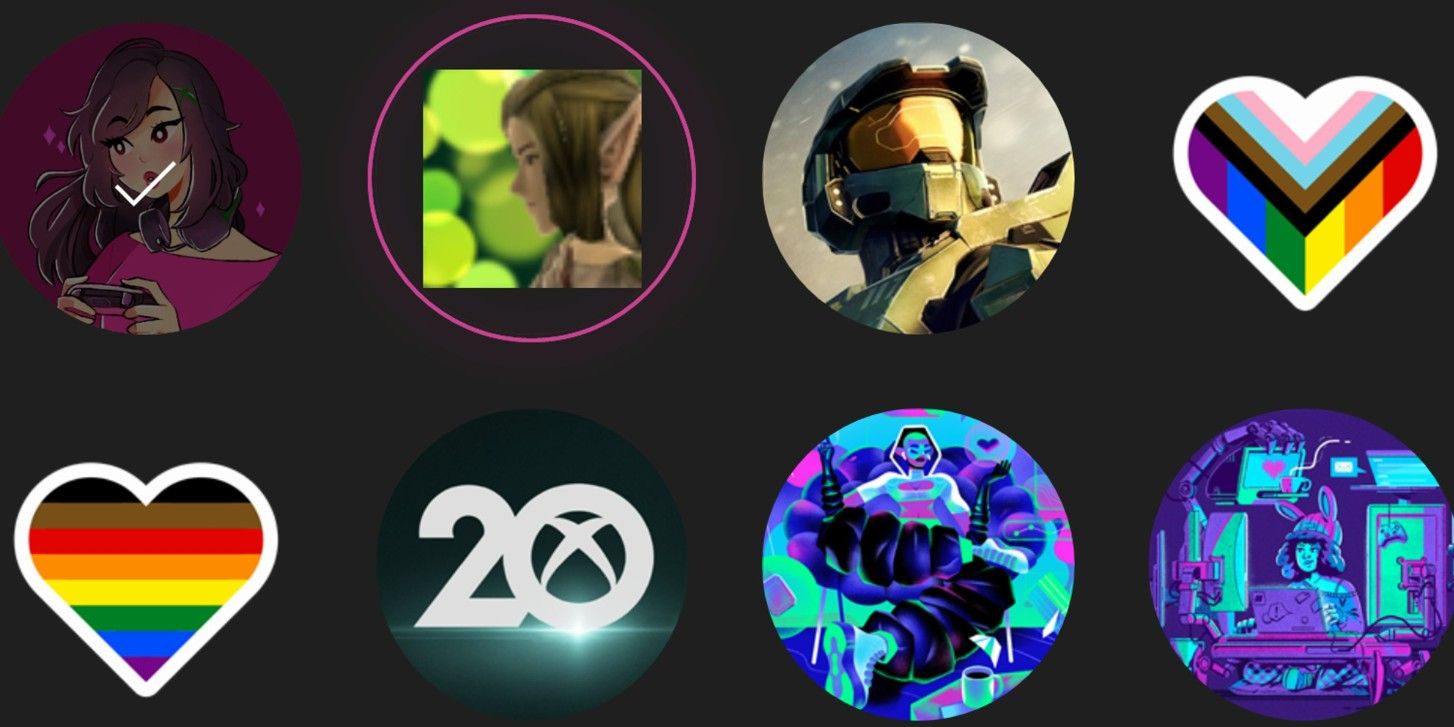 A new Xbox update will allow select gamers the chance to once again use their classic Xbox 360 gamerpics. The feature is currently in the testing stages, and will hopefully soon be on the way to restore nostalgia for all players who've now abandoned their Xbox 360 in favor of the latest Xbox Series X/S consoles.
For many Xbox fans, the 360 gamerpics are some of the most nostalgia-inducing images in gaming. The 2005 console came with a few gamerpics installed, with players' libraries of images growing as they purchased and played more games. Unfortunately, the tiny gamerpics were replaced, and aren't functional with the latest Xbox consoles. The newer, larger, and rounded Xbox profile pictures don't quite hold the same memories, and players have been asking for a Microsoft update to allow them to use their old Xbox 360 gamerpics for some time. Thankfully, Microsoft has listened.
Related: Metal Gear Solid 5's Online Servers On PS3, Xbox 360 Being Shut Down
Revealing the news on Twitter, engineering lead at Xbox, Eden Marie, has confirmed that Xbox 360 gamerpics will once again be usable, with the feature first rolling out to testers in the Xbox Series X Alpha Skip Ahead group. Beginning September 21, select should find a new option within the "change gamerpic" screen, allowing players to select gamerpics from their 360 days. Marie has warned that users may need to reboot their console for the option to show.
See the news on Twitter here.
As seen in the tweet, the square Xbox 360 gamerpics will be shown within a circle to better fit with the Xbox Series X/S profile pictures, while also serving as a badge of honor and highlighting players who've been with Xbox for multiple years. Unfortunately, it's not clear when the feature will be rolling out to all Xbox users, but its testing phase is a good sign. It's worth noting that only current Xbox gamerpics can be used. Players will need to log into their old 360 consoles in order to change their current gamerpic if it's not already set to one of their favorites.
Microsoft has been fuelling early gaming nostalgia not only through the gamerpic update, but also with the Xbox Design Lab website. The site allows users to create custom Xbox Series X/S controllers, choosing from a variety of different colors for each part of the gamepad. Players have been using the tool to build their own classic Xbox 360 controllers, featuring the iconic white, grey, and multicolor buttons. Hopefully, Xbox will continue to introduce more ways to link its latest consoles with classics from the past.
Next: Every Original Xbox & 360 Game Playable On Xbox One & Series X
Source: Twitter/@neonepiphany
from ScreenRant - Feed