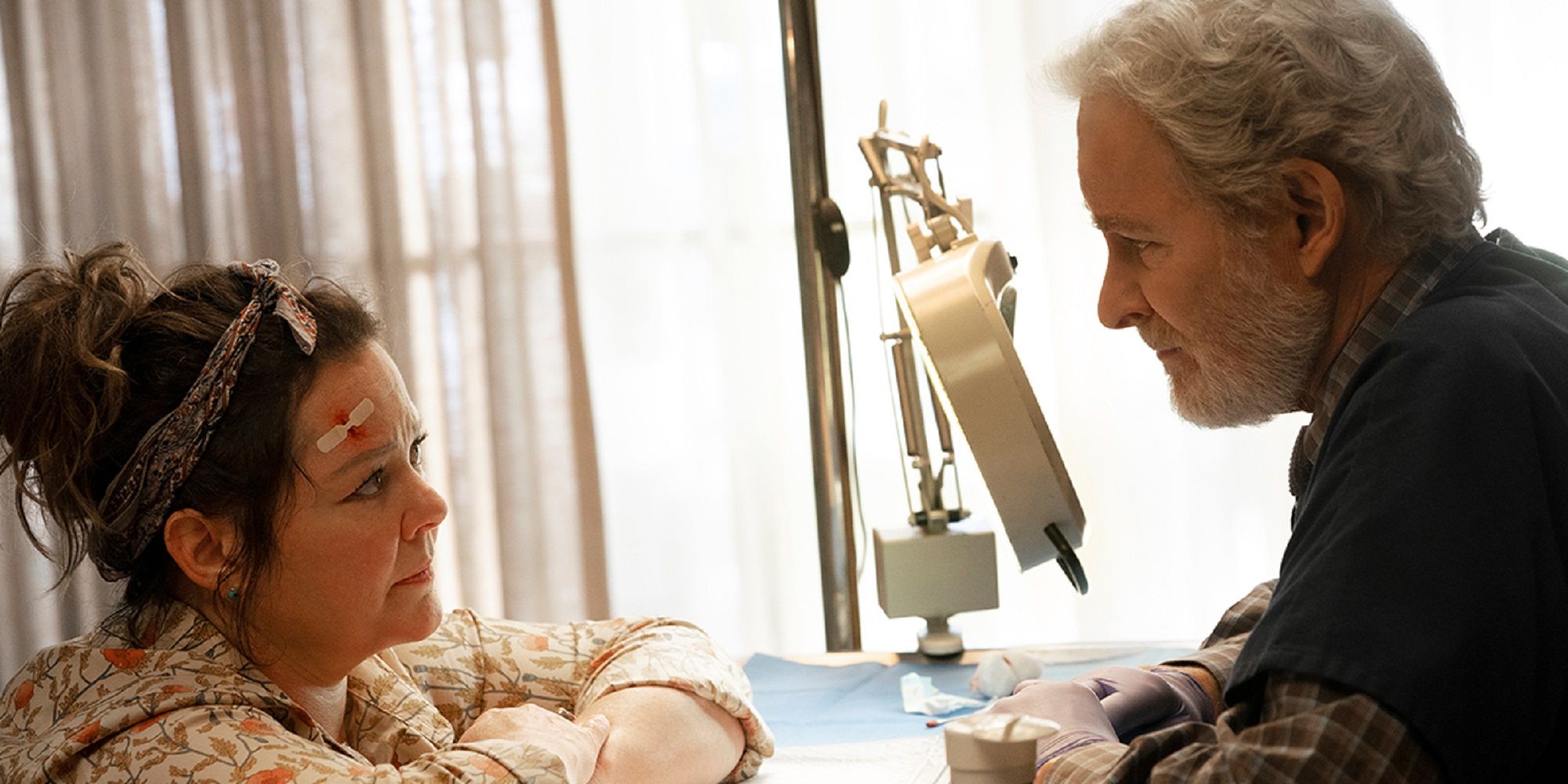 The Starling is a mind-boggling film that squanders all of its potential. Directed by Theodore Melfi from a screenplay by Matt Harris, the film attempts to tackle grief and the hope that can be so hard to find after loss. And yet, neither Melfi or Harris have a handle on what to do with any of the elements of the story, relying on overt sentimentality and music to do the emotional heavy-lifting despite not offering anything past a surface-level reading of the characters' mindset or the grief they so clearly feel. The Starling aims to be a feel-good drama about the light at the end of the tunnel following loss, but it's execution is messy and has little to say.
The film begins with Lilly (Melissa McCarthy) and Jack Maynard (Chris O'Dowd) painting their baby daughter, Katie's, room. They're happy, already envisioning what the future holds for Katie and who she might become. Over a year later and the couple is struggling with the loss of their daughter from SIDS (Sudden Infant Death Syndrome). Jack, a grade school art teacher, is checked into a mental health facility while Lilly is checked out of her life, busying herself with the positioning of a food stand while working her grocery store job. Lilly and Jack have different coping mechanisms and are trying to find their way back to each other after a sudden death, with Lilly's daily battle with a starling bird in the garden leading her to open up to Dr. Larry (Kevin Kline), a former psychologist who is now a veterinarian, in a bid to talk to someone and find answers to the unanswerable questions surrounding death.
Related: Melissa McCarthy Battles Grief And A Taunting Bird In The Starling Trailer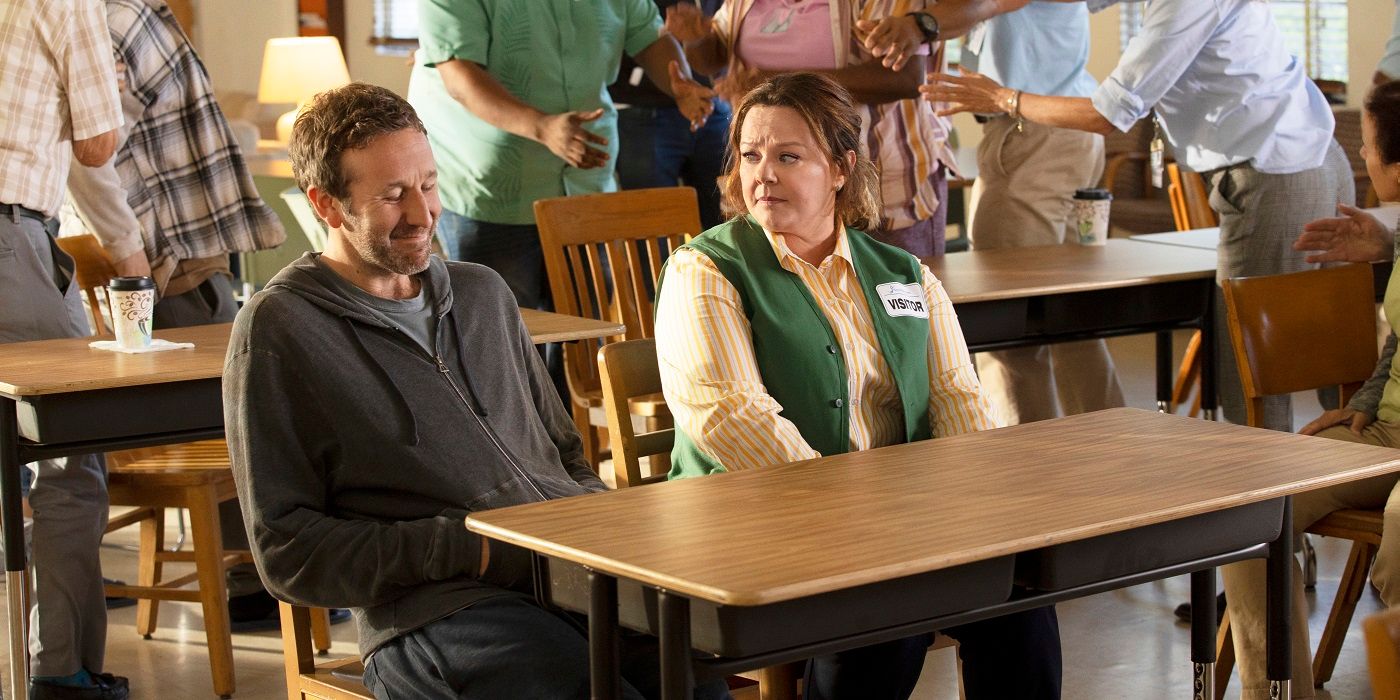 There is something rather disingenuous about The Starling in the way that it manipulates the audience's emotions, pulling at their heartstrings by doing the least when it comes to building out its own characters' emotional journeys. It's not that losing a child isn't obviously tragic, but the film is not very concerned with its characters beyond being vehicles for the audience to feel something rather than in exploring their own depth and complexities as people following such an insurmountable loss. To be sure, the film certainly has moments where the potential for weightier, more meaningful discussions and development surfaces — Lilly and Dr. Larry have several scenes together where it feels like there is going to be further dissection of grief and where Lilly and Jack are on the verge of an emotional breakthrough — but nothing truly ever comes from it.
It becomes tedious and frustrating to watch as The Starling lingers at the edges of something deeper, all so that it can build toward a clichéd ending that doesn't wholly feel earned. McCarthy, O'Dowd and Kline are fantastic in their roles, but that isn't a surprise considering the talent of these actors. It's a shame, then, to see how their performances give dynamism to their characters that the script doesn't work to expand upon. They can only do so much when the story seems so distracted and fragmented to focus on any of them longer than it has to. Even the music, a mixture of songs and an original score by Benjamin Wallfisch, which is meant to add to the emotional aspects to the story, is overbearing and excessive, playing over the scenes in a way that forcefully evokes warmth, sympathy, and heartache.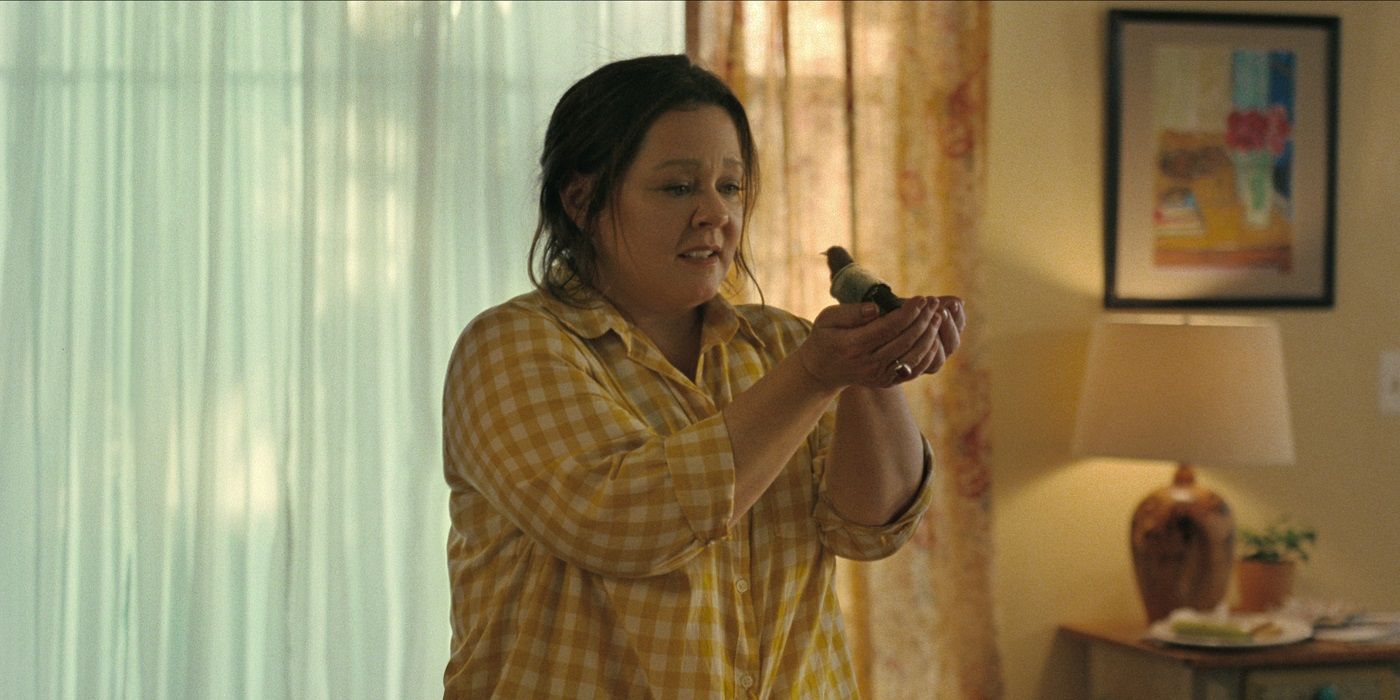 Rather than trusting the actors to do that with their performances (something they're perfectly capable of doing), Melfi detracts from the thinly sketched story and themes with musical substitutes. It's ultimately to the detriment of the film, which also uses the starling too heavy-handedly as a metaphor for the struggles Lilly and Jack are going through. It's unclear what the message is because the story is so haphazardly and disingenuously handled. There is hope after loss is the obvious one, it's just that The Starling rarely engages with this concept beyond a superficial reading of it. The film's talented cast — which also includes Daveed Diggs, Loretta Devine, and Timothy Olyphant in small, unsubstantial roles — is utterly wasted.
There was so much potential for emotional depth, and even criticisms about the care mental health facilities can actually offer come up in the film, but it's all squandered. In its place is a story that so desperately wants the audience to feel without offering much in the way of genuine depth. What could have been a thoughtful, poignant story about loss ended up being an unfortunate misfire.
Next: Every Melissa McCarthy Movie Ranked From Worst to Best
The Starling had its premiere at the Toronto International Film Festival on September 12, 2021. The film is 103 minutes long and is rated PG-13 for thematic material, some strong language, and suggestive material.
from ScreenRant - Feed