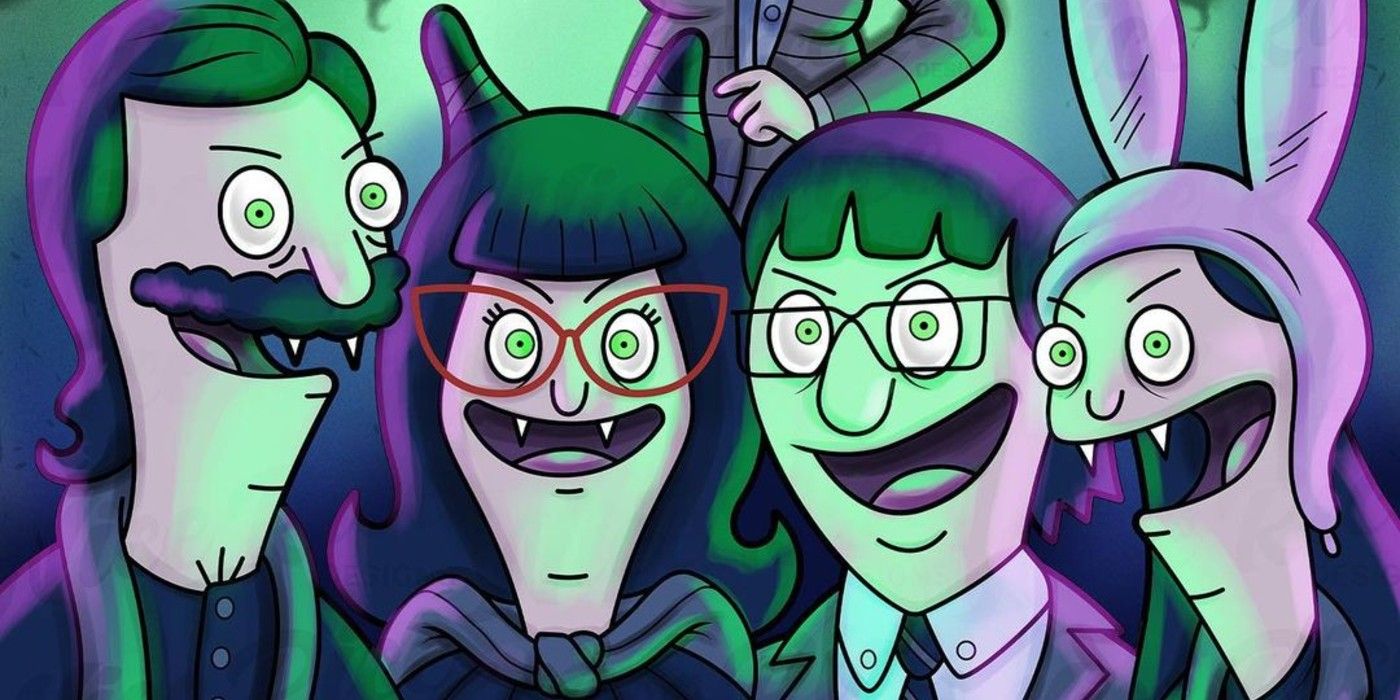 The artist duo Nice Rice Designs has imagined a mashup between the Belcher family from Bob's Burgers and the vampires from What We Do in the Shadows. Both shows in question are returning to the small screen this month. What We Do in the Shadows just premiered season 3 on FX, and Bob's Burgers season 12 will come to Fox on September 26. Both Bob's Burgers and What We Do in the Shadows have also been renewed for an additional season next year.
What We Do in the Shadows is a television spinoff of the 2014 Taika Waititi and Jemaine Clement mockumentary. The show follows a group of four vampires living in Staten Island with their loyal familiar. They face conflicts involving ghosts, zombies, reincarnated ancient lovers, and who will be assigned which chores. This season sees the foursome rise to the Vampiric Council (with petty infighting beginning more or less immediately) while Guillermo the familiar grapples with his family history.
Related: Is Central Park Related To Bob's Burgers?
On their Instagram, Nice Rice Designs has dropped some brand new artwork to add to their collection of hand-drawn Bob's Burgers designs. This art reimagines the Belcher family as the five key What We Do in the Shadows characters in a parody of the artwork for season 3. The husband and wife team has really brought this idea to life with effortless precision. Check out the artwork below:
This artwork creatively interprets which characters might map the best onto each other. Bob and Linda have been combined with long-married couple Laszlo and Nadja, which makes sense even if the vampire spouses might be a little more extreme than the Belchers. Gene is taking the place of energy vampire Colin Robinson, highlighting their deadpan, nerdy natures. Louise is taking the place of the warrior Nandor, which makes sense considering her penchant for stirring the pot (funnily enough, Kristen Schaal, who voices Louise also appears on season 3 of WWDITS). Finally, Tina is replacing Guillermo the familiar. Her lack of social skills fits in nicely with Guillermo, who has put up with the vampires for so long because he doesn't really know how to do anything else.
This What We Do in the Shadows and Bob's Burgers mashup might seem like it's come out of nowhere, but it speaks to how well both shows are being received. WWDITS is swiftly rising with its incisive horror-comedy blend that recalls classic mockumentaries like The Office and the films of Christopher Guest, and Bob's Burgers has been a media juggernaut for years. In fact, there's a Bob's Burgers movie coming as soon as theaters can reopen fully. Both shows are going to be immortal, in more ways than one.
Next: What We Do In The Shadows Season 3: New & Returning Characters
Bob's Burgers season 12 premieres on Fox on September 26.
Source: Nice Rice Designs/Instagram
from ScreenRant - Feed