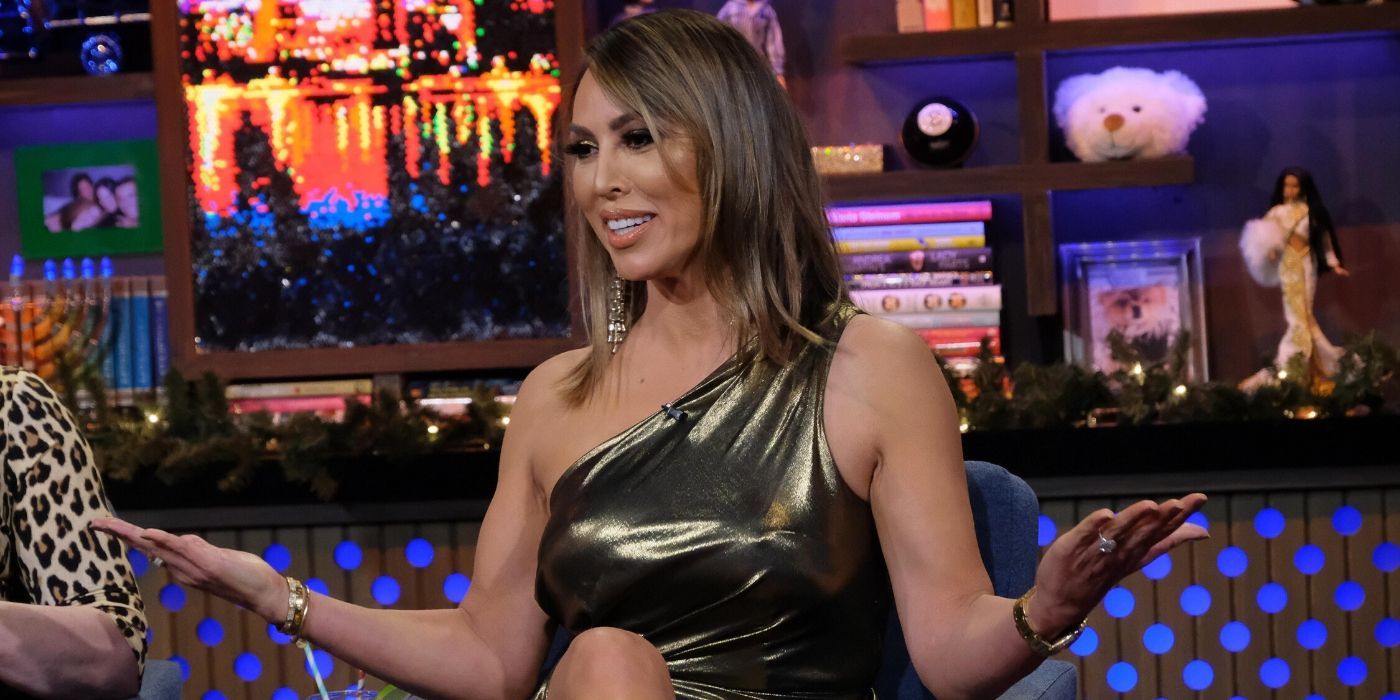 Former The Real Housewives of Orange County star Kelly Dodd is firing back at Andy Cohen, claiming he was wrong for reacting the way he did to her opinions on COVID-19. Kelly was a polarizing housewife from her very first season. She joined the show as a friend of Megan King's and didn't really get along with anyone else. Her and fellow housewife Shannon Beador were instant enemies, and their feud lasted a number of seasons, and they still are not on good terms today. She and Tamra Judge got into a huge argument in Ireland when Kelly brought up one of Tamra's kids and accused her husband of abusing her. Most notably, Heather Dubrow chose not to return to the show. She won't say it's because of Kelly, but because she didn't like the direction the show was going in.
After she did and said some questionable things, Kelly was fired from the Bravo show and won't be back for its 16th season. Prior to the start of season 15, fans were calling for a boycott of the show in the hopes of getting Kelly fired. They were angry at her for making insensitive statements regarding the pandemic and making light of the racial issues the country was facing at the time. She made jokes claiming that the pandemic has a silver lining and was God's way of thinning the herd and was natural population control, angering those who lost loved ones to COVID-19. She also wore a hat, which had the words, Drunk Wives Matter embroidered on it, seemingly mocking the Black Lives Matter movement.
Related: RHOC: Kelly Dodd Reveals Who She Really Blames For Her Firing
Kelly is now speaking out against Andy Cohen and the remarks he made against her during the taping of the season 15 reunion. As The Sun reports, during a recent episode of her and her husband's podcast, Kelly bashed Andy for the way he treated her at the time. Kelly claims Andy had put a target on her back because she decided to go ahead and go through with her wedding celebration in October 2020, when COVID-19 was still raging. She claims Andy told her she would come out of this on the wrong side and criticized her for traveling during the thick of a pandemic. At this point, her husband Rick Leventhal jumped in and said they were criticized for having a wedding with 30 people in attendance, when 60,000 people are crammed in stadiums nowadays, with COVID-19 cases three times as high as when they were married. The couple doesn't understand why everyone was so mad at them back then but is okay with stadiums being full now.
Kelly also claims she was told she was wrong because she was advocating for schools to be reopened and for trying to sell her homes while the pandemic was raging. Now that the number of cases is higher than ever, but schools have remained open, Kelly feels like she was hounded on for no reason at the time. When the podcast episode was released, Kelly took to Instagram to clear up any misconceptions that may have come up from the comments she made. She wanted to make it clear that she wasn't trying to speak badly about or bash Andy. She was trying to point out how she thinks history has now vindicated her point of view and makes her right.
Kelly has said a lot of controversial things in the past, but is it possible she may have a point this time around? COVID-19 cases are spiking in a number of states, although the numbers are going down nationally. Even if Kelly is right in her beliefs, is it the best thing for her to continue to speak on topics that have proven to get her in trouble with fans in the past? It will be interesting to see if these comments have any further impact on both her livelihood and her life in general. Will she lose any more sponsorships and business dealings? One thing is for sure, the former The Real Housewives of Orange County star seems unable to stop getting herself in trouble with those in charge and the general public.
Next: RHOC: Tamra Judge Wants To Film With Ex-Husband If She Returns To Show
Source: The Sun, Kelly Dodd
from ScreenRant - Feed