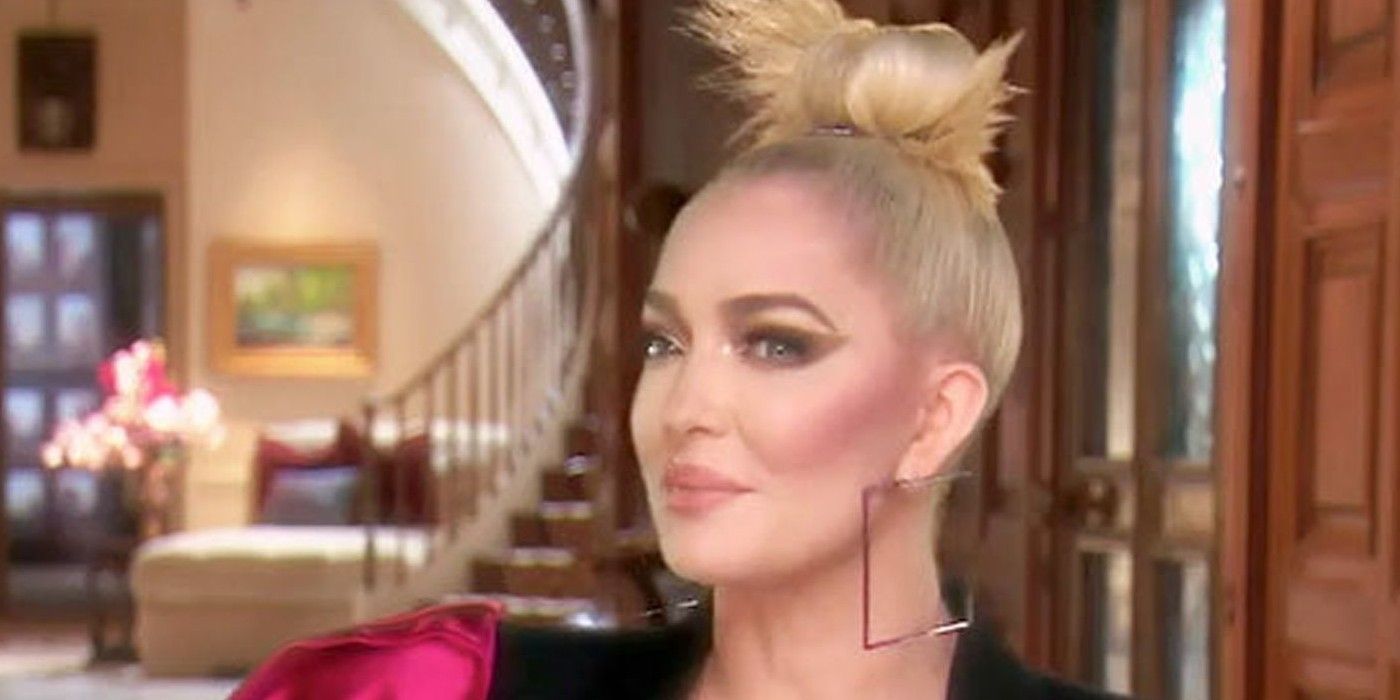 Erika Jayne was heard laughing with host Andy Cohen at the taping of The Real Housewives of Beverly Hills season 11 reunion. The current season of RHOBH follows the fallout of Erika's divorce from disgraced lawyer Tom Girardi, who is accused of defrauding victims of disaster over the last decade. Tom's legal firm, Girardi-Keese, was forced into bankruptcy, and trustees found that $25 million of the firm's funds were spent by Erika's LLC, EJ Global. Erika now faces a lawsuit to pay the money back that she allegedly spent on glam squads and American Express charges over the years.
Erika's demeanor on camera is colder than usual this season in the face of the allegations. The other RHOBH ladies' speculation about Erika's involvement has caused major strife in the group. Outside of the show, Erika continues to fire back at fans who demand answers. The "Pretty Mess" singer recently called fans invested in her legal drama "dumb ******* with conspiracy theories" in a harsh tweet. Erika hasn't given up posting her flashy lifestyle on social media, which has only drawn more heat on the star for showing no remorse. Fans are anxiously awaiting the reunion, where Erika is expected to answer Andy's hard questions. Ahead of the reunion taping, Andy shared with his Instagram followers that he was "studying" for the highly anticipated event. The host further hinted at RHOBH drama in further posts on his Instagram Story.
Related: RHOBH: Why Fans Are Criticizing Erika Jayne's Recent Instagram Posts
On his Instagram Story, Andy posted a sneak peek of the reunion from the host's chair, filming only himself (as shared on Reddit). "We're still going. We're in a makeup break," Andy said to the camera. "How's it going, Erika?" Andy asked, looking off-camera. An off-screen Erika responded with a bit of a biting tone, saying, "It's going wonderfully, don't you think?" Andy cracked an impish smile and nodded. "I do...it's a good reunion." Andy took somewhat of an awkward pause, and Erika could be heard laughing off-camera. "Sorry," Andy replied, hinting at Erika having a tough reunion.
Andy provided a further update in a later Story. "Still. Going," he wrote, adding, "IT'S GOOOOOD." Reddit users shared their reaction to Andy's clip. Some fans spoke to the awkwardness of the clip. "Omg why is he giving 'I've been kidnapped and they're treating me very well' vibes," one user wrote. Another fan said they were "disappointed." They wrote, "Erika is the alpha in this clip. Will no one hold her accountable?" Fans pointed out that Erika sounding close to Andy in the video clip may indicate she sat next to the host, a position widely considered the most important during the reunion taping.
Fans expect The Real Housewives of Beverly Hills reunion to be explosive. Judging by Andy's facial expression toward Erika, viewers can likely expect some on-screen conflict involving the "XXPEN$IVE" singer. While Erika will likely be grilled at the reunion, there's no telling if she'll own up to any involvement in Tom's schemes.
The Real Housewives of Beverly Hills airs Wednesdays at 8pm on Bravo.
Next: RHOBH: Erika Jayne & Sutton Stracke's Tense Confrontation Explained
Sources: Andy Cohen/Instagram, Reddit
from ScreenRant - Feed