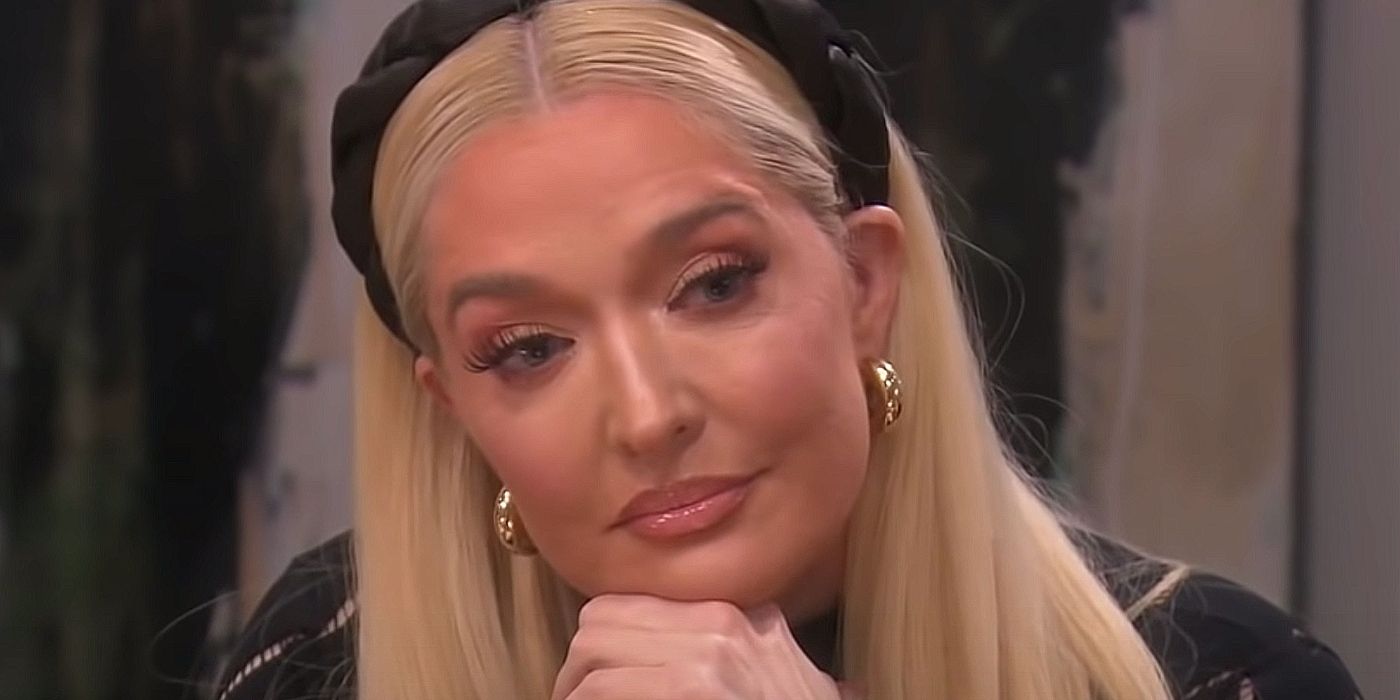 Erika Jayne didn't dismiss a viewer's comparison of her to the former U.S. President Donald Trump after an explosive episode of The Real Housewives of Beverly Hills aired Wednesday night. Erika continues to find herself in controversy amid her divorce and legal troubles. Erika's lawyer ex-husband Tom Girardi is accused of embezzling his client's money over the last decade until his top LA law firm went bankrupt. Her castmates question whether Erika, who is now being sued $25 million for using Tom's firm's money for her own business, knew more than she is admitting on Real Housewives.
The most recent RHOBH episode, rightfully titled "The Dinner Party From Hell: Part 2," saw Erika go to bat for herself at Kathy Hilton's dinner party when the other Beverly Hills ladies put her in the hot seat about the embezzlement rumors. Erika sparred with her frenemy Sutton Stracke, who challenged the "Pretty Mess" singer's ignorance of Tom's shady dealings. "I'll go head-on with you all f****** day," Erika said to Sutton. "I'm telling the truth. I am not a liar. You have a lot of f****** nerve." Viewers saw the reality star break down in tears while being grilled at the gathering. While watching the episode along with viewers, Erika further defended herself in live tweets throughout the heated episode.
Related: RHOBH: Why Erika Jayne Reportedly Despises Lisa Vanderpump
Erika gave an unexpected response to one viewer's meme. The user's tweet, captioned "Twinning," shared a photo of an enraged Erika from the Sept. 1 episode next to a photo of Donald Trump. Erika quote tweeted the meme and gave a surprising answer. "Not the guy I voted for but yes for spitting venom at absolute bulls***," Erika wrote, adding, "I'll take it." Erika further defended her fiery reaction to the RHOBH ladies' attack in a separate tweet. "God forbid I fight for myself," Erika wrote, adding an eye roll emoji. "Stop thinking I'll quit just because you think I should. F*** that." Erika continued her tweet with a message to her fan base, which has appeared to wane amid her legal woes. "Thank you to everyone that is supportive and understanding," Erika wrote. "I will not be stopped," she concluded, adding a diamond emoji.
Erika showed love for another famous Republican in another tweet in response to former The View host Meghan McCain. The daughter of late senator John McCain shared a group photo with Erika, writing, "Team @erikajayne. We love you." Erika responded, "Team @MeghanMccain," adding a red heart emoji, "always."
Erika continues to thwart claims of her knowledge about her ex-husband's crimes against his clients. While the ice queen of the franchise is staying cool amid accusations on social media, time is ticking down until the taping of the RHOBH reunion special, where Erika will have to answer Andy Cohen's direct questions. The Real Housewives of Beverly Hills fans are waiting to see whether Erika maintains her innocence or cracks under the pressure.
Next: RHOBH: Erika Jayne's Ex Tom Girardi Accused of Staging Nursing Home Photos
Source: Erika Jayne/Twitter
from ScreenRant - Feed