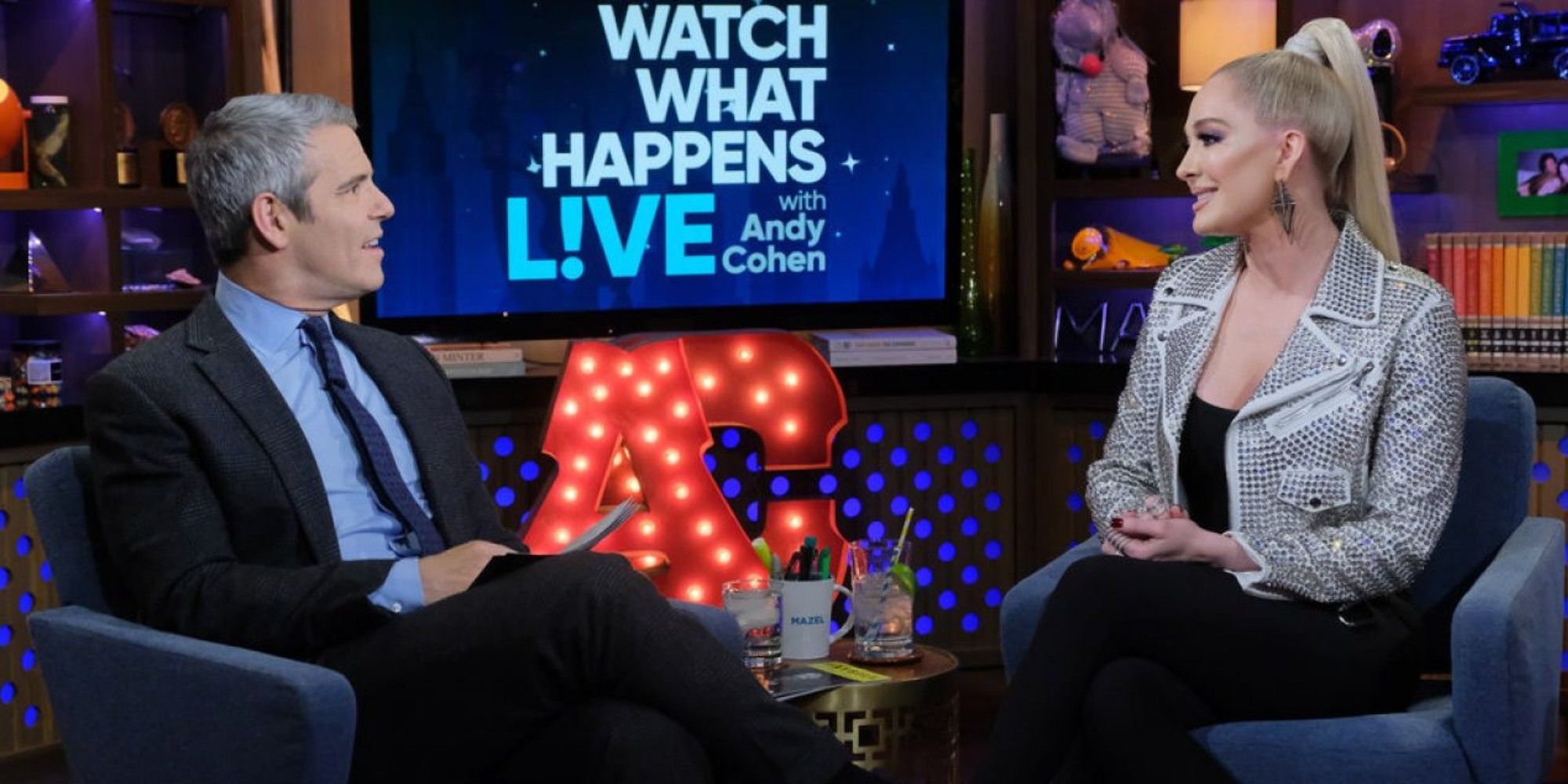 Andy Cohen confirms Bethenny Frankel did tell him about The Real Housewives of Beverly Hills star Erika Jayne's money issues. Shortly after Erika filed for divorce from her husband of more than two decades, Tom Girardi, news broke that the lawyer owed unpaid settlement money. Tom was accused of embezzling at least $2 million in funds from those who tragically lost loved ones in the 2018 plane crash in Indonesia.
Not too long after the first accusation, an exposé was released including more of Tom's wrongdoings. According to the article, Tom has been stealing money from his clients for at least the past ten years. He had been sued before, but for some reason, it was never made public. Tom was protected by the legal industry, despite the way he had treated his clients in the past. However, it seems The Real Housewives of New York City alum Bethenny, who knew about Tom's legal issues, always suspected the lawyer was up to no good.
Related: RHOBH: Erika & Andy Cohen Were Reportedly 'Fighting' At The Reunion
During a recent episode of Watch What Happens Live With Andy Cohen, the host asked Erika's RHOBH co-star Kyle Richards what she thought about the "claims Bethenny made on her podcast" regarding Erika and Tom's financial issues. Kyle responded with, "You tell me." Andy admitted Bethenny did relay that information to them, noting it was a topic that came up at the reunion. Kyle then added she probably has "the same opinion" as Andy. The two didn't discuss it any further and quickly moved on to another segment. It seems as though viewers will have to wait for the RHOBH reunion to hear more of their thoughts.
Andy's confirmation comes two weeks after Bethenny, who says Erika is on RHOBH for money, revealed on her podcast, Just B, that her former fiancé, Dennis Shields, warned her about Erika and Tom. Bethenny revealed she knew about Tom's money problems in 2017 or '18 and that it was well-known in the industry. In fact, Tom even owed Dennis more than half a million dollars. Before the news came to light, Bethenny said she relayed the information to Andy, Kyle, Lisa Rinna, and Erika's makeup artist. After her podcast episode made the rounds, Bethenny clarified her statement: "I don't quote-unquote know Erika Jayne," she began."I have no idea if she knew [about Tom's actions]. I know nothing about their marriage, nothing about their life." She added, "I knew that I knew. I knew that I told people."
Andy wasn't able to divulge any more information about what Bethenny told him regarding Erika, but it seems they will get into it at the upcoming RHOBH reunion. The host is never one to shy away from an uncomfortable question, so the situation will be discussed. Hopefully, it is worth the wait.
Next: RHOBH: Attorney Sends Andy Cohen Reunion Questions For Erika Jayne
The Real Housewives of Beverly Hills airs Wednesdays at 8 p.m. EST on Bravo
Source: Watch What Happens Live With Andy Cohen/ YouTube
from ScreenRant - Feed