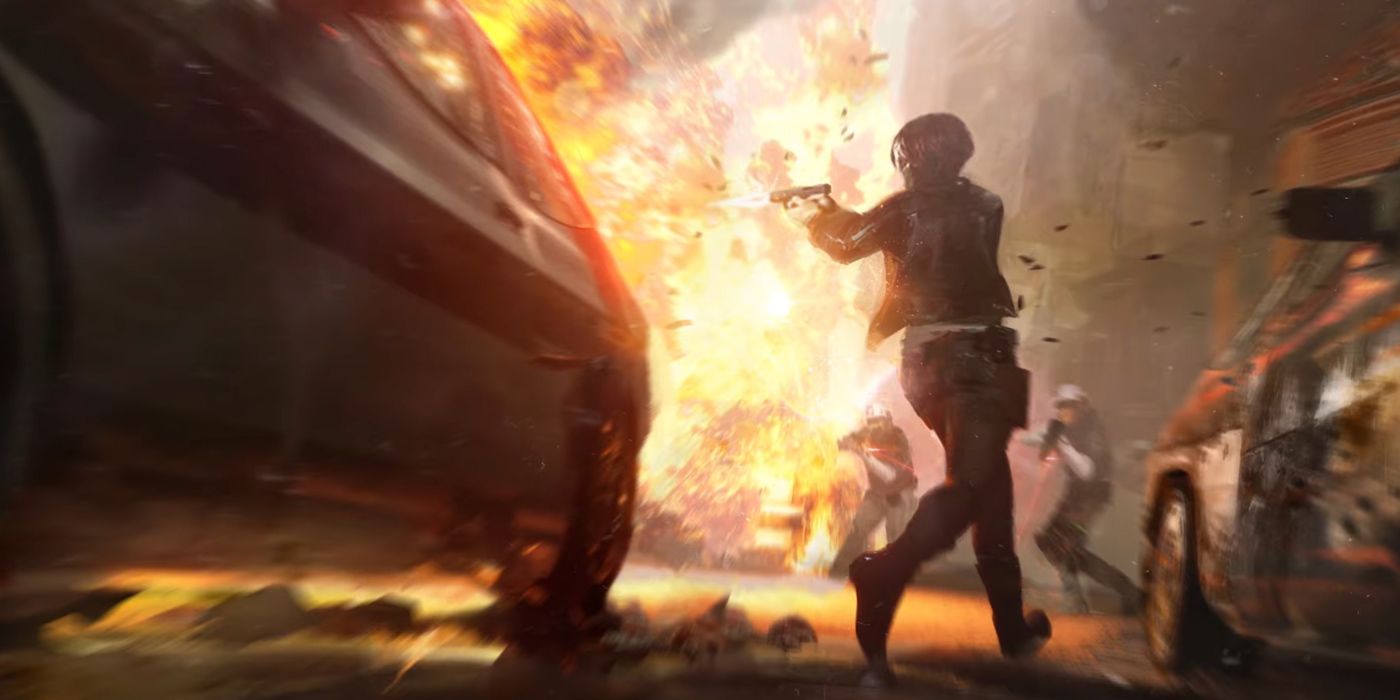 First-party Xbox studio The Initiative has announced that its new Perfect Dark game will be co-developed by Marvel's Avengers and Tomb Raider studio Crystal Dynamics. Originally revealed in 2018, The Initiative is a Microsoft-owned development studio dedicated to putting out "AAAA" games for Xbox consoles, and it revealed it's working on a reboot of the popular FPS series Perfect Dark back in 2020.
While Perfect Dark is returning after over a decade away, little is known about the upcoming reboot other than the The Initiative's hints about the game's focus on conspiracies and Joanna Dark's next mission during the initial announcement. While vague, the cinematic trailer revealed that the operative could be set against a sinister corporation in a technologically advanced yet dystopian Egypt, taking place in a world being demolished by various environmental disasters. The Initiative has also mentioned that the reboot could likely be bringing back fan-favorite weapons and gadgets, with one notable Perfect Dark weapon indicated in the trailer.
Related: Everything We Know About Perfect Dark's Reboot
In a tweet, The Initiative announced that Perfect Dark reboot development will be assisted by Crystal Dynamics. Planned as a first-party Xbox title, Crystal Dynamics has been brought on without publisher Square Enix, and development on the series revival will continue as a joint operation. "The teams couldn't pass up a chance to work together. We're still early in development, but incredibly excited to use this unique opportunity to deliver on the vision for Perfect Dark," stated the developer. Notably, The Initiative is managed by Darrell Gallagher, the former studio head of Crystal Dynamics who spent 10 years working on the Tomb Raider series, including Tomb Raider's 2013 reboot and its timed Xbox-exclusive sequel, Rise of the Tomb Raider.
The original Perfect Dark was developed by Rare and released exclusively in 2000 for the Nintendo 64, revolutionized console FPSes in the process. Acting as a spiritual successor to 1997's iconic Goldeneye 007, it shared many similarities, including highly customizable multiplayer that was largely ahead of its time. Being met with wide acclaim, it went on to receive a less well-regarded sequel the Xbox 360 after Rare was acquired by Microsoft. Perfect Dark Zero served as a prequel to the original game, and the game's mixed reception caused the IP to go dormant for a decade.
It's still early in development, but the Perfect Dark reboot is now in the hands of two of the biggest subsidiary studios in the industry. While it's uncertain if the pair will deliver in creating a game that will be remembered better than Perfect Dark Zero, more announcements regarding the anticipated reboot are expected to be revealed in the future.
Next: Elvis Is The GoldenEye 007 Oddjob Of Perfect Dark
Perfect Dark is set to release on Xbox Series X|S and be available via Xbox Game Pass at launch.
Source: The Initiative/Twitter
from ScreenRant - Feed