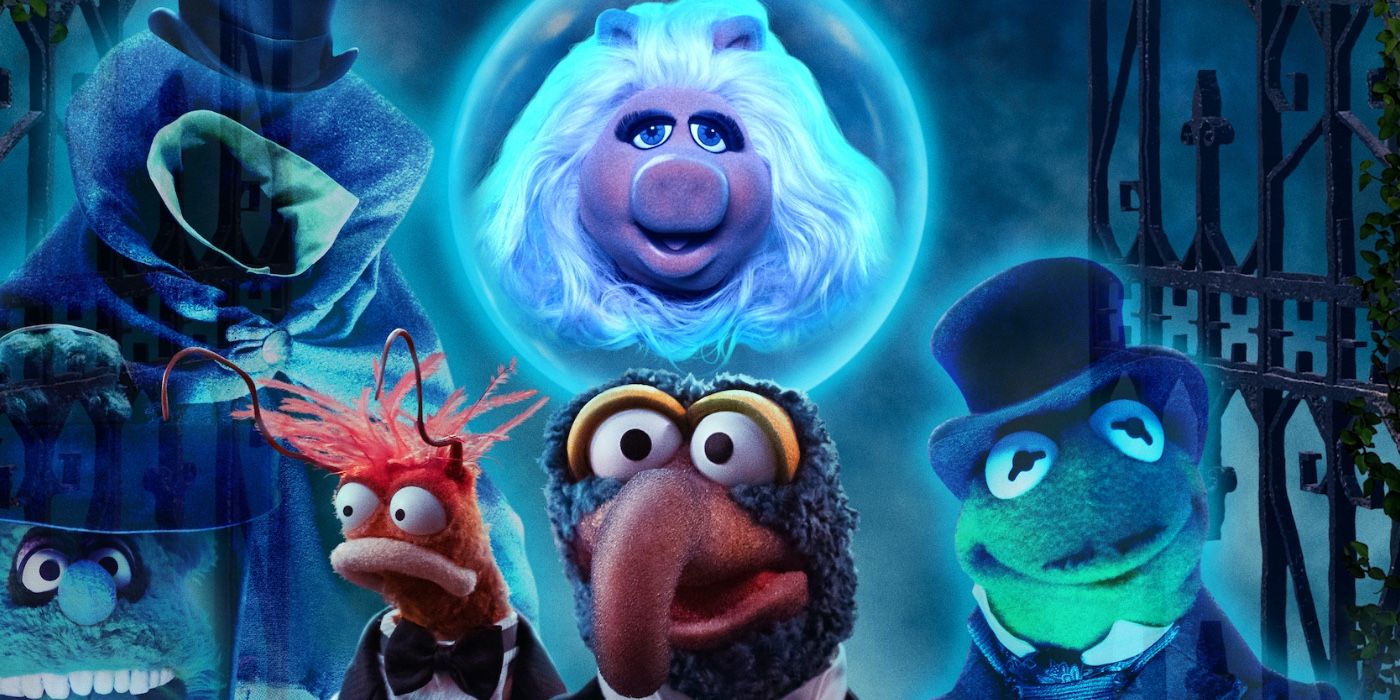 Disney+ has released the first trailer for Muppets Haunted Mansion, an upcoming Halloween special. Though Jim Henson first created the Muppets in 1955, it was The Muppet Show that solidified the puppet collective's celebrity status. The show premiered in 1976 and followed the Muppets' plush hijinks. In the ensuing decades, Kermit, Miss Piggy, and company have become enduring pop culture icons, starring in numerous films and TV spinoffs.
Related: The Muppet Show: Kermit The Frog's Origins & Sesame Street Connection Explained
Now, fans can watch the official trailer for Muppets Haunted Mansion courtesy of Disney+. "Welcome to the home of fear and fright," recites a spooky voiceover, "where not all guests survive the night." The chilling refrain is undercut by characteristic Muppets humor: "What's the matter with you, this is a family show!" Gonzo and Pepe the King Prawn are set to star as the two Muppets tasked with surviving a night in the haunted mansion, but the rest of the Muppet gang makes an appearance as well. Miss Piggy's disembodied head demands attention from inside a crystal ball, and a beleaguered Fozzie Bear attempts a stand-up set to a tough crowd of ghosts and ghouls. Check out the full trailer below:
In the trailer, the gang is seen exploring the Haunted Mansion, a spooky take on the iconic Disney Parks ride. The attraction also inspired the 2003 movie of the same name. Disney+ first announced the Muppets special in May alongside an announcement from Gonzo and Pepe. Muppets Haunted Mansion will be released as part of Disney+'s second annual "Hallostream" event. The celebration begins on September 24th, and Muppets Haunted Mansion comes out on October 8th.
In addition to the whole Muppet gang, fans can look forward to a host of celebrities who are joining in on the frightening fun. Glee's Darren Criss is playing the Caretaker, and Will Arnett features prominently in the trailer as the Ghost Host. Taraji P. Henson will join as the Hearse Driver. Also appearing in the trailer are Yvette Nicole Brown, John Stamos, Danny Trejo, and others. The special will be directed and written by Muppets veteran Kirk R. Thatcher.
More: Every Halloween Special Dropping On Disney+
Source: Disney+
from ScreenRant - Feed