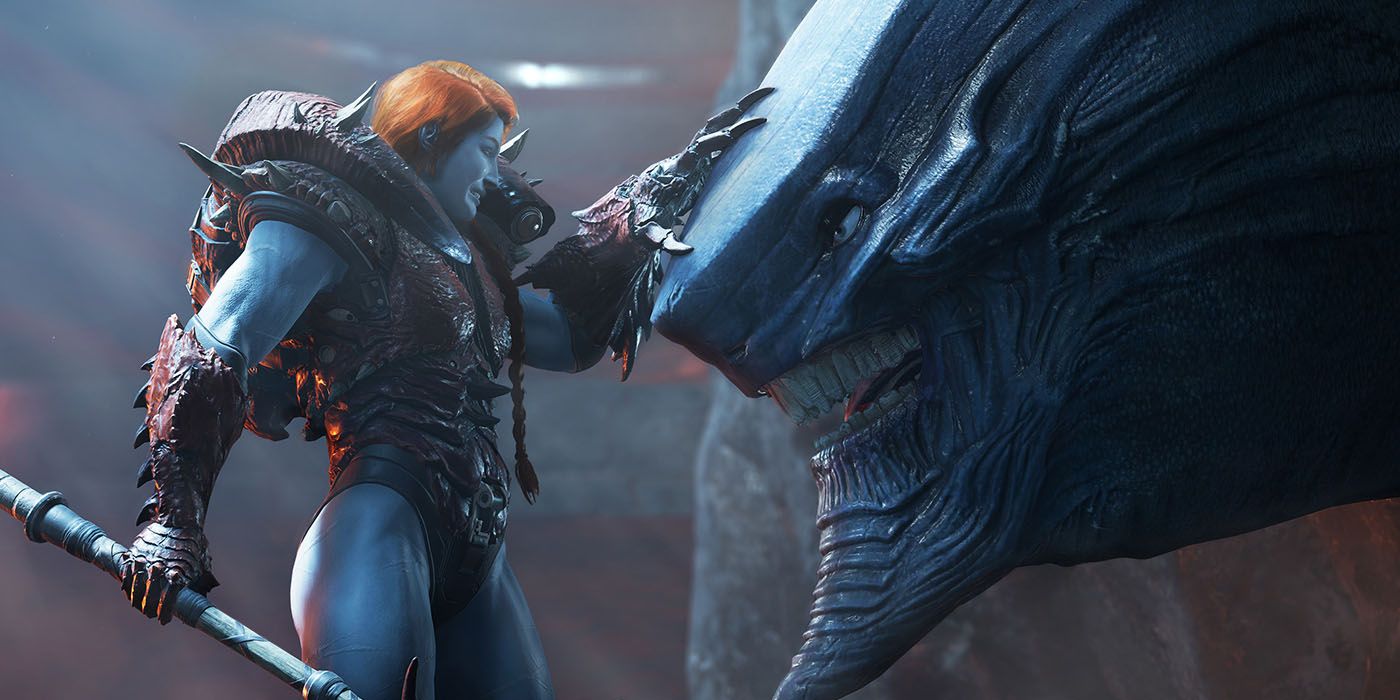 Square Enix may be the publisher for both Marvel's Avengers and Marvel's Guardians Of The Galaxy, but both superhero titles are using completely different game engines. The publisher already confirmed that Eidos Montreal's upcoming space adventure Marvel's GotG takes place in a separate continuity from Crystal Dynamic's more Earth-based hero team action RPG, not long after Marvel's Guardians Of The Galaxy was first shown off at June's E3 2021 livestream.
Aside from the heroes starring in each game and the setting each one takes place in, Marvel's Avengers and Marvel's Guardians Of The Galaxy differ in many ways. While Avengers features multiple playable characters and takes players along a linear storyline with a single ending, Guardians will only allow players to control Peter "Star-Lord" Quill and guide his team through dialogue choices that shape the game's narrative. It's these differences that led Eidos to not only declare its upcoming title completely separate from last year's divisive Avengers game but to use a different game engine to build it – one the team is already familiar with thanks to its past projects.
Related: How Guardians of the Galaxy Plays In & Out Of Combat Shown In Trailers
According to TheGamer, the developers behind Marvel's Guardians Of The Galaxy were asked about the game crossing over with Marvel's Avengers in the form of a future DLC on Twitter, with user All-Father Designs being under the impression that both titles used the same game engine and assets. Eidos quickly revealed that this wasn't the case, as Marvel's Avengers was made in the Foundation game engine (used for Crystal Dynamics' Tomb Raider games), while Marvel's Guardians Of The Galaxy is being built in Dawn Engine. Eidos Montreal previously used this engine to work on 2016's Deus Ex: Mankind Divided.
Marvel's Guardians Of The Galaxy isn't set to release for another few weeks, but fans are already excited to step into the roles of the rag-tag group of space rogues from Marvel's comics and films. Marvel's Guardians Of The Galaxy went gold a couple of weeks ago, and Eidos Montreal is already revealing alternate playable character skins such as Dave Bautista's take on Drax the Destroyer in the MCU. Meanwhile, Marvel's Avengers is still releasing a steady stream of post-DLC content, with the next batch being centered around Spider-Man - who himself is enjoying a gaming renaissance as of late thanks to Insomniac's series of PlayStation-exclusive Spider-Man titles.
Given the numerous gameplay differences between Marvel's Guardians Of The Galaxy and Marvel's Avengers, as well as Eidos' familiarity with the Dawn Engine, it makes sense for the developer to want to use a different engine to bring its upcoming space adventure to life.
Next: Why Chris Pratt Isn't In Marvel's Guardians of the Galaxy Game
Marvel's Guardians Of The Galaxy launches for PC, PlayStation 4, PlayStation 5, Xbox One, Xbox Series X|S and Nintendo Switch via the Cloud on October 26, 2021.
Source: TheGamer, Marvel's Guardians Of The Galaxy/Twitter
from ScreenRant - Feed