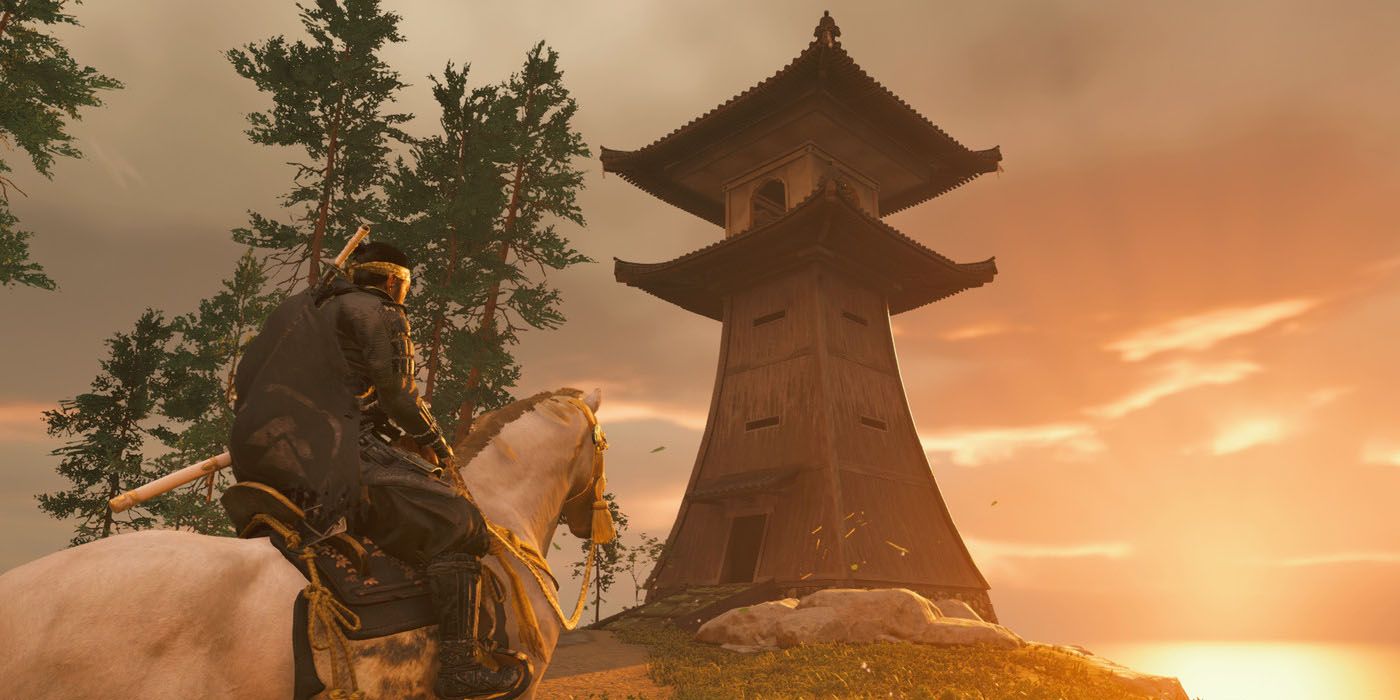 Sucker Punch has released another patch for Ghost Of Tsushima Director's Cut, this time addressing glitches involving Iki Island's lighthouses, a glitch causing crashes, and more. The open-world samurai sandbox epic recently received a sizable update with Ghost Of Tsushima Director's Cut, which brought the successful action title to the PlayStation 5. It also includes a brand-new campaign pitting Jin Sakai against the cult-like Eagle Clan on Japan's southwestern Iki Island.
In the month or so since Ghost Of Tsushima Director's Cut launched, Sucker Punch has been hard at work smoothing out the various technical issues that have unwittingly come with the new expansion. Recent patches have fixed glitches like the Fundoshi Armor being rendered unavailable at the start of a New Game+, as well as adding fun new details like an adorable extended petting animation for Ghost Of Tsushima's foxes.
Related: Ghost of Tsushima: When You Should Play Iki Island
Developer Sucker Punch Productions has announced the release of Ghost Of Tsushima Director's Cut patch 2.09 on Twitter, which resolves a glitch concerning the lighthouses on Iki Island. The patch also includes adjustments for matchmaking in the Ghost Of Tsushima Legends co-op mode, as well as a crashing issue that some users have experienced while playing the PS5 port. So far, a full list of the fixes Ghost Of Tsushima Director's Cut Patch 2.09 has yet to be posted.
As with the main game, Ghost Of Tsushima Director's Cut has been well-received by critics and players alike thanks to its wealth of new content, although some feel that the Iki Island should have been a standalone game rather than an extended story mission. In addition to the updated graphics and Haptic Feedback support of the PS5 DualSense controller, the Director's Cut brought along new Mongolian enemies that carry multiple weapon types (thus forcing Jin to quickly switch between his various fighting styles when confronting them), as well as the ability to ram foes while on horseback. Praise was also given to Ghost Of Tsushima Director's Cut's save transfer system, which allows players to transfer their old PS4 saves to the updated PS5 version in one of the easiest implementations of this feature to date.
Ghost Of Tsushima continues to be a hit with PlayStation fans, and part of that stems from Sucker Punch's continued support for the critically-acclaimed PS4 swan song even a full year after its release. While the changes in the latest Ghost Of Tsushima Director's Cut patch may be small, they're liable to go a long way toward making one of the most well-received PlayStation exclusives of the past few years play even better.
Next: Ghost of Tsushima Iki Island New Armors, Accessories, & Dyes
Ghost Of Tsushima Director's Cut is available on PlayStation 5.
Source: Ghost Of Tsushima/Twitter
from ScreenRant - Feed