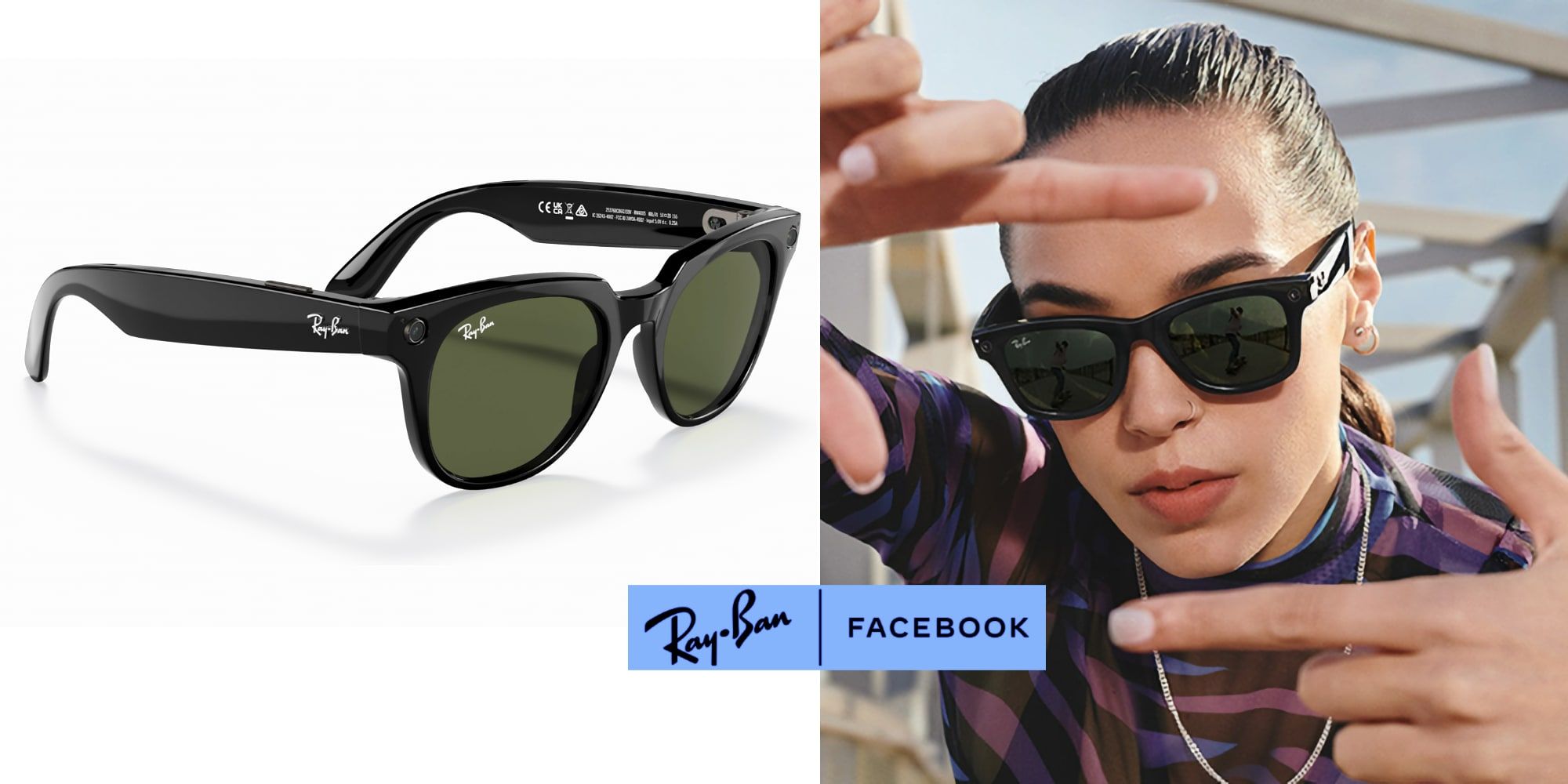 Now that Facebook's Ray-Ban Stories are official, it might be a good time to dig into some of the lesser-known details of these smart glasses. While Ray-Ban Stories look great and are an exciting new product, there are some finer points to consider before buying a pair. Depending on how and where Facebook's new smart frames might be used, it might make sense for some people to wait for a better solution to be released.
Ray-Ban Stories smart-glasses are developed by Facebook in partnership with EssilorLuxottica, the parent company of Ray-Ban, Oakley, Varilux, Transitions, and other eyewear brands, as well as equipment used by optometrists and ophthalmologists. Ray-Ban has over eight decades of experience, beginning as a Bausch & Lomb brand and becoming famous for its anti-glare lenses that were popular with pilots. With the appearance of Ray-Ban sunglasses in such diverse and timeless movies as Easy Rider, Top Gun, and The Terminator, they've forever earned a place in style history with a look that's still in demand today.
Related: Facebook's 'New' VR Workrooms Aren't As Groundbreaking As They Seem
Ray-Ban Stories look nearly identical to regular Ray-Bans and come in twenty style and color variations. Lens colors should be chosen carefully since they can't be replaced later. Facebook's wearables are surprisingly lightweight, yet still a bit heavier than regular sunglasses at 50 grams. Ray-Ban Stories have built-in cameras that could lead to privacy concerns and the small white LED that lights on the front of the frames might be too subtle to provide a clear alert that recording is in progress. For example, a red LED would have served this purpose better. Video quality is good in outdoor light and stabilization is well done, but quality suffers in low light, creating noise and blockiness. While this is to be expected from such small cameras, it means a smartphone or GoPro will deliver much better quality. It isn't entirely clear why there are two cameras since Ray-Ban Stories doesn't record three-dimensional video or capture stereo images.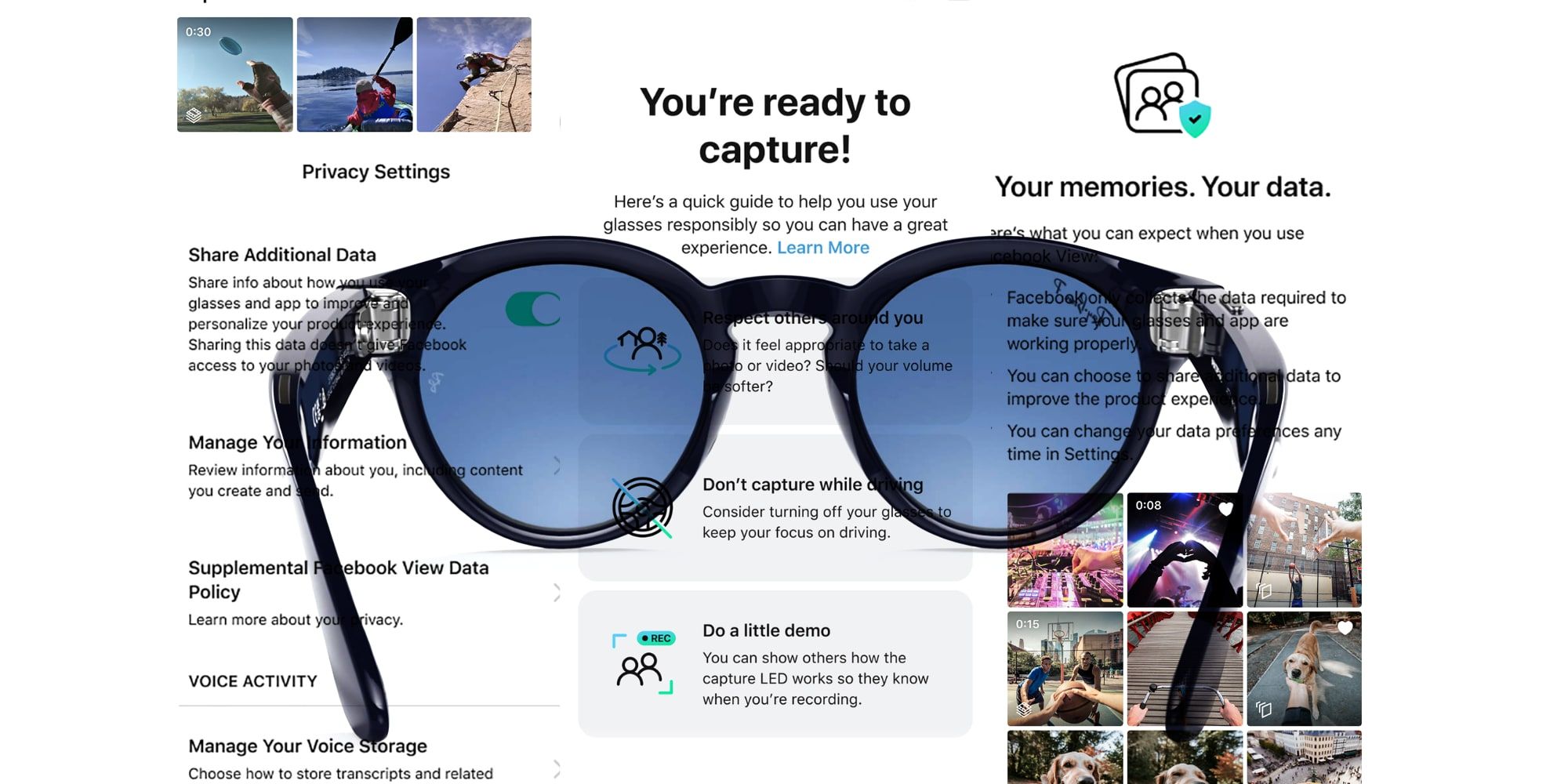 If Ray-Ban Stories are used for exercise, care must be taken to avoid getting them wet. Ray-Ban Stories are not waterproof, despite some videos showing the glasses being used around water. Of course, the wearer can go waterskiing or kayaking if they wish, but splashes might cause damage. Excessive sweat could be an issue as well. Battery life should not be a concern since Facebook somehow squeezed up to six hours of battery life from the small and light battery that is in the frames. Quick charging with the provided case allows the battery in the Ray-Ban Stories' frames to reach 50-percent in thirty minutes and fully charged in seventy minutes. The case, however, requires three hours to top up its battery and can recharge the frames three times.
Ray-Ban Stories records videos and snaps photos with a physical shutter button or voice commands. The smart glasses have speakers and microphones built into the earpieces, acting as a Bluetooth headset for calls and music. Most of the heavy lifting is done by the paired smartphone which can be either an iPhone or Android phone. Facebook's View app is needed to take calls, play audio, or share photos and videos. When first using the View app a valid Facebook account is required and only one can be used, a potential problem for anyone that doesn't have or doesn't want a Facebook account. Facebook recently made it possible to add a second account to its Oculus Quest VR headset, so it could be shared with another person. Ray-Ban Stories currently requires a factory reset to connect to a different Facebook account.
Ray-Ban Stories is an exciting new Facebook wearable and could be exactly what an active social media user is looking for, however, there is no live streaming option. These smart glasses are not waterproof either, making them more likely to be damaged than a GoPro, and Facebook's camera quality is not as good as what's possible with a smartphone. Privacy concerns might arise around Ray-Ban Stories and the requirement of a Facebook account is unfortunate. That means the audience for Ray-Ban Stories is somewhat limited and the $299 price would go quite a ways toward a GoPro purchase for outdoor enthusiasts. On the other hand, Ray-Ban Stories might be an interesting product for influencers, the group that is most likely to might make this product a success, despite the shortcomings.
Next: How To Play 'Most Likely To' Poll Games On Messenger With Friends
from ScreenRant - Feed