The Mad Titan, Thanos, and the Dark Lord of the Sith, Darth Vader, could be the strongest bad guys of their respective universes, both in terms of physical strength and character depth. Since the conception of Star Wars, geeks have considered Darth Vader to be one of the greatest villains of all time. Thanks to his personal connection to the main hero of Star Wars and his iconographic design, Vader is likely to remain a timeless classic. However, Thanos has become a modern icon and has challenged Vader's position with the MCU's recent critical and financial success. In Marvel Comics, Thanos has wielded the powers of time and space at his fingertips with few limitations. Is Darth Vader powerful enough to challenge these abilities?
Thanos can fly, teleport, emit pure energy from his hands and eyes, and has the power to resist telepathic abilities. Death has also banned Thanos from her realm, rendering Thanos unable to die. When he has the Infinity Gauntlet, Thanos is essentially able to do anything. However, Thanos does have weaknesses—when Thanos' lust for power is satisfied, he becomes entranced and distracted. The Infinity Gauntlet also has one major disadvantage in the comics. Though there is no physical toll for using it, like in the MCU, it only functions within the range of Earth-616. Even though the Infinity Gauntlet wouldn't be fair for Darth Vader in the Marvel universe, if Thanos fights him in the Star Wars galaxy, its power is nullified, which could actually give Vader an advantage.
Related: Star Wars: Darth Revan vs. Darth Vader, Who is The More Powerful Sith Lord?
Darth Vader has extreme levels of discipline thanks to years of Jedi training. He has also focused his rage and pain on any task the Emperor commands him to complete. Perhaps if Darth Vader were still Anakin Skywalker, he'd arrogantly underestimate Thanos' power. However, Darth Vader prepares himself for anything and underestimates nothing. Vader has killed hundreds of Jedi, monsters, and soldiers. Although the Force and a lightsaber are humble weapons next to Thanos' powers, Darth Vader is more experienced in controlling his power. The Force is known to guide any character's destiny, which gives Vader a similar advantage to Thanos' ban from Death. Vader is also a skilled pilot and technologically adept enough to reconstruct droids and the inner workings of his suit. The only question is whether or not he has enough power to take down Thanos.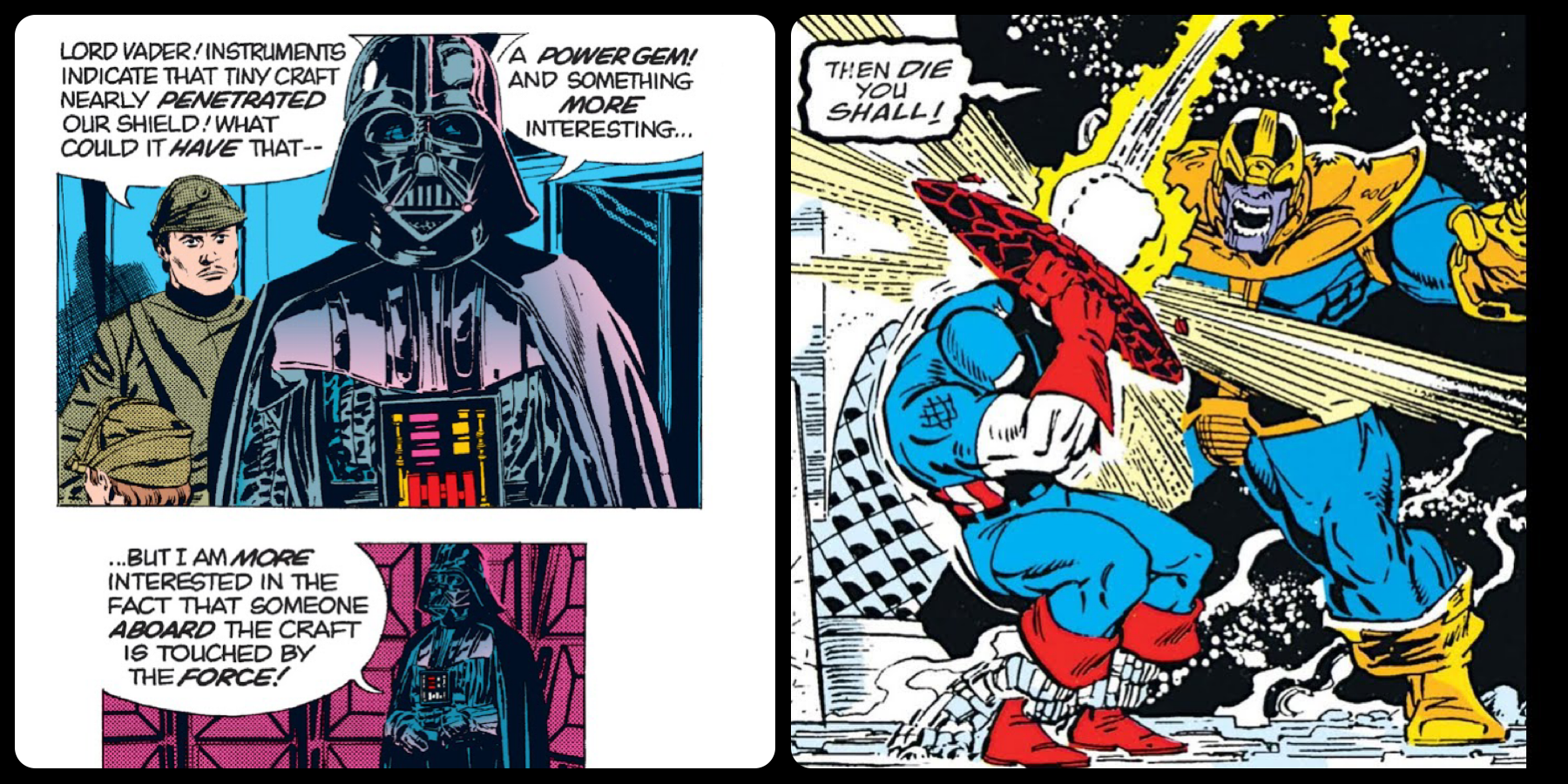 When it comes to the comics, Thanos has many character flaws, as previously stated, such as being distracted by his amount of power. In The Infinity Gauntlet, by Jim Starlin and George Pérez, Thanos' downfall begins when he takes the role of Eternity, and Nebula steals the Gauntlet from his drooling, unconscious body. Likely, Darth Vader would similarly trick Thanos. Although Thanos has a higher intellect than Vader, the Dark Lord of the Sith is wiser regarding battle strategies and war experience. Despite this, Thanos' raw power should not be underestimated, even against the strongest of the Empire's tactics. Thanos has survived against Galactus' strongest attacks.
In a scenario with Vader and Thanos confronting each other, both characters have massive advantages. Thanos' attacks and power could be a threat against Darth Vader. However, Vader will not lose as long as the Force is with him. The Force doesn't just give a character power; it also controls their destiny. Even if Vader is on the brink of death, he will not fall, simply because he is meant to bring balance to the Force in the Star Wars galaxy. He can't use the Force against Thanos' mind, and he definitely won't prevail in a fight in the Marvel Universe if Thanos has the Infinity Gauntlet, but the Force will provide Darth Vader safe insurance. In the end, Thanos' neck is only as strong as his skin. Even if his lightsaber can't cut through Thanos' invulnerable skin, Darth Vader can still Force choke the Mad Titan and prevail.
More: Thanos vs. Superman: Who Would Win in a Fight?
from ScreenRant - Feed