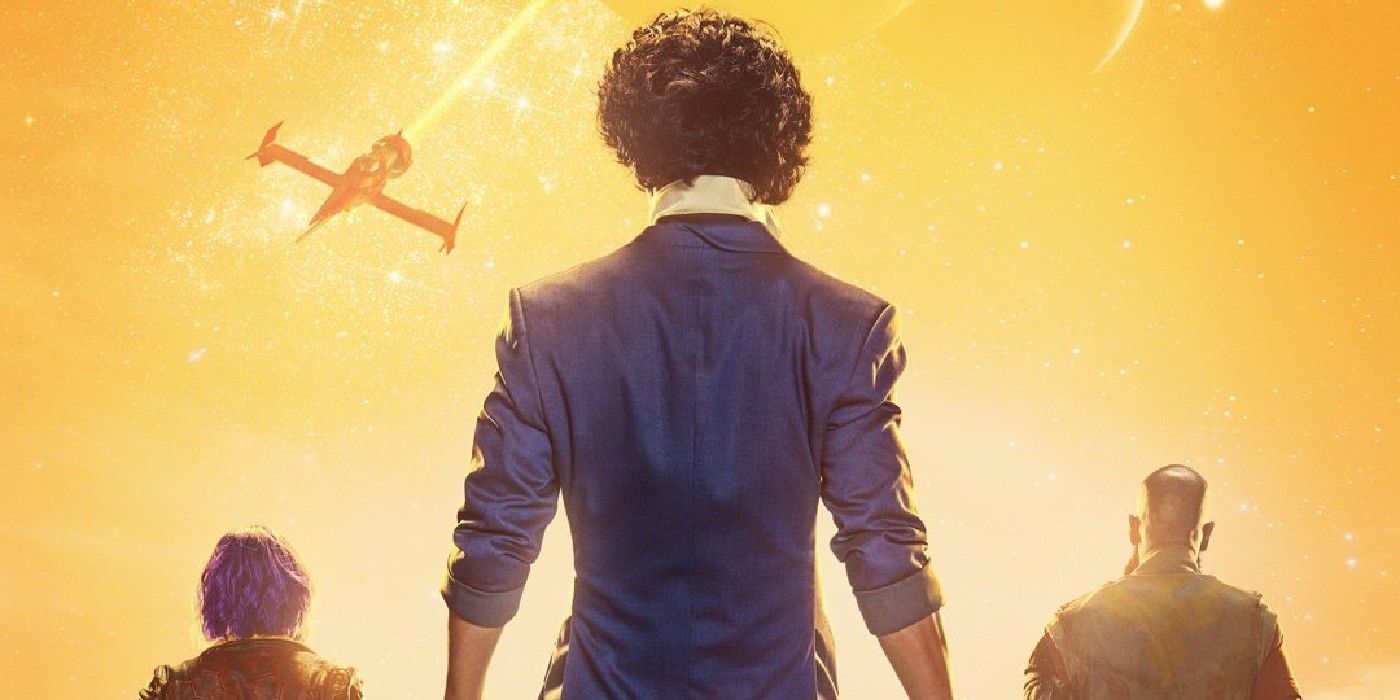 A new poster for Netflix's live-action adaptation of the popular anime Cowboy Bebop has debuted. The original Japanese anime series focuses on a band of bounty hunters in 2071, led by former hitman Spike Spiegel. Key players also include Faye Valentine, a con artist with amnesia, and Jet Black, a former Inter Solar System Police (ISSP) officer. For the live-action series, Spiegel is played by Star Trek's John Cho, while Daniella Pineda plays Faye, and Mustafa Shakir plays Jet Black.
The anime series ran for 26 episodes before being canceled, due to creator Shinichirō Watanabe not wanting to be tied into making it for years on end. In 2001, an anime original film was made, entitled Cowboy Bebop: Knockin' On Heaven's Door (or Cowboy Bebop: The Movie in North America), but there's been no follow ups ever since, despite the series and film being released on blu-ray and playing on Adult Swim and other venues. This brought in even more fans throughout the years, leading Cowboy Bebop to be widely regarded as one of the best anime series of all time.
Related: Cowboy Bebop Can Break The Live-Action Anime Curse
In preparation for the new live-action series, promotional material has been rolling out, including a number of still images showing off John Cho and the rest of the cast in their Cowboy Bebop attire. Today, the first poster for the series was released by Cowboy Bebop's Twitter, just ahead of the Netflix fan event, Tudum, which will likely reveal the first trailer for the series. The poster features Cho as Spike, Pineda as Faye, and Shakir as Jet Black, announcing the release date of November 19 at the bottom. Check it out below:
Cowboy Bebop is spearheaded by showrunner André Nemec, who says the show will honor the anime, but also dig deeper into their history and give fans more than just a rehash of the older material. That said, Nemec has promised that there will be nods to the original anime in every episode of the live-action series, including homages to the original English and Japanese voice actors. Nemec has challenged Cowboy Bebop fans to spot all the references to the original anime in each frame of the show which should be a fun challenge for longtime fans of the series.
With a strong cast and the already teased images and insight from Nemec, Cowboy Bebop could be a massive hit for Netflix if it all comes together. A strong fanbase for the anime is a built-in audience already, but if it can pull in a whole new audience as well, this could be the continuation of the Cowboy Bebop legacy that longtime fans have been hoping for since the anime ended. It's also a great opportunity for the stars involved, especially Cho, who has worked his way up the ladder with Star Trek and Harold and Kumar films and is ready for a meaty role like Spike Spiegel to give him his due. All eyes will be on the trailer if it drops tomorrow.
Next: How Netflix's Cowboy Bebop Is Changing The Anime (And Why That's A Good Thing)
Source: Cowboy Bebop
from ScreenRant - Feed