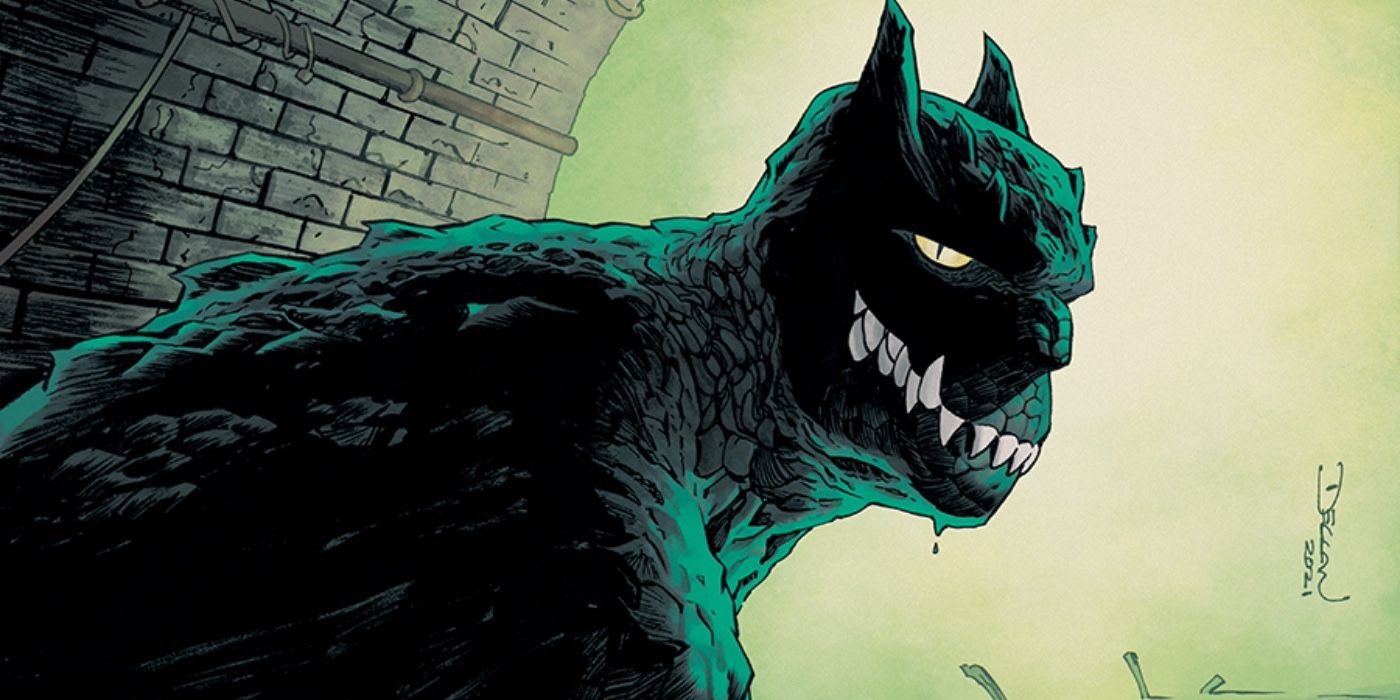 Superstar artist Declan Shalvey has combined Batman and Killer Croc into one monstrous form in a stunning new variant cover for Batman: Reptilian #4. The series, which has seen the Dark Knight face off against a mysterious monster stalking Gotham's criminal underworld, is written by Garth Ennis with art by Liam Sharp.
In his almost 40 years of existence, Killer Croc has become one of the most feared members of Batman's rogues gallery. He first appeared in 1983's Detective Comics #523. Killer Croc's real name is Waylon Jones; born with a genetic condition that gives him a crocodile-like appearance, he was shunned by society and abused by his parents. Eventually, he drifted into a life of crime in Gotham, which brought him into conflict with Batman. Killer Croc and the Caped Crusader have squared off numerous times over the years, and he has become one of Batman's most popular foes. Killer Croc continues to haunt the sewers of Gotham and has evolved into an anti-hero. Now, Declan Shalvey, the superstar artist behind X-Men Unlimited, Moon Knight, and Time Before Time has mashed up Killer Croc and Batman into a terrifying new form in a new variant cover for Batman: Reptilian #4, on sale in print and digital September 28.
Related: A New Killer Croc Joins the DC Universe
The variant cover was unveiled on Declan Shalvey's Twitter account. He shared both a black and white version as well as the finished cover with colors. The image, set in the Gotham sewers, shows Killer Croc wearing Batman's outfit. His head is turned, and his eyes are locked firmly - and menacingly - on the reader. The terrifying mashup is grinning, baring his sharp teeth. In the sewer ahead of him are bones—are these the bones of a victim? Batman/Killer Croc's claws look ready for action, ready to pounce on the unfortunate soul who stumbles across him. In the Tweet, Shalvey said the cover was one of his first for DC in a while, and that it was "a lot of fun." He gave shout outs to the Batman: Reptilian creative team as well.
While Killer Croc firmly factors into Batman: Reptilian's storyline, there is no indication the Batman/Killer Croc mashup will actually appear. Given how intimidating the mashup looks, this may be a good thing. However, Killer Croc is as much a victim of society as Bruce Wayne—the suffering and abuse Croc went through as a child due to his appearance scarred him and sent him down a dark path. This has led creators in recent years to create more sympathetic portrayals of Killer Croc and showing him wearing Batman's outfit goes along with this.
Batman and Killer Croc are usually on opposite sides of the law, but artist Declan Shalvey has combined the two into one frightening form for a variant cover for Batman: Reptilian #4.
Next: Bane vs Killer Croc: DC Finally Confirms Who Wins in a Fight
Source: Twitter
from ScreenRant - Feed