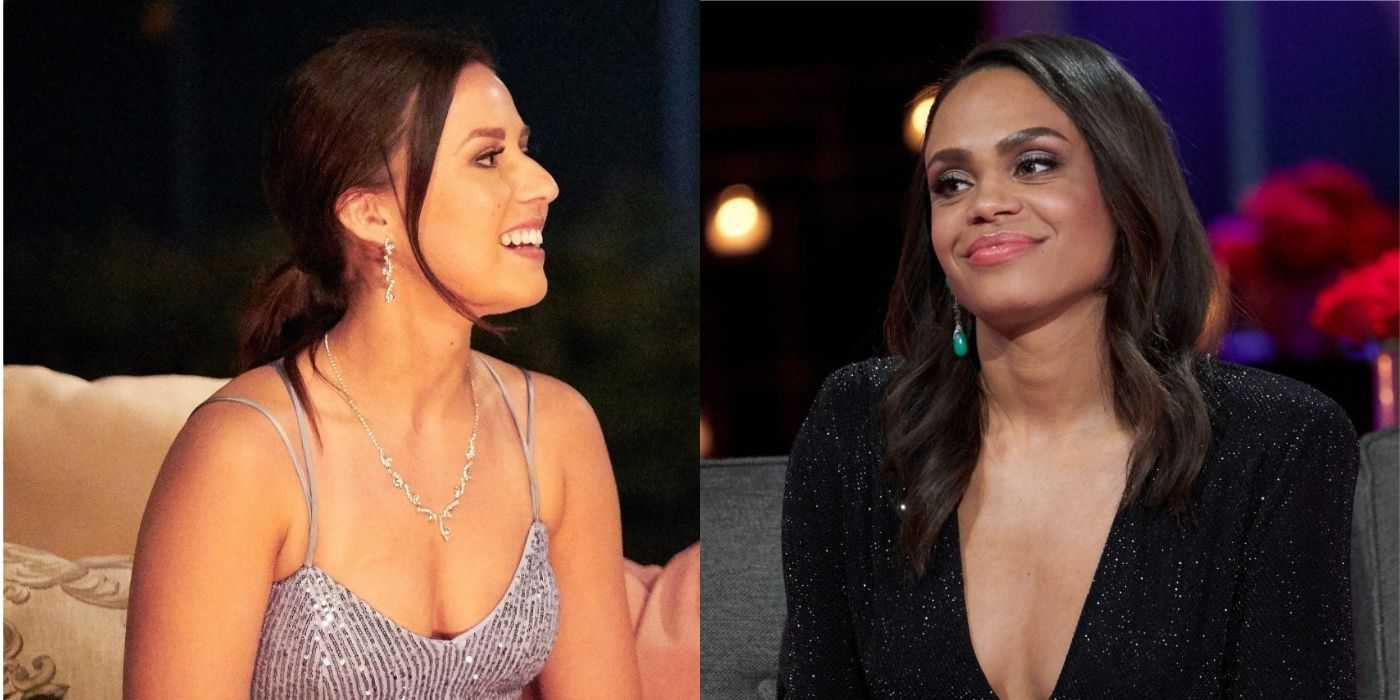 Many The Bachelorette viewers are loving Michelle Young's promo over Katie Thurston's, and the reason for that seems to be the quality of production. The fans usually don't compare two Bachelorette promos, but they are comparing Michelle and Katie's trailers because they were on the same season of The Bachelor. Both ladies competed for Matt James' heart on the popular reality show. During the season, Katie became a fan favorite due to her sex-positive personality and confidence. The 30-year-old beauty also stood up to the bullying in the house and got heavily praised by many fans. Michelle, on the other hand, was the one who reached the finals. The 28-year-old teacher was sent home by Matt, but she left an imprint on many fans' hearts.
In early 2021, both Katie and Michelle were announced as the leads of upcoming seasons. Katie got to be on The Bachelorette season 17, and she found love with Canadian native Blake Moynes. Just after Katie, Michelle will be the lead of The Bachelorette season 18, sparking discussion about whose promo looks better and more entertaining. Katie's promo was full of rose petals with a minimal and plain white background. It looked fine, but its production quality is not even comparable to Michelle's promo.
Related: Bachelorette: Katie Shares Sneak Peek of Journey to Canada with Blake
From camera angles to overall editing, everything is better in Michelle's trailer posted by Bachelor Nation on ABC. Michelle wore a beautiful golden gown, which is far more detailed and unique than the purple rubber skirt that Katie wore. Not only that, Michelle's entire video seems to be full of high-quality props and a stage that tells a story. Many fans are wondering if the producers disliked Katie, and maybe that's why there is a huge difference in the production qualities of these two trailers. One fan wrote (via @u/Old-Ad6962), "Katie's promos were kind of boring and poorly styled, where as Michelle is getting the fairytale promos with budget."
A Redditor also expressed that Katie's promos were more in line with her humor, "Michelle's promos are so much better than Katie's promos. All Katie's promos were jokes about her vibrator." Another fan has alleged that producers hated Katie, "After Greg left she screamed at the producers and tore into them." The fan concluded the comment by claiming that not a single person from the production crew congratulated Katie, suggesting they disliked her. Apart from the production value, Katie's promo lacked creativity.
Michelle first greets the fans while playing basketball in the promo. She then changes into a stunning gown, and producers film her inside a mansion. The promo is almost perfect and makes fans feel excited about what is about to come. However, Katie's promo didn't seem to have an intriguing concept, and it was possibly filmed in one location. Instead of getting excited about her journey, some The Bachelorette viewers decided to skip watching her season. Still, it is nice to see that Katie found the love of her love life at the end. Hopefully, on The Bachelorette season 18, Michelle will too.
Next: Bachelorette: Why Fans Think Katie Thurston Might Not Be Over Greg Grippo
Source: @u/Old-Ad6962/Reddit, Bachelor Nation on ABC/YouTube
from ScreenRant - Feed