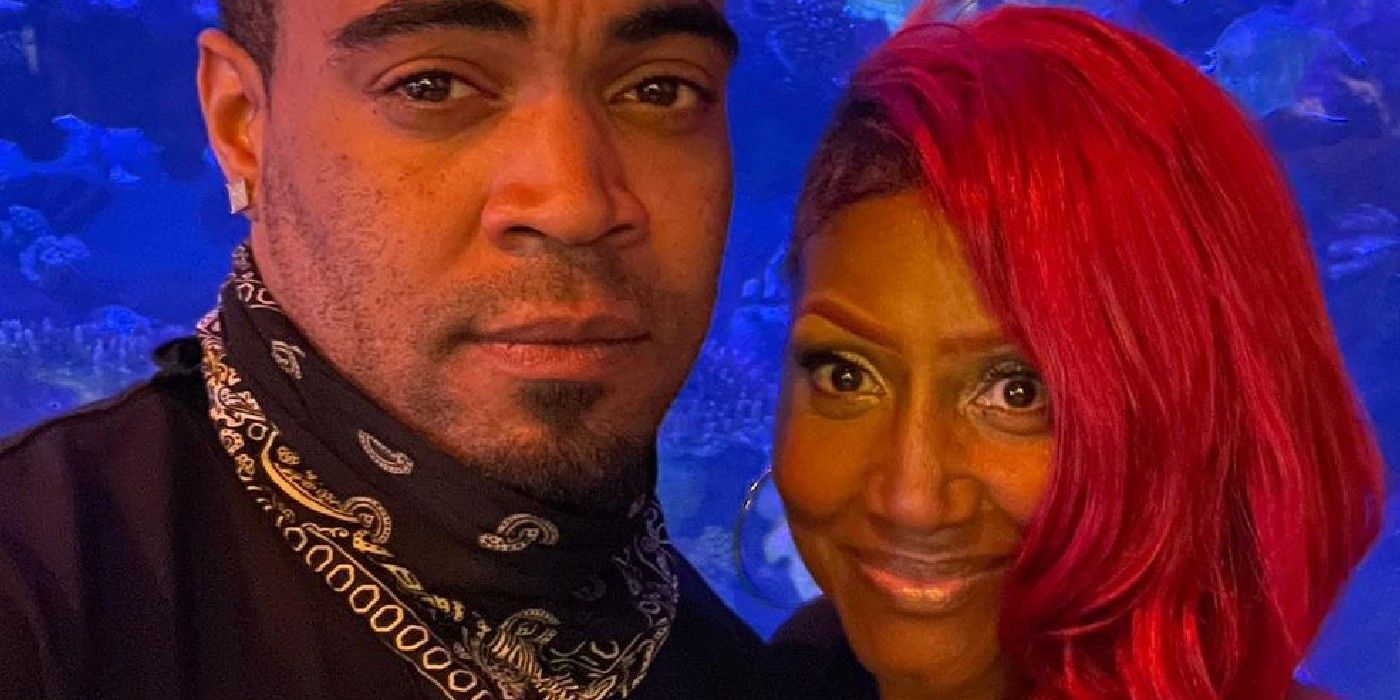 Yolanda Leak from 90 Day Fiancé had a storyline that basically turned into an episode of Catfish due to "Williams," but she now has a boyfriend Johnny who looks real enough on Instagram. When Yolanda made her 90 Day Fiancé: Before the 90 Days debut, she was connecting with her mystery man "Williams" from England. Fans and her kids knew that Yolanda was getting scammed. It was later revealed that the person was Nigerian and using photos of Italian footballer, Michele Di Lucchio. However, this time around, Yolanda has found love with an actual sporty fellow. John (last name currently unknown) is a martial arts champion.
The 90 Day Fiancé: The Other Way cast member Jenny Slatten managed to find love with her catfish Michael Jones, who turned out to be Sumit Singh. They're still together after ten years. However, mother of six Yolanda wasn't as lucky in that department, as "Williams" from Manchester eventually tried to scam her. If "Williams" never sending her any videos or showing his face wasn't enough, his accent was a dead giveaway. The accent fans heard on a call wasn't English, and he threatened to release intimate photos of Yolanda to the public if she didn't send him money. After 90 Day Fiancé, Yolanda, 52, moved on with The Bachelorette alum Josh Seiter, 33, and got engaged to him in October 2020.
Related: 90 Day Fiance: Yolanda Leak's Age, Instagram, Job & Net Worth
The whirlwind reality TV romance soon crashed and burned, and Josh lasered Yolanda's name tattoo from his arm and flirted with 90 Day Fiancé star Avery Warner. Meanwhile, Yolanda got herself a new younger boyfriend, John. The Las Vegas native Yolanda flaunted her new guy Johnny on Instagram by January 2021. He has since made many appearances on her page. Yolanda lovingly tags all of the pictures of Johny and her together with "Jolanda."
On his own Instagram page, @Johnnywhambam went public with Yolanda in January as well. "💪🏾💯 #vegasbaby #2021," Johnny captioned the selfie with Yolanda, who looked fresher and younger than ever. Johnny got a lot of love from his friends and 90 Day Fiancé viewers on the post. Someone wrote, "You are so lucky!!!" and a different comment said, "wish you endless love and ✌, stay strong together 🔥" However, critics did make their way to Johnny's page to ask him if he was "weeyums" and if Yolanda was his "mom."
Johnny's social media page is also filled with self-defense clips and evidence of other physical activities. He shows followers how he managed to become an "ICMAC North-American champion" twice, as per his @johnnywhambam bio. Yolanda's beau is also a videographer and seems to own an entertainment company called WhamBam. Above, see Johnny posing with actor and martial artist Michael Jai White during a faux fight.
When Yolanda shared this photo of her with Johnny in July, many fans mistook him for "Williams" and even commented, asking her if she'd finally met her mystery ex. Some wondered if the picture was Photoshopped. However, in reality, it seems to be a photo the happy couple took on their first date together, which Yolanda had captioned, "How it ALL began and TBH how's it still going…..❤️❤️❤️❤️❤️❤️!!"
Related: 90 Day Fiancé: Did Cold, Hard Cash Break Up Josh Seiter & Yolanda Leak?
August saw @johnnywhambam revealing his brand new look to Instagram. Yolanda's man calls himself the "kungfugod." Along with his beard, he added the hashtags, "superman" and "beardeddragon" to the mix. As per Johnny, the facial hair makes him look like Clark Kent. Yolanda and Johnny's love story has been put to the test, based on their segments on 90 Day Diaries. Still, fans are happy that 90 Day Fiancé alum Yolanda followed her heart and found a real fish in the sea.
Next: 90 Day Fiancé: All About Yolanda Leak's Chic Boutique Online Shop
Sources: @Johnnywhambam/Instagram, @johnnywhambam/Instagram, Yolanda/Instagram, @johnnywhambam/Instagram
from ScreenRant - Feed